Okay, Disniacs! It's time to forget about your worries and your strife, and just try and relax with this new cocktail created by Disney fan and Inside the Magic reader Esteban Jimenez called "Baloo's Necessity."
Baloo's Necessity
Ingredients:
1 oz Vodka
0.75 oz Banana Rum (Bacardi)
0.75 oz Coconut Rum (Malibu)
3 0z Pineapple Juice
3 oz Mango Nectar
0.25 oz Prickly Pear Syrup
Instructions:
Pour all ingredients in a cocktail shaker with ice and shake.
Strain into a 14oz Snifter Glass filled with Ice.
Garnish with an Orange Slice & Luxardo Cherry.
Forget about your worries and Enjoy!
Esteban sent us this delicious Disney cocktail, sharing the following message:
"My own personal Disney Cocktail Creation, Baloo is my favorite Disney Character and I came up with this combination of flavors based on the fruit that appears in the 1967 film, 'The Jungle Book'. Of course, I couldn't get a hold of a rare 'paw paw' fruit but I did find out that its taste is similar to the combination of mango, banana, and pineapple. The end result was a refreshingly sweet, tropical cocktail that Baloo would absolutely approve of! This cocktail will be sure to drift you into paradise with each delightful sip!"
We at Inside the Magic want to remind our readers, "don't pick the prickly pear with the paw. When you pick the pear, try and use the claw."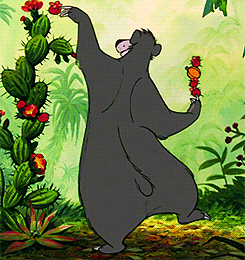 Submit Your Disney-Inspired Cocktails
Think you have the makings of a magical mixologist in you? Let's find out! Inside the Magic is ready to see what Disney-inspired cocktails or mocktails you can conjure up, and your drink could be the drink we feature in a later article.
But you can't just drop a picture in the comments with the ingredients. Just like our cocktails, there's a recipe you have to follow:
DIY Disney Drinkin' Submission Recipe
If you follow Inside the Magic on Facebook, send us a Facebook message containing the following:

A quality picture of your drink.
The recipe (measurements, all ingredients, and step-by-step instruction)
A short description of your drink. What is the meaning behind the ingredients used? What inspired you to make it? What experience are you giving the drinker?

While most drinks are inspired by other cocktails, your drink must be original in some way.
We will reach back out to you and let you know if we plan to feature your drink in a future DIY Disney Drinkin' article, and we will share the article with you once it is published. We look forward to seeing what you come up with!
As always, Disney fans, please drink responsibly, and NEVER drink and drive!
Cheers! And have a magical day!
Other DIY Disney Drinkin' Recipes