This is the way…to make a Baby Yoda cocktail.
We at Inside the Magic wrote about the drink themed after the most adorable creature in the galaxy back when it first appeared at Disney. Now, we have a recipe you can use to make the cocktail at home and enjoy it while you binge-watch the Disney Gallery Docuseries on the making of his show, The Mandalorian. Just remember that the most important part about this cocktail is the presentation.
First, we have to dress the glass. The drink is meant to be served in a tall cocktail glass. Wrap the thin neck of the cocktail glass in a napkin, and tie it in place with some string or twine.
When you go to mix your drink please keep in mind that this is not the official recipe. At this point, there is no official Disney recipe for this drink. So the important thing is to get it green.
The recipe we used involves the following:
White Rum
Midori (a bright green, muskmelon-flavored liqueur)
Captain Morgan Spiced Rum
Pineapple Juice
Blue Curaçao
Shake the mixture over ice and then pour it into the cocktail glass over large ice cubes. The ice cubes are meant to hold Baby Yoda's eyes in place. Which, in this recipe, are played by two grapes. Then finish it off with two lime wedges on either side of the glass for his ears and a dark rum floater.
Related: DIY Disney Drinkin': Summertime Freeze Drink Recipes From Disney Cruise Line
You can watch a how-to video for the Baby Yoda cocktail below:
Green is the Goal
Again, there is no set recipe for a Baby Yoda cocktail. So, if you just want to mix Blue Curaçao and pineapple juice and white rum, or swap everything for sour apple schnapps and make a Baby Yoda appletini, green-jolly-rancher-infused vodka, or really launch yourself into hyperspace and use Absinthe. It all works. Everybody has a special connection to Baby Yoda. So make it your own!
Officially known as "The Child," Baby Yoda has taken Star Wars fans, Disney fans, and the overall internet by storm. Now, you can easily add him to your cocktail hour however you see fit.
But remember, Disniacs, please drink responsibly, and NEVER drink and drive!
Cheers! And have a magical day!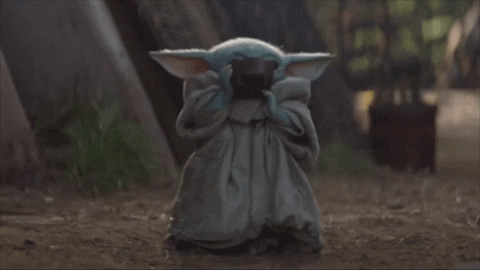 Related: DIY Disney Drinkin': Captain Jack Sparrow's Golden Grog Feat. The Kraken