One Disney fan named Elise Osafo is recreating the most iconic recipes from our favorite Disney movies on her TikTok account.
Elise's following is growing on her TikTok, and we're here for it–  because not only is she a good cook, she's creating some Disney movie recipes! Disney fans are going to love how hilarious she is while narrating the cooking process of each of these recipes, and they're simple enough for you to make at home too. Hopefully she'll continue to draw more Disney film inspirations in the future so we can make them at home ourselves.
Here is a compilation of Elise's TikTok videos where she recreates Disney movie food in real life. We have also shared the full recipes she used below.
Disney Movie Food In Real Life

"If you are what you eat, then I only want to eat the good stuff!"Thank you to:Elisehttps://www.tiktok.com/@eltheegghttps://www.instagram.com/eliseosafo/

Posted by Tasty on Wednesday, May 13, 2020
Ratatouille Soup
This dish is what start's Remy's culinary career in the film Ratatouille!
Recipe Source: Elise Osafo
Ingredients
1/4 Cup Olive Oil
4 Tbsp Butter
1 Cup Brandy
8 Cups of Beef Broth
1 Cup Heavy Whipping Cream
1 Chopped Whole White Onion
1 Tbsp Chopped Garlic
1 Cup Chopped Mushrooms
4 Tbsp Coarsely Chopped Peppercorns
1/2 lb Chopped Potatoes
Garlic Powder
Salt
Red Pepper Flakes Pepper
Parsley
Green Onion
Chives for Garnish
Instructions
Heat olive oil, butter, onions, and garlic inside a pot.
Add mushrooms then brandy.
Once slightly reduced, add in beef broth, black pepper, heavy whipping cream, garlic powder, salt, and red pepper flakes.
Boil potatoes separately then add into soup along with green onions and parsley.
Stir.
Wow! Enjoy!
Tiana's Gumbo
Tiana makes gumbo for her daddy in The Princess and the Frog and he says it's the the best gumbo he's ever had!
Recipe Source: Elise Osafo
Ingredients
8 Tbsp Butter
15 oz Diced Tomatoes
4 Cups Chicken Broth
1 Cup Flour
Chopped Onions
Minced Garlic
Chopped Green Bell Pepper
Chopped Celery
20 oz Andouille Sausage
16 oz Shrimp
2 Cups Chopped Okra
Bay Leaves
Cajun Seasoning
Cayenne Pepper
Garlic Powder
Paprika
Onion Powder
Oregano
Crushed Red Pepper
Thyme
Instructions
Add butter to a pot and when melted, add flour.
Stir for about 10 minutes until it's a dark caramel color.
Add onions, garlic, and green pepper.
Then add sausage, diced tomatoes, and chicken broth.
Stir before adding bay leaves, Cajun seasoning, chicken seasoning, cayenne, garlic powder, paprika, onion powder, oregano, crushed red pepper, and thyme.
Let simmer and cook rice.
Bring gumbo back to a boil and add shrimp.
Add okra and stir.
Serve and enjoy!
Lady and the Tramp Spaghetti
Let's get romantic with these Disney characters from a classic Disney movie.
Recipe Source: Elise Osafo
Ingredients
4 Tbsp Butter
Chopped Onions
Minced Garlic
1/2 Can Crushed Tomato
Oregano
Parsley
Basil
Rosemary
Thyme
Garlic Powder
Onion Powder
Crushed Red Pepper
Season Salt
Ground Beef
Ground Turkey
Salt
Italian Seasoning
Shredded Mozzarella
Instructions
Melt butter in saucepan and add onions and garlic.
Pour in crushed tomatoes.
Add in oregano, parsley, basil, rosemary, thyme, garlic powder, onion powder, crushed red pepper, and season salt.
Stir and let simmer while cooking meatballs.
Mix ground beef and ground turkey in a bowl with salt, crushed red pepper, Italian seasoning, garlic powder, onion powder, bread crumbs, and an egg.
Roll into balls and cook in an air fryer.
Cook spaghetti in boiling water and add it to sauce.
Then add meatballs to sauce and stir.
Plate and top with shredded mozzarella.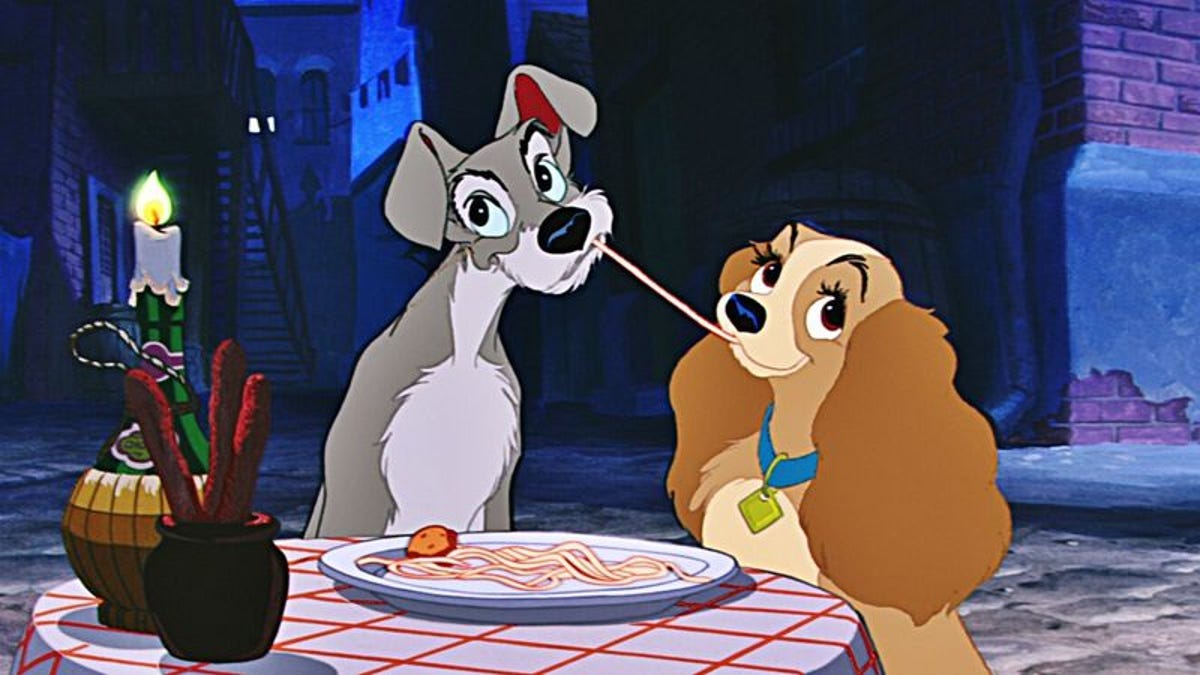 Ratatouille Bruschetta
There's a scene in Ratatouille that is all about the crunch of bread and that's what you need for a good bruschetta.
Recipe Source: Elise Osafo
Ingredients
Tomato
Basil
Minced Garlic
Salt
Balsamic Glaze
French Bread
Instructions
Chop a tomato and put it in a bowl.
Chop basil and add to tomato along with minced garlic and mix.
Add salt, pepper, and balsamic glaze before mixing again. It looks like she would have added olive oil if she had some.
Slice bread relatively thin and toast.
Top with tomato. Whoa that crunch!
Remy's Ratatouille
A Disney recipe that's so good the movie was named after it, but named that for multiple reasons of course!
Recipe Source: Elise Osafo
Ingredients
1 Tbsp Butter
1/4 Cup Olive Oil
28 oz Crushed Tomatoes
3-4 Bell Peppers
1 Tbsp Chopped Garlic
1/2 Chopped White Onion
1/4 Cup Chopped Green Onion
Zucchini
Eggplant
Yellow Squash
Tomato
Bay Leaves
Garlic Powder
Onion Powder
Red Pepper Flakes
Season Salt
Italian Herbs
Basil
Black Pepper
Thyme
Instructions
Roast bell peppers at 350 degrees for 20 minutes.
Add butter and olive oil to a pan.
Once butter is melted, add garlic, white onion, green onion, and crushed tomatoes.
Season with bay leaves, garlic powder, onion powder, red pepper flakes, season salt, and Italian herbs.
Chop roasted bell peppers and add into sauce.
Add fresh basil and thyme.
Let simmer for 30 minutes.
While simmering, thinly slice zucchini, eggplant, yellow squash, and tomato.
Remove bay leaves from sauce and pour into a dish.
Layer veggies over sauce.
Sprinkle with sea salt and drizzle with olive oil.
Cover the dish with foil and roast for an hour.
Plate layered veggies with some sauce and enjoy!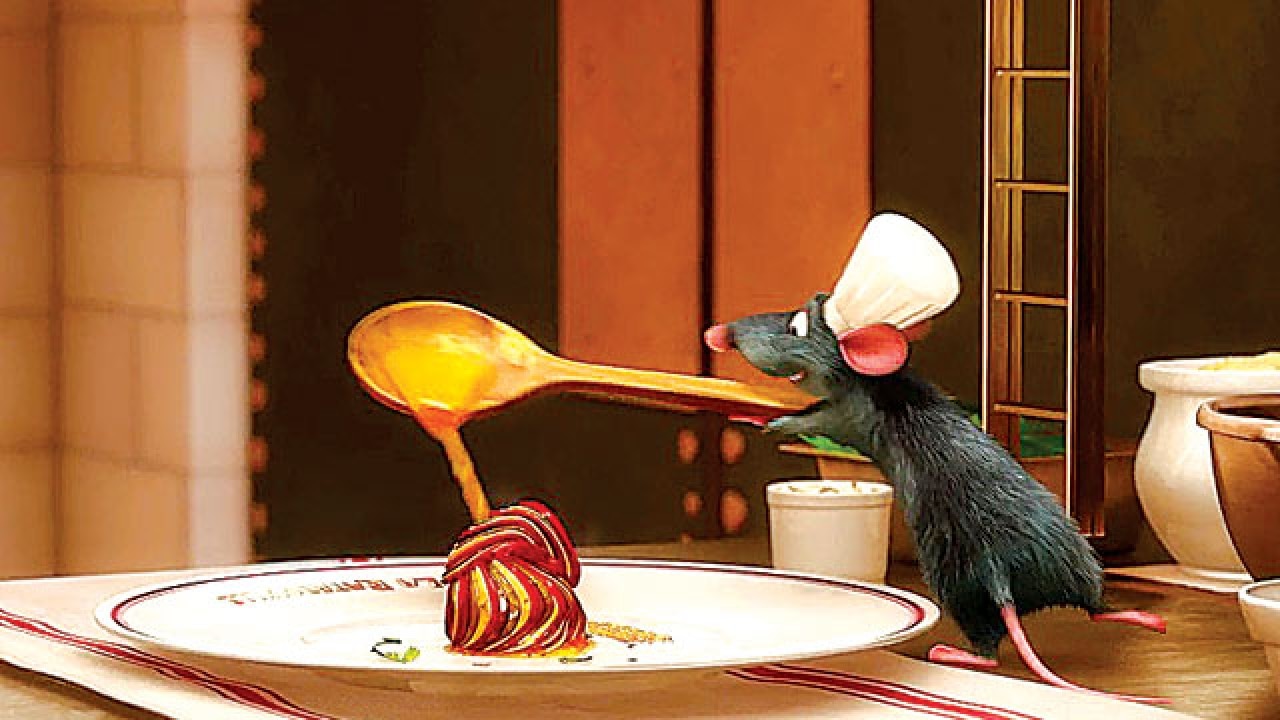 Other Disney Recipes
These real life Disney movie recipes are so delicious and we're on the lookout for more to come from Disney animated movies!