On June 23rd, 1995 The Walt Disney Studios released its 33rd animated featured film, Pocahontas. The film received mixed reviews in 1995, and still does today. Pocahontas is usually praised by its animation — specially for the time it was released — and songs, but the Disney classic film is criticized by film's historical inaccuracies when portraying the story of real life Pocahontas.
And to celebrate the movies' 25th anniversary, Loungefly released a sneak peek into its new upcoming collection inspired by Colors of the Wind. 
Loungefly has not yet announced the collection's release day, but the company's social media collection tease can tell us some information about the upcoming collection.
There will for sure be a crossbody purse with gold chain strap and a matching wallet.
Related: Forge a New Path With ADORABLE Pocahontas & Meeko Bags!
Both wallet and purse resembles to be two different perspective from the same scene in Pocahontas. The pastel color palette used on the purse and wallet design and Pocahontas' position on the items seems to be reference to the closing scenes on the movie.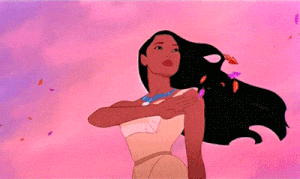 Related: "Colors of the Wind" from Disney's "Pocahontas" is Now a Platinum Record
The last scenes of the movie Pocahontas shows the young hero saying goodbye to John Smith as he is returning to Europe after getting injured. As the Smith's ship starts to sail, Pocahontas runs to the top of a cliff which faces the departed ship.
The purse shows the perspective from behind Pocahontas' shoulder and the wallet complements the story from another angle as if someone was looking at the young hero the bottom of the river.
So far, the collection looks like a loving tribute to the Disney classic movie.
Did you like the Loungefly Pocahontas collection preview? Let us know in the comments below.