It is easy for us, humans, to recreate our beloved Disney movie scenes. How would you react if you saw animals recreating that scene in the wild?
Take a camera or a phone out to take a picture of it is a good guess, and that is exactly what photographer Dafna Ben Nun did.
Ben Nun spotted the scene while on a trip through Zimbabwe in 2018. She was there to learn about the local wildlife, when she encountered a unique moment. She was fast about it, and snapped some images of the once-in-a-lifetime moment.
Related: Disney's live-action The Lion King finally gets official Disney+ release date
A baboon was holding its young up just like Rafiki holds Simba up to introduce the new lion royal baby to the animals.
"I couldn't believe it when I saw an adult baboon holding a baby, looking exactly like Simba in The Lion King. It was just a split second, but it was fascinating to watch," said Dafna during an interview with Caters News. "It was just a split second, but it was fascinating to watch!"
We know that the picture is not exactly like the scene in the classic 1994 Disney movie The Lion King. After all the baboon is holding a baby baboon instead of a lion cub, but for a random event of nature, it was close enough.
Related: Disney reveals how Scar from The Lion King actually got his scar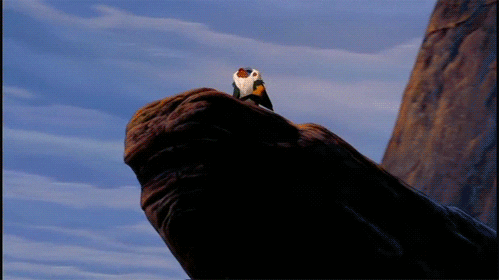 Baboons are common in the southern regions of Africa, and they do carry there young around. The baby baboons also grip onto their mothers while they are been carried around.
Ben Nun was extremely lucky to be witness to such an iconic animal movie scene reaction in real life.
Related: An Artist is Giving "Lion King" Characters Human Characteristics – What Do You Think?
Would you like to have witnessed this reaction of The Lion King moment? Let us know in the comments below.