Female characters from the Marvel cinematic universe like Captain Marvel and Agent Carter have done well both in film and television.  Marvel fans are also anticipating the arrival of the Black Widow film coming out later this year.  The latest question and rumor that has been floating around social media is, will Marvel's Agents of SHIELD fans be seeing a Daisy Johnson, a.k.a. Quake, spinoff series on Disney+ anytime soon?
Executive Producer from Marvel, Kevin Feige has previously spoken about another Marvel TV show.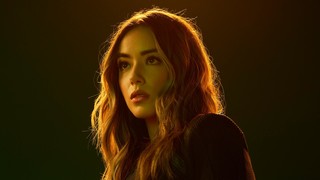 Agent Daisy Johnson Disney+ Series
Although fans of Agent Daisy Johnson would love to see her go rogue on her own series, it doesn't seem that Quake will be getting her own Marvel series anytime soon.
Chloe Bennet, who is the actress behind Agent Daisy Johnson, finally took to Twitter to expel any rumors that she will be heading to Disney Plus on a solo run of her character.  She still seems as though she would enjoy entertaining the idea of a Quake Marvel Agent's of SHIELD spinoff.  Maybe with these rumors and Chloe Bennet's interest, Disney will look into this as something for the future.
I wish that were true… but they aren't… I haven't heard anything about that besides on twitter ? https://t.co/McSkx345YJ

— Chloe Bennet (@chloebennet) May 18, 2020
Daisy Johnson/Quake Character
So why is there so much hype around Agent Daisy Johnson?  She's been one of the main secret warriors of Marvel's Agents of SHIELD since the first season.
Along with her other teammates, her story is super compelling with the fact that she's not your typical goody-two-shoes hero character.  First of all, she has had more than one name throughout the existence of the show.  As her character evolved, she started out as Skye then accepted her true self as Daisy Johnson and her then InHuman side of Quake.
The reason fans are so intrigued by Quake is the multiple dimensions she has as a character.  She has days where she has a very compassionate and caring side like as seen with her relationship with everyone's beloved Agent Coulson.  But she also has moments where this darkness creeps out of her and can be super unpredictable.  Every new episode could be a completely new adventure with her but still stay in formulaic sequels of the previous episode.
We're not getting a Quake series any time soon, but we are getting the show's seventh season premiere shortly.  Chloe Bennet has also given us some quick Twitter trailer teases of how this season will go, wardrobe style.  This will be the final mission of the Marvel Agent's of SHIELD series, so maybe Marvel Studios will work on that Quake series after this one's series finale.  We're excited for that possibility!