Some of my favorite memories are with my parents at Disneyland.  We grab our favorite snacks and find nice shady spot for the next parade.  My dad loves Corn Dogs from the Little Red Wagon on Main Street, U.S.A.  I love Dole Whip from the Tiki Juice Bar, which you can now make at home.  My mom loves Disneyland's Smoked Turkey Legs, which you can find at the Hot Food Cart by Sleeping Beauty's Castle or Edelweiss Snacks by Matterhorn Bobsleds.
A Disneyland Turkey Leg is one of the most popular must-try snacks at the Disney Parks.  It's not only found at Disneyland, but at Disney Parks at Walt Disney World, and it's just as popular at each.  This smoked turkey leg is both delicious and super photograph worthy because it's a giant turkey leg!  I'm so excited to be able to make this at home now.
Disney Turkey Leg Recipe
Recipe Source: Magical Recipes
Ingredients
Turkey Legs
Brine Ingredients
1 gallon water
1 C. kosher salt
1/2 C. sugar
2 Tbsp onion powder
1 Tbsp garlic powder
1 Tbsp chili powder
1 Tbsp paprika
1 Tbsp ground pepper
1 tsp rubbed sage
1 tsp ground cumin
Spice Rub Ingredients
3 Tbsp onion powder
2 Tbsp paprika
1 Tbsp garlic powder
1 tsp ground pepper
1 tsp ground cumin
1/2 tsp rubbed sage
3 Tbsp vegetable or light olive oil
Instructions
Rinse turkey legs in cold water, pat dry.
For brine, combine brine ingredients in large pan.
Bring to a boil.
Remove from heat, cover, and let cool to room temperature.
Pour into container and refrigerate brine until cold (approximately 35-40 degrees F).
Place the turkey legs into brine.
Let soak four to six hours.
Remove legs, rinse well, and discard brine.
Dry drumsticks well with paper towels.
In small bowl, combine spice rub ingredients with fork til well mixed.
Rub onto turkey legs.
Let drumsticks sit out for about one hour.
Place turkey legs into smoker at 225 degrees F.
A light-flavored wood is best for turkey.
Smoke legs for four to six hours, til meat is nearly falling off the bone.
Remove legs from smoker, and let rest for half an hour.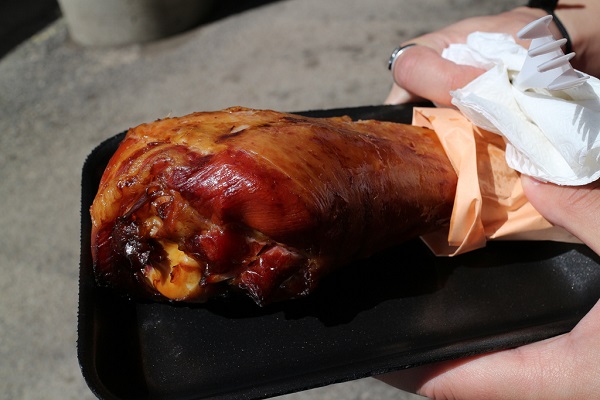 Where do You Purchase Jumbo Turkey Legs?
This Disney's Turkey Legs recipe inspired by the real thing requires a couple uncommon ingredients, but we've got some tips for you.  First of all, if you're thinking, where in the world am I going to get Jumbo Turkey Legs, I was thinking the same!  It was once rumored that they were emu legs, but rest assured, they are not.  They are Tom Turkey legs, also known as a large male turkey.  So I did a little research and you can order them online through Turkey Leg Vendors or even Amazon!
What if I Don't Have a Smoker?
There are ways around not having a smoker to cook your jumbo turkey legs.  According to Magical Recipes, you can purchase a smoker box to place your wood chips in and turn your current grill into a smoker!  You can also test out using liquid smoke which you can purchase at the grocery store.
Other Tips for Cooking Turkey Legs
You can definitely try these flavors in the brine and spice rub with chicken legs if you're not a huge fan of turkey legs or don't want to go through the troubles of purchasing jumbo turkey legs.  Chicken drumsticks work, but if you want that giant effect then you can use leg quarters.  If grilling/smoking isn't an option, you may want to try roasted turkey legs in your oven!