Churros are Disney Parks staple, but there's another churro-flavored sweet treat that has become increasingly popular at Disneyland.  Churro Toffee is all the rage these days.  With Disney recently sharing an official Churro recipe and after we found out you could get them at the grocery store too, we're loving on all things Churros right now.
It takes your classic English Buttery Toffee and mixes it with the iconic flavors of a Cinnamon Sugar Mixture in Churros.  But if I can't get over to Disneyland's Candy Palace, how can I get my hands on some Churro Toffee?  So here's the next best thing — a copycat recipe by a fellow Disney fan, Disney Hungry!
Disneyland Churro Toffee Recipe
This Disneyland copycat recipe has everything we need to make those creamy white chocolate toffee squares.  They're perfect for dessert or a midday snack if you're craving Disney treats.
Recipe Source: Picky Palate aka Disney Hungry
Ingredients for Toffee
4

sticks

butter

equal to 2 cups

2

cups

white sugar

1

teaspoon

salt

3

bags Ghirardelli White Melting Wafers
Cinnamon Sugar Churro Topping
1/2

cup

granulated sugar mixed with 1 tablespoon ground cinnamon
Instructions
Place parchment paper in large baking sheet. I used the half sheet size.

Place the butter, sugar and salt in a large saucepan over medium heat, stirring until the butter is melted. Mixture will come to a boil, and cook until the mixture becomes a dark golden color. Cook and boil until the candy thermometer temperature has reached 285 degrees F (137 degrees C). Continue stirring occasionally.

As soon as toffee reaches temperature, pour into prepared baking sheet. At this point, you can leave whole, and let set up for 20 minutes in refrigerator. Melt wafers according to package directions and pour over toffee. Sprinkle with cinnamon/sugar mixture and let set up another 40 minutes. When set, break toffee into pieces and enjoy!

OR if you want your toffee to look just like the ones that Disneyland Bakeries serve, after toffee sits in baking sheet for about 2 minutes, take a plastic knife and start cutting into squares. Toffee will still be soft, so you want to cut the squares at this point. I go over these lines at least 4 or 5 times as the toffee starts to continue setting up. Once you are happy with your squares, place in refrigerator and let set for at least 20 minutes. Melt wafers according to package directions and dip each square into chocolate. Place onto parchment paper and sprinkle with cinnamon/sugar mixture. Let set up another 40 minutes and then enjoy!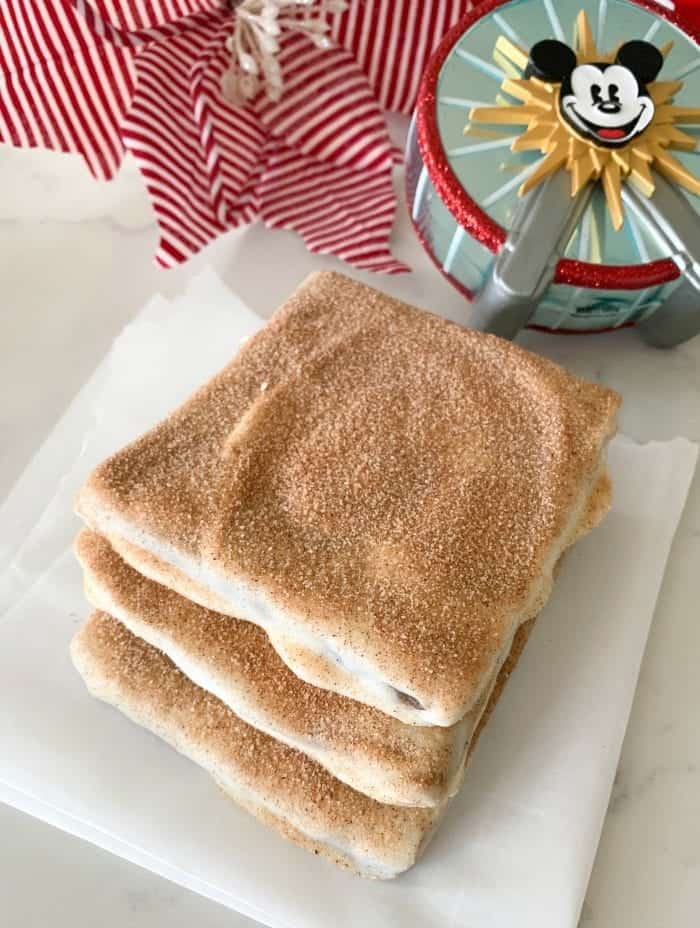 Churro Toffee Different Ways
Well, if you're heading over to Disney California Adventure, you can also pick up Churro Toffee at Trolley Treats.  A seasonal favorite at Schmoozie's, is the Churro Toffee Milkshake.  During the Festival of Holidays, they also had a Churro Toffee Cold Brew that was absolutely delicious especially if you're a Joffrey's coffee lover.  Personally, I love my Churro Toffee with a side of vanilla ice cream.
Maybe next we'll try the Churro Marshmallow Wands!