Disney+'s Star Wars series The Mandalorian is better than Star Wars: The Rise of Skywalker. At least, that is what the reviews said.
With The Mandalorian released in mid-November and The Rise of Skywalker hitting theaters a few weeks later, it was easy for some to compare the two Star Wars installments side-by-side. Jon Favreau's live-action space western with "Baby Yoda" proven to be the favorite.
Now one would suspect that the TV show's leading actor, Pedro Pascal, would have a large amount of pride for his spin-off series about a titular bounty hunter earning better reviews than the closing movie of the Skywalker Saga that actually features Jedi. But it appears it is quite the contrary.
"I didn't feel that at all," the former star of Game of Thrones and Netflix's Narcos told Yahoo! when they asked him how he felt about it. "The virtue of being neck-deep in work. Once you're in this world of Lucasfilm, you're only touching on the positive. You just deposit something."
Of course, the show's real center of attention is the green adorable force wielder that follows Pascal's character everywhere: Baby Yoda. Pascal always knew The Child, as its properly known, was going to steal the attention from him and become the global sensation he is today.
"I can't bring myself to lie and be like "we had no idea of the sensation that he would be". We never talked about it being a sure thing, but I unconsciously kept to myself that the very first time I saw the image in the illustration during that first meeting, I was like "oh my God, people are going to lose their mind over that". So basically it was no surprise."
Baby Yoda is a puppet brought to life by puppeteers and digital effects. So, he, unfortunately, could not give a statement on how he felt about the show beating The Rise of Skywalker. 
However, if he were to comprehend the news, one can suspect his reaction would look something like this: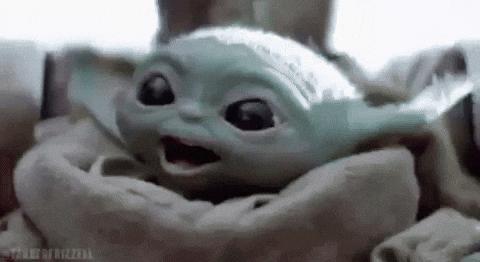 Pedro Pascal will reprise his role as Din Djarin, or "Mando," when The Mandalorian season 2 premiere's on Disney+ in October. Season 3 is, reportedly, already in pre-production.
What do you think about The Mandalorian getting better reviews than The Rise of Skywalker? Let us know in the comments!