And onto our third stop of the Inside the Magic

Food and Wine Festival

, Golden Dreams! If you're just joining us, we're doing an at-home tour of the Disney

California Adventure 

Food and Wine Festival

. You can catch up with our first two stop, Nuts About and Uncork California.
California is known as the Golden State, and these food and drink items are a great representation of its diverse culinary cuisine.
Food
Golden Dreams food items are Brunch Fried Chicken & Waffle Sandwich with Mimosa-inspired Slaw & OJ Bubbles and the Seared Verlasso Salmon with Lemon Pea Purée, Black Rice and Meyer Lemon Relish (Gluten Free). These items are awesome choices in California. Seared Salmon is great while you're enjoying this coastal state and brunch is a popular thing in California especially with all the wine. So get your Sip and Savor pass ready because this food recipe is inspired by my favorite dish of the entire festival, Brunch Fried Chicken & Waffle Sandwich. Chicken & waffles is such an American comfort food dish.
Brunch

Chicken 

& Waffle Sandwich
We're going to break this recipe down into multiple pieces, layer by layer. Let's start with the base, the waffle, and stack from there. Let's get a little more Disney with this since Mickey waffles are so famous around the parks.
Picky Palate, aka Disney Hungry on Instagram, posted a great recipe for these and you can purchase the waffle iron, including one for under $35, on shopDisney.
Mickey Waffles
Ingredients (Makes 10 Waffles: 1/2 to match chicken or double chicken)
2 cups all-purpose flour
3/4 cup granulated sugar
3 teaspoons baking powder
1/4 teaspoon kosher salt
2 large eggs whites and yolks separated
1 cup buttermilk
1/2 cup milk I used skim
1 cup unsalted butter melted
1 teaspoon pure vanilla extract
Instructions (via Picky Palate) 
Preheat waffle iron.
Place flour, sugar, baking powder and salt into a large mixing bowl, stir to combine.
Place egg whites into a medium mixing bowl, whisk continuously until stiff peaks form.
Place buttermilk, milk, melted butter, vanilla and egg yolks into a large bowl, whisk to combine then slowly stir into dry ingredients. Once combined, fold in egg whites until just combined.
Spoon batter into each Mickey shape filling close to top. Close lid and let cook until golden brown and crisp, about 1 1/2-2 minutes depending on the heat setting of your waffle iron. Remove hot waffles and place on cooling rack. Continue cooking waffles until all batter is used.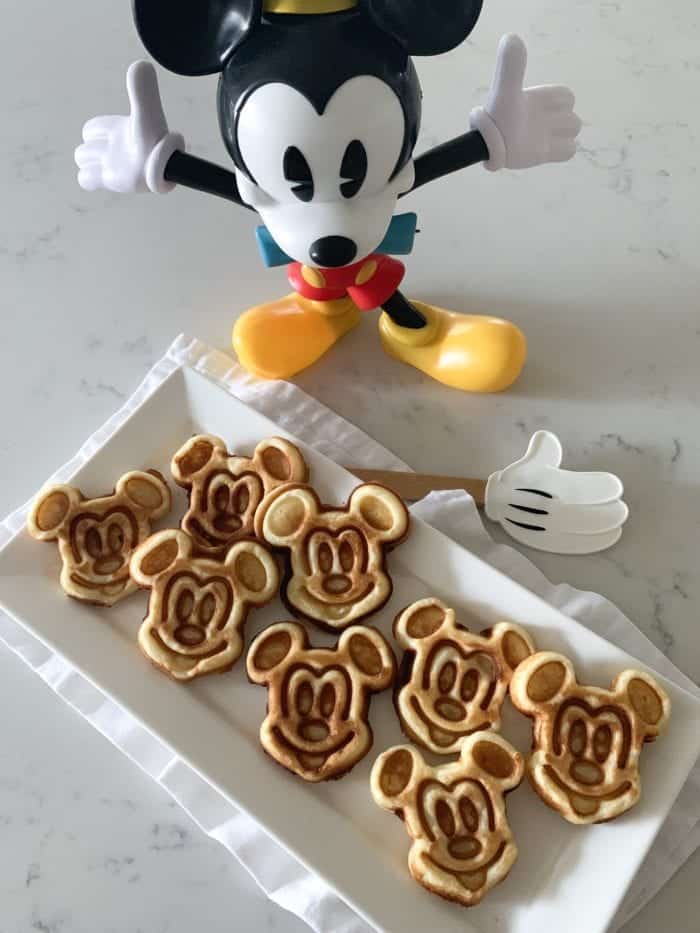 Next main piece of this is the chicken of course!
Ingredients
1lb Chicken tenders or Chicken thighs cut into strips

1 Egg beaten

1 Cup Water

2 Cups All purpose flour

1Tsp Salt

1Tsp Pepper

Vegetable oil
Instructions
Heat about 2 inches of Vegetable oil over medium-high heat in a pot or pan. Less splattering in a pot. (Turn down heat if starting to pop too much.)

Set up dredging station. In one , whisk egg with water. In other , combine flour, salt, and pepper.

Dip chicken in egg mixture, then flour mixture, and shake off excess flour.

Repeat step 3 and then set chicken aside.

Measure oil temperature. Should be between 350-375 before frying chicken.

Drop in chicken one at a time. Make sure not to overcrowd the pot or pan.

Cook about 8-10 minutes, flip, and repeat.

While waiting, grab a resting tray and line with paper towels to soak excess oil.

When chicken is done, transfer to resting tray and sprinkle with a pinch of salt.
Now for the topping, a Mimosa-inspired !
Ingredients
Ready packaged coleslaw vegetables
(Cabbage, Raddichio, Julienne Carrots)
Instructions
1. Whisk together mayonaise, orange juice, champagne vinegar, sugar, salt and pepper.
2. Add dressing with together in a large bowl and mix.
Grab a plate of your choice. Stack together waffle, chicken, and . Top with some chopped chives. Enjoy!
Beverage
At Golden Dreams, you have two very interesting . Strawberry-Rose Lemonade which consists of Strawberry, Rose, Pure Amber Honey, and Fresh Lemon Juice. If you're looking to spike up a lemonade drink, you can do a rum-infused frozen lemonade. Fig & Lavender which consists of Sumatra by

& Tea 

Co. with notes of Chocolate and House-made Fig & Lavender Cream. Joffrey's recently released some at-home coffee recipes!
I hope you're not getting full, because we've got a lot more ground to cover! Meet me at California Craft Brews next!