Everybody who saw Disney-Pixar's Incredibles 2 knows that Bob and Hellen Parr's baby boy, Jack-Jack, packs a whole cluster of powers, including the ability to jump in and out of dimensions. But where does he go when he makes the jump?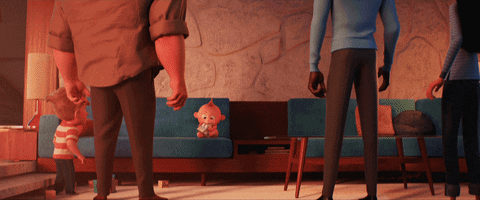 My little Pixar movie theory is that when Jack-Jack disappears, he takes a trip to Monstropolis and the world of Monsters, Inc. 
Hear me out!
If you are a fan of the Disney-Pixar movie, Monsters Inc., you would remember that the monsters sent to terrify kids are terrified of kids themselves, and they seem to have plenty of reasons for being afraid of kids. The film sets out to prove that human children are nothing to be afraid of, but were the characters' fears based on any truth? I believe they were. And I blame Jack-Jack for innocently setting the wrong first impression.
Using the same power harnessed by the portals on the Monsters, Inc. Scare Floor turned Laugh Floor, Jack-Jack jumps into the paralleling Monster world and wreaks havoc.
Here's my proof:
In Disney-Pixar's fourth feature-length animated film, Monsters, Inc., Mike, and Sulley let Boo loose at Harryhausen's Sushi restaurant. Later that same night, they see a news report where they interview two monsters at the scene who report insane sightings.
Monster 1: "Well, a kid flew right over me and blasted a car with its laser vision."

credit: Disney/Pixar

Monster 2: "I tried to run from it, but it picked me up with its mind powers and shook me like a doll."
Jack-Jack's handiwork. We know Brad Bird's animated super baby has all the powers mentioned by the monsters. We see him use his laser vision to terrorize a raccoon. We see him use his "mind powers" to pick up inanimate objects, especially during the animated short with Edna Mode. In regards to the comment about Jack-Jack "flying," I would chalk that up to him dropping into the Monster world "falling in style." And before anybody can get a picture of him, he was called back to his dimension by his daddy and the promise of a cookie.
Pixar never really goes into how the Monsters came to fear children and believe them to be so toxic in either Monsters, Inc. movie. But, I would also be willing to bet that Jack-Jack wasn't the first baby super to have the inter-dimensional powers and innocently jump into the Monster world to wreak a little "playtime" chaos.
While, yes, this is a very frivolous article, it is by no means the first theory to try and connect Pixar films. And, the Monster World and the Human World are the only two realities Pixar has confirmed to parallel each other in the Pixar animation universe. If I'm right, it would show Pixar posing a rather deep anthropological truth. That is, more often than not our most insane myths and legends are often based in reality and become what they are because we need to tell stories, we want to be dramatic, and we often lack proper communication skills.
Okay, if that pretentious blurb turned you against my argument, just imagine the Pixar short that told of the story of how Jack-Jack jumped into the Monster World and caused everybody to panic. Now, try to tell me you honestly do not want to see that.
Related: Is Pixar's "Monsters at Work" Coming to Disney+ Next Month?