A movie theater dedicated entirely to Mickey Mouse shorts is coming to Disney Hollywood Studios and will open in March 2020.
Disney did not tell us much else about this coming attraction other than this rendering of the theater that will allow everyone to step into Mickey's "shorts" and watch some of the new Disney Channel cartoons starring our favorite mouse. There is also mention of some special photo opportunities as well.
This is not the first shorts theater to be added to Walt Disney World lately. Epcot already plays host to a shorts theater of its own. Speaking as a Floridian, a Mickey Shorts Theater at Disney's Hollywood Studios is a blessing. This will give guests a chance to escape the Florida heat and relax in comfort while watching some cartoons.
2020: A Year for Mickey Mouse in the Parks
Mickey Mouse has a lot happening at Walt Disney World next year. Mickey and Minnie's Runaway Railway will finally open to guests, making it the first ride-through attraction to feature the fab five in Disney history.
Read About it Here: BREAKING: Opening date announced for Mickey and Minnie's Runaway Railway 
Disney's Mickey Mouse Cartoons are a series of shorts aired on Disney Channel and are drawn in a wacky new style with backdrops and landscapes in the style of legendary Imagineer Mary Blair. The adventures of the Fab Five take them around the world and feature cameos of every form of Disneyana from Mickey crashing through Cinderella's castle in France to him landing the old TWA rocket from the original Tomorrowland. These shorts also dawn an international tone. We learn Mickey and his pals can speak Spanish, French, Italian, Dutch, Korean, Japanese, and Hindi. The shorts don't include subtitles but are still very entertaining.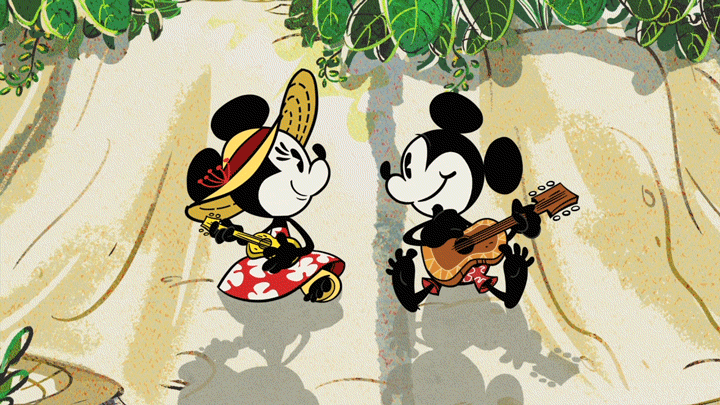 There is no word on an exact opening date or which Mickey Mouse shorts will be shown (will it be a recurring loop of the same shorts shown on the TV in Disney Resort hotels? Or will the shorts change as new seasons debut?), but it will be open just in time to save guests from the summer heat.
If you are planning your next trip to Disney's Hollywood Studios, our friends at Academy Travel are standing by ready to help you plan the best adventure yet!
Are you excited about this new attraction? What do you think about the addition of Mickey Mouse and the Fab Five into Disney's Hollywood Studios? Let us know in the comments!