You read that right. In a combination of comic book writing and copyright deals, Marvel might have figured out a way they could bring Venom into the MCU. For those who think Venom as a character and Marvel Super Heroes are cool but get completely lost when we get technical with comic books and stuff,  here's a simplified breakdown: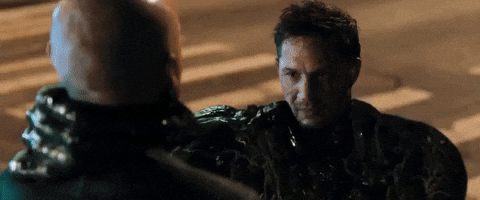 How does it involve comic books?
While the Marvel Cinematic Universe is definitely becoming its own thing, the source material remains the same: the comic books. The books were here first and Marvel Studios likes to cherry-pick which material they want to include in the movies. Their characters act differently, and the timeline is different, but there are certain truths that remain constant. Captain America's shield is made from the same metal called Vibranium, Bruce Banner became the Hulk after experimenting with Gamma Radiation — you know, high-level stuff like that.
In the latest issue of Venom's comic book series, it was revealed that Venom's species of alien–a parasitic creature called a symbiote–can pass through dimensional portals from one universe to the next without being harmed. However, travel takes a heavy toll on the human body. One character called "The Maker" believes that the symbiotes could protect their human hosts as they both travel from one universe to the next.
This means that Venom and Eddie Brock could potentially travel from one universe to the next.
How do the movies come into play?
Venom is currently owned by Sony and the Venom movie exists in Sony's Spider-Man Multiverse called the Spider-Verse. However, during the Spider-Man talks, Sony mentioned that they would be interested in seeing Venom join the MCU. And comic-canon-aside, it would be awesome to see Eddie Brock and Venom interact in any way with Earth's Mightiest Heroes.
Related: Spider-Man and Venom crossover "seems likely," says Kevin Feige
But remember when I said Marvel Studios likes to cherry-pick bits of canon that work for the MCU? Venom's ability to jump through universes would be one of those bits Marvel would want to pick up.
Marvel has already played with multiple universes and multiple dimensions in their films and they don't plan to stop in their next set of films. Marvel-Sony's Spider-Man: Into the Spider-Verse was all about the multiverse. Dr. Strange's next stand-alone movie is literally called "The Multiverse of Madness." This could open up so many doors for Venom and Brock to walk through and find themselves with the big boys and girls in the MCU.
What do you think? Would you want to see Venom in the MCU? Do you think it has a chance of happening? Let us know in the comments!