As our favorite 90s hockey franchise gets ready for its reboot series, Disney+ is looking to fill the team roster!
Join the Flock!
Disney+ is currently looking for kids 12-14 years of age to fill the following positions:
Koob: A shy kid who always plays video games.
Nick: Likes to pretend he has his own imaginary tv show.
Mary: Only described as the popular girl both on the team and at school.
Lauren: An unpopular girl who likes to wear wings and a cape at school and pretend she's a fairy-magician. Try to be friends with the more popular Mary but she ignores her.
The series will open on a 13-year-old kid who gets kicked off the JR. Mighty Ducks team. Still determined to be the best hockey player he can be, this kid and his mom decide to form their own team and begin their search for the basic essentials like a team, a coach, and a rink.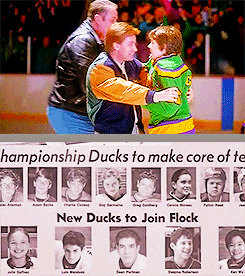 There is no official word yet if hockey-playing abilities are a pre-requisite for these roles, but it's sure to help your chances.
Production on-set is scheduled to begin on February 10, 2020, in Vancouver, Canada, and run until June 1. The original Mighty Ducks trilogy screenwriter, Steven Brill, and the original producer, Jordan Kerner, are on board. Each episode will be 30 minutes long.
Some Mighty Duck Franchise History
The Mighty Ducks is a cult 90s sports film that follows hot-shot lawyer and former hockey player, Gordon Bombay. After being sentenced to community service thanks to a DUI, Bombay finds himself the very reluctant coach of a rag-tag bunch of pee-wee rink rats. After a change of heart, Bombay leads the Mighty Ducks to win the league championship, and along the way rediscovers what's really important. The movie was followed by two sequels–D2, and D3: The Mighty Ducks–as well as an animated TV show.
Did You Know: The Mighty Ducks of Anaheim were created and originally owned by The Walt Disney Company. The NHL awarded Anaheim the expansion franchise in 1993. The real Mighty Ducks earned their first trip to the playoffs in the 1996-1997 season and would go all the way to the Stanley Cup Final in the 2002-2003 season. The Walt Disney Company sold the Mighty Ducks in 2005.
Are you excited for the new Mighty Ducks series? Do you know anybody who would be perfect for any of these roles? Let us know in the comments!