Yesterday's surprise announcement detailing the highly-anticipated expansion of the Wizarding World of Harry Potter was just the beginning of what Universal Orlando plans to unveil between now and the area's debut next year. Releasing only a single piece of concept art, fans are eager to find out what details will be featured in Diagon Alley.
Following the announcement, I had a 30-minute chat with Thierry Coup, senior vice president of Universal Creative and executive creative director for The Wizarding World of Harry Potter – Diagon Alley. I've already shared some of his insight in an article for Fox News, but Coup offered much more than could fit in that piece.
Here are his responses to my questions and many of yours:
Q: Why expand the Wizarding World of Harry Potter with Diagon Alley?
Diagon Alley is an important part of the "Harry Potter" stories and films, playing integral roles throughout. Coup says the decision to build it came just a couple of months after the original Wizarding World opened.
"We brought Hogsmeade Village and Hogwarts to life back in 2010 but for us, and listening to our guests and fans, it was to complete the whole story of the Harry Potter fiction it really also had to be Diagon Alley and London and the Hogwarts Express and Gringotts Bank – all the other elements that were part of Harry Potter's life and his beginning into the world of being a wizard."
And continuing to allow Universal Orlando visitors to embark on the same adventures that Harry Potter did, Diagon Alley represents the true beginning to those stories.
"He started his journey in London, going to Diagon Alley to get his wand, and going on the Hogwarts Express, going to Gringotts Bank to get the money from his parents – that was such a huge part of the stories and we had to bring it to life. And the way we're bringing it to life is even cooler."
Coup is excited about how Guests will be able to relive Potter's own experiences by traveling between Universal Orlando's two theme parks.
"You think about the two now being in two different places, which is kind of the way it was in the fiction and you had to take the Hogwarts Express to from one to the other. Now how fantastic is that to, yourself, be able to get on the Hogwarts Express and go from London to Hogsmeade or come back from there and live along the way what the journey these children, these students, lived as they went."
---
Q: How accurate is the Diagon Alley artwork to what will be built?
Coup emphasizes that the released rendering does not depict detailed plans but instead offers a glimpse of what the area will feel like.
"The illustration is obviously an illustration. It's an artist's depiction of what the experience will feel like but the level of detail that's in this rendering is not true to the real thing. It's going to be so much higher in details and we had to take some creative liberty as to where things are positioned exactly because we're trying to put everything in a rendering and you want to make sure that the overall impression and the feeling is correct, which it is, but […] the real thing is going to be so much more than that."
Though there will be much more detail found when the area is actually built, a surprising amount of what's seen in the artwork is accurate to what will be
---
Q: How will the Hogwarts Express train work? Will it require tickets?
Ever since the stationary Hogwarts Express train was parked in front of the original Wizarding World of Harry Potter, fans have longed actually to board it and travel through Europe. Come next year, Universal will be offering that chance on a real, working train, actually transporting Guests between its two parks, from the original land to the new Diagon Alley expansion.
Coup insists the journey will mimic that of the films, offering visual treats along the way.
"You will certainly feel exactly like you're taking a journey from London to Scotland or coming back from Scotland to London, King's Cross Station, and the outside world will be completely invisible to guests and they will be completely immersed in that journey on the train. Everything you can imagine that happened along the way as it did in some of the films plus some other surprises."
Though the Hogwarts Express will be traveling through Universal's backstage areas, Coup clarifies that none of that will be seen instead of utilizing visual and special effects to create an immersive experience during the ride.
Coup is excited about creating the train ride, easily accommodating Guests of all ages aboard the Hogwarts Express.
"The wonderful thing about trains too is there's no limitations, no age or size limits. So it's a wonderful thing for the whole family as well. But we learned lots from the previous Harry Potter, operationally. I think our team is really planning all that very carefully to ensure that everyone is able to ride it and it looks like there will be no issues with that."
Sure to be a trendy attraction, Universal plans for big crowds as Coup reveals that the train will hold many passengers.
"It's going to accommodate a lot of people as a large train normally would. We're going to be very true to the fiction and the film is mostly where the visuals were."
But Universal is still working out the details on how Guests will be admitted to each park. There have been references to a "park-to-park" ticket, but nothing firm yet.

---
Q: Will the London waterfront facades represent locations from the films?
Entering Diagon Alley from the Muggle side of Universal Studios Florida, Guests will come across a row of London facades, hiding the wizarding world behind it. Coup says these facades have been chosen carefully.
"Each facade played a part in Harry Potter's stories and the films. Everything has a meaning. So yes there's a reason for everything that was placed in the facade."
The released Diagon Alley artwork shows the famous Knight Bus that transported Harry and friends on a hair-raising ride around London. When asked whether it will be parked there as a permanent part of the Wizarding World expansion, Coup replied, "It probably will."
King's Cross Station has been confirmed to be part of the London area, a place to get on and off the Hogwarts Express. Though Universal isn't releasing details on how that will work, it's not hard to imagine that the famous 9 3/4 platform will somehow be part of the experience.
There's already a tribute to it at the real King's Cross Station in London, England, allowing visitors to pose for amusing pictures like this:
---
Q: What shops, restaurants, and other attractions will be in Diagon Alley?
At this point, the details of what will be seen inside Diagon Alley are scarce. But fans need only look to the "Harry Potter" films to get an idea of what will be there, as Universal intends on keeping as true to that as possible, tells Coup.
"It's going to be the signature places. We want to make sure that we're bringing the guests into what Harry Potter experienced. So I can't really say all the details of these places but certainly all the signature places will be part of this and some additional ones that may not have appeared in the films but were certainly part of the stories."
Though Universal wouldn't confirm a single establishment, they have said there would be multiple shops and a restaurant. It seems highly likely The Leaky Cauldron will be that themed dining location.
Another almost-definite candidate is Weasley's Wizard Wheezes, a glimpse of which is seen in the released rendering.
The original Wizarding World of Harry Potter already has Ollivanders Wand Shop, a popular experience since it opened. Putting it there, outside of Diagon Alley, where it's located in the books and films, was okayed by Harry Potter creator J.K. Rowling. But now that Universal is also building Diagon Alley, Coup hints there will likely be more of Ollivanders to being seen.
"J.K. Rowling gave us the okay to open an annex to Ollivanders, which was in Hogsmeade Village. But to be true to Diagon Alley certainly we want to make sure we brought all the iconic places that belong in Diagon Alley. So, you'll have to wait a little bit more, but imagine."
Looking at a list of all of the Diagon Alley establishments featured in the "Harry Potter" stories gives a good sense of other possible stores that could be part of the expansion:
2nd Hand Brooms, Amanuensis Quills, Broomstix, Eeylops Owl Emporium, Florean Fortescue's Ice Cream Parlour, Flourish and Blotts, Gambol and Japes Wizarding Joke Shop, Junkshop, Madam Malkin's Robes for All Occasions, Madam Primpernelle's Beautifying Potions, Magical Menagerie, Obscurus Books, Potage's Cauldron Shop, Quality Quidditch Supplies, Rosa Lee Teabag, Scribbulus Writing Instruments, Secondhand robe shop, Slug & Jiggers Apothecary, Sugarplum's Sweets Shop, TerrorTours, The Ministry Press, The Daily Prophet's main office, Twilfitt and Tatting's, Whizz Hard Books, Wiseacre's Wizarding Equipment.
Of course, Universal isn't commenting on any of these details yet. Likewise, it's not known whether Knockturn Alley will be part of the expansion.
But those wanting to get already a sense of what it will be like to walk through Diagon Alley can visit the Warner Bros Studio Tour in London, which opened earlier this year, showcasing the actual sets used when filming the "Harry Potter" series.
Naturally, it's a popular exhibit. Even the British royals visited there recently to become wizards for a day.
---
Q: Will Gringotts Bank really have a dragon perched on top?
A focal point of the released Diagon Alley artwork is the fire-breathing dragon sitting on top of Gringotts Bank, which will house the area's main new ride. When asked if that dragon will really be part of the area or if it's just there for the rendering, Coup jokingly replied, "It's not in my illustration. Did you get one with a dragon on it?"
But getting serious, Coup did reveal that the dragon will indeed be part of Diagon Alley.
"It was such a big part of the stories and the last book. So yeah, we're bringing the dragon to life as well and the dragon will be doing some cool things, the way dragons do things, you know?"
A fire-breathing dragon played an integral role in the excitement that took place within the vaults of Gringotts Bank in the "Harry Potter" films.
So how closely will it resemble what's in the artwork? Very, says Coup.
"The illustration is pretty accurate there, actually."
---
Q: What will the Gringotts Bank ride be like?
Universal hasn't revealed specific details on what will be inside Gringotts Bank other than to call it Diagon Alley's "marquee" attraction. But Coup makes it clear that anyone who has seen the "Harry Potter" films already knows essentially what will take place.
"We took these incredible visuals, worked with Stuart Craig, and we're going to take our guests for an incredible journey down in Gringotts Bank."
This animated GIF from the Harry Potter wiki is a good place to start imagining what the ride will be like: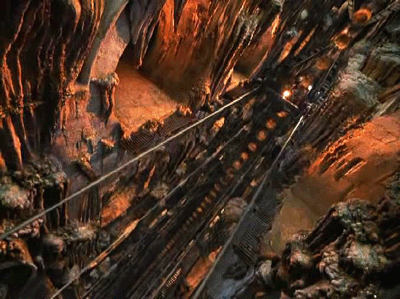 Coup says the ride will be packed with surprises but designed for a wide audience.
"It's going to be definitely a family ride, that it brings all the thrills and excitement Harry Potter would bring to this world. I can't reveal too much, but I will soon – when I'm authorized to. It's going to be fantastic, I can tell you that much. If you saw the films and you saw how cool these settings were, so it's that brought to life so the whole family can really enjoy it."
---
Q: Could Diagon Alley be part of Halloween Horror Nights?
Those who have seen the "Harry Potter" films know that Diagon Alley was home to plenty of grim happenings. With dark characters like the Death Eaters, Dementors, and even Voldemort, it's easy to fantasize about how the world of Harry Potter could mix with the nighttime haunts of Halloween Horror Nights.
But Coup has nothing to add. The details of how that event will coexist with the Wizarding World are still being worked out.
---
Q: Will Diagon Alley stores be bigger than the tight spaces of Hogsmeade Village?
One of the few complaints about the original Wizarding World of Harry Potter at Islands of Adventure is the size of its streets and shops. Small rooms and narrow aisles make navigating through large crowds quite difficult.= But Coup says Universal will continue to favor accuracy to the source material over comfort.
"We don't want to create stores that don't really fit with the fiction. So there's still a sense of intimacy, though Diagon Alley is a larger place than Hogsmeade Village. It's not a little village in Scotland. But we're not going to drift away from being faithful to what the stories and the visuals were in the films. So you can expect it to be pretty accurate to what was there, which means it's going to be probably a bit larger than Hogsmeade, because Hogsmeade Village, again, is a small village."
The goal is to portray Diagon Alley with the most realism possible, even if that means sacrificing some personal space.
"It's about a sense of discovery and the excitement of these incredible shops and restaurant and other surprises that take you into these incredibly immersive spaces. And the scale has to be proper. The details, the graphics, everything."
Coup says the entire Diagon Alley area will have a similar footprint to the original Wizarding World, roughly the same overall size.
---
Q: What has the original Wizarding World done to allow for phase two to be built?
Universal has learned from the successes of the first Harry Potter area, and plans on Diagon Alley being even more impressive. Coup is excited about how much detail they are planning on packing into the new area.
"You think about the layering of the details – we kind of set the bar to a level that hadn't been set before. And what we learned from that is that our guests and fans are appreciating every single detail of what we put into it so our desire now is to take that to a whole new level not only by expanding the experience but also by being able to add even more details, being London and Diagon Alley and Gringotts, being that it's a little bit more urban and we've seen so much of it in the films. We saw more of Diagon Alley in the films than we did of Hogsmeade Village, actually. So it allows us to be authentic to what was presented to the viewers and to the stories and to add a whole level of detail and experience that is going to blow everybody's minds, no doubt."
---
Q: How involved is J.K. Rowling in the creation of Diagon Alley?
This time around, the notoriously meticulous Harry Potter author has left more creative control in Universal's hands but still paying attention. Coup and his team have been working closely with her since the beginning.
"She's been partnering with us in the development, in the conceptualization of this to ensure that it is true and authentic."
They're also working with Warner Brothers and the films' production design team, including the returning talents of designers Stuart Craig and Alan Gilmore.
---
Q: When will The Wizarding World of Harry Potter – Diagon Alley open?
Pressing Coup for more details on the announced 2014 opening timeframe resulted in no additional information. Universal isn't saying what part of 2014 will see the opening or even if it'll open in phases. But they promise those details will be shared as soon as the time is right.
---
Q: Will Diagon Alley be part of the Wizarding World of Harry Potter in Hollywood?
Universal Studios Hollywood has revealed very little about what their version of the Wizarding World will include. It will have Hogwarts Castle. It will have Butterbeer. But beyond that, Coup isn't talking. Diagon Alley elements may or may not be present out there when it opens in a few years.
---
Q: Why announce Diagon Alley now, and how hard is it to keep a secret nowadays?
Universal Orlando is moving rapidly on this project, wasting no time to capitalize on the hype that followed the debut of the original Wizarding World. The new area is taking the former Jaws to ride, which closed (much to many fans' dismay) in January 2012. Following that ride's demolition, construction immediately began on Diagon Alley. Universal opted to wait nearly a year and a half to dish out the details on the expansion today, despite the information being leaked online two days before Jaws closed.
Coup says it is "very" difficult to keep a secret today, citing the "power of the Internet" and proliferation of digital cameras. But he asks fans to be respectful of the ongoing projects, taking a wait-and-see approach to enjoy the final results.
This week's announcement was carefully planned. There were some thoughts about the timing of next month's Transformers: The Ride 3D grand opening, but Universal felt that the time was right to tell the world what's coming next year. And there's even more planned after that, says Coup.
"The excitement is going to continue. I think every year we're going to have some great announcements to give our guests and you guys and it's a great time to be at Universal, certainly. […] We're relentless at bringing these incredible moments and journeys so that families can have memories forever."

Related : 'Harry Potter' Fans Virtually Celebrate 'Back to Hogwarts Day'
CLICK HERE to shop for Disney Merchandise.