It doesn't matter if it is on the books are on the films, a beloved character's death is always tragic and heartbreaking for fans. A Harry Potter fan can take it particularly hard since the movie franchise and the book saga are a huge success and beloved worldwide.
However, the actors playing the characters in movies might take it harder than the fans. Imagine that you played this amazing character in such a big franchise as the Harry Potter series and its wizarding world, just to learn that your character dies! Talk about a punch in the stomach!
Related: 'Harry Potter' Fans Virtually Celebrate 'Back to Hogwarts Day'
It was exactly that shocking feeling that left Harry Potter star James Phelps baffled when he learned about Fred Weasley's death while reading the novel Harry Potter and the Deathly Hallows.
But, while Phelps was processing his shock and realization of what he just read, his reaction could be characterized as pretty hilarious! On an interview for Metro.co.uk, the actor that plays one of the Weasley wizards describes the moment he learned the news and what was his reaction:
"The book had just come out that day, so I found an English copy. I was actually on a bullet train, and I read the part when Fred died – so I'm a bit shell-shocked at this point because I didn't realize how attached I got to the character. That caught me by surprise. I was surprised that he died. So I'm kind of all going over these different emotions. At the same time, the ticket officer is coming around asking for tickets. And he just kind of prodded me saying 'ticket, ticket.' All I could do is look at him and I actually said, 'Mate, come on, I've just died here, let me have a bit of time to myself!' "
Poor Phelps! He was so in shock that he felt like a part of him had really died. Well, the iconic Harry Potter character Fred Weasley died and it probably took a part of Phelps with him. After all, it's not only the wizarding world fans that love the Harry Potter books and films. The actors defiantly have a unique connection to their characters.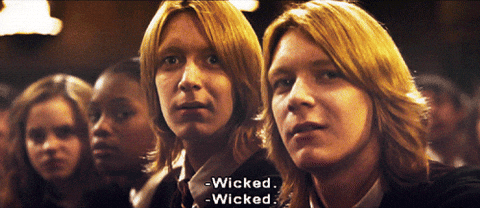 Related: Virtual Hogwarts Escape Room: Wizardry & Tech Unite
Based on this story, can you imagine how Michael Gambon and Robert Pattinson reacted when they learned about the deaths of their characters Albus Dumbledore and Cedric Diggory?
Fred Weasley's Death
If you don't remember how Fred Weasley dies, here is a quick recap. Harry Potter and his friends, including the Weasley family, return to Hogwarts to defend the school against Voldemort and the Death Eaters.
Related: Attend Hogwarts Online: Turn That Free Time Into Magical Study Time
The twins Fred and George Weasley are assigned to protect the castle's secret passage. The Death Eaters attacked the entrance guarded by the twin brothers. While fighting alongside George and their older brother Percy, Fred dies in an explosion by the Death Eater Augustus Rookwood.
Fred Weasley died protecting Hogwarts and surrounded by his family and friends.
What did you think of James Phelps' reaction to Fred Weasley's death? How do you think you would react if the character you played in Harry Potter was killed? Let us know in the comments below.