Downtown Disney officially reopened on July 9. 
There's been a lot of information and questions that have come up — and even a petition was started– since Disneyland announced their plans for a Phased Reopening .  Most recently, there have been new details on the Downtown Disney reopening as it is the first part of the Disneyland Resort to reopen.
If you're looking to head down there, here are some in-depth answers from Disneyland to frequently asked questions. This information comes straight from the Disneyland Resort official website. We have continued to update this article as more information has become available.
Guest Parking and Entrances
Guests will be instructed to self-park in the Simba Parking Lot. Parking is complimentary; however, this offering is temporary. All other Guest parking locations are closed.

To promote physical distancing based on guidance from health authorities and government officials, entry to the Downtown Disney District may occasionally be paused due to limited capacity. At such time, parking in the Simba Parking Lot and admission of Guests choosing to enter Downtown Disney District on foot will also be paused. Entry to the Downtown Disney District and the Simba Parking Lot will resume as soon as they are able.

Digital message boards on Disneyland Drive and Katella Avenue will indicate when entry is paused due to capacity limitations. As always, we thank our Guests for their patience.

Rideshare drop-offs are at the Harbor Boulevard Guest drop-off and pick-up location, or at the Downtown Disney District Guest drop-off and pick-up location on Downtown Drive.
Temperature and Security Screening
All Guests are required to undergo temperature screenings prior to entering the Downtown Disney District.

Guest Screenings: During this initial reopening period, Guests will undergo temperature screenings in front of the designated Downtown Disney District security screening location. Based on guidance from health authorities, anyone displaying a temperature of 100.4 F or above will be directed to an additional location for rescreening. A Guest with a temperature of 100.4 F or above—in addition to everyone in the Guest's traveling party—will not be allowed entry.
Employee Screenings: Cast Members and Operating Participant employees are required to complete a health screening and temperature check prior to coming to work.
Enhanced Cleanliness Procedures
We've increased cleaning procedures in high-traffic areas such as handrails, benches, tables, handles, restrooms and more. Additionally, the Downtown Disney District has reopened with hand sanitizer and hand-washing locations, and Guests are highly encouraged to use these while visiting. These locations are in addition to our existing Downtown Disney District restroom facilities.
Face Coverings
All Guests ages 2 and older are required to bring and wear face coverings when visiting the Downtown Disney District.

All face coverings should:

Fully cover an individual's nose and mouth and allow the Guest to remain hands-free
Fit snugly but comfortably against the side of the face
Be secured with ties or ear loops
Be made of breathable material, either disposable or reusable

At this time, neck gaiters, open-chin triangle bandanas, and face coverings containing valves, mesh material or holes of any kind are not acceptable face coverings.

Guests may remove their face covering while actively eating or drinking outside, stationary and maintaining appropriate physical distancing from others.

Costume masks are not considered appropriate and are prohibited from being worn, in alignment with our existing rules.

The use of face coverings is not a substitute for physical distancing.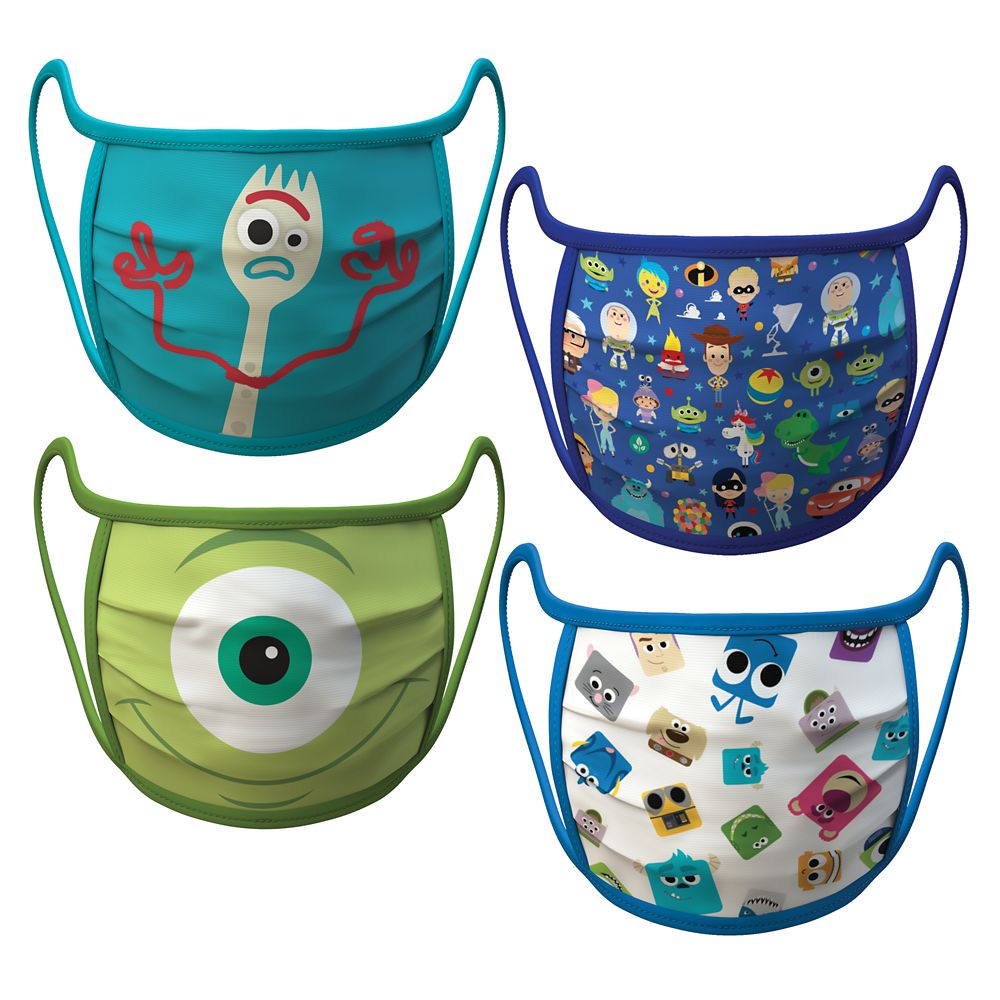 Operational Changes for Physical Distancing
Managing the number of Guests visiting the Downtown Disney District has been a major consideration as we implement physical distancing guidelines based on guidance from health authorities and government officials. One of the ways to do that is to limit the number of Guests and Cast Members at any given time for each location. 

Signage: Directional signage has been installed to assist Guests to maintain physical distancing as they move throughout the property. Additionally, ground markings will help promote proper physical distancing when queuing is needed at a location.

Following guidance from health authorities and government agencies regarding enhanced screening procedures and prevention measures, we have made some temporary adjustments that include limited-contact Guest Services to promote physical distancing and cleanliness. 

Physical Barriers: Physical barriers have been added in select places where it is difficult to maintain strict physical distancing guidelines. These may be visible in areas around cash registers, for example, to help ensure proper distances between people.
Cashless Transactions: At this time, it is recommended that Guests use cashless payment options while visiting the Downtown Disney District, including debit cards, credit cards, Disney gift cards, etc. Guests can also use contactless payment options, such as mobile wallets, or purchase a Disney Gift Card at the World of Disney store and select merchandise locations for use at Disney-owned and ‑operated merchandise locations.
Dining
Dining locations at the Downtown Disney District have begun to reopen in a way that incorporates our enhanced health and safety measures, including physical distancing, the use of appropriate face coverings by Operating Participant employees, Cast Members and Guests, increased cleaning procedures and limited-contact Guest services. Additionally, at this time, following state and county guidelines, no indoor seating will be permitted; all seating is outdoor patio only.

To promote physical distancing and touchless transactions, a number of changes have been made to our dining locations, including:

Increased outdoor patio-style seating
Parties seated at tables 6 feet apart
Digital or single-use menus available at many locations

Reservations
For some table service restaurants, Guests can make advance dining reservations by booking online. Some dining locations may also use their own reservation system or virtual waitlist. Please check with each individual location to confirm their reservation process. Keep in mind, upon your arrival, all members of your party must be present before seating, and hosts must bring your entire party to the table at one time.

If a Guest has a dining reservation for the day and arrives at the Simba Parking Lot or the Downtown Disney District when entry is paused, the Guest should speak with a Cast Member and present proof of the day's dining reservation for assistance.
Shopping Experiences
In merchandise locations throughout the Downtown Disney District, while Guests will continue to discover favorite Disney items and unique products for the entire family, some modifications to the shopping experience have been established to help us manage capacity and foster physical distancing.
Mobile Wait List: At some retail locations, including the World of Disney store and Marceline's Confectionery, we may at times use a mobile wait list system to manage the number of Guests shopping when the location and/or queue are at capacity. Guests can choose to provide their name and mobile number to receive a text message when they are able to return. Data and message rates and other restrictions may apply.
New Product Launches: Guests can still find new merchandise at the Downtown Disney District. However, monthly program releases and limited-edition merchandise at Disney-owned and -operated retail locations are not available for in-person purchase until further notice. Guests are invited to visit our Merchandise Events page for more information on future buying opportunities—and to learn how to take advantage of our new shopping platform, where Guests can purchase limited-edition merchandise online, subject to availability, while supplies last.
Dressing Rooms: For the time being, dressing rooms are not available for use.
Returns: Upon the reopening of merchandise locations, eligible returns and exchanges will be accepted at the World of Disney store, as well as the other Disney-owned and -operated locations in the Downtown Disney District, subject to the returns and exchange policy.
Need an expert to guide you through these changes as you navigate Disneyland Resort on your next trip? Academy Travel agents understand these changes and will make sure your trip is magical. Reach out to them here!