Each of the exercises in this workout is inspired by one of our beloved Disney Princesses. It will help you to understand your own self awareness. Who doesn't want to be that resilient woman who can get through anything?
It's also nice to have confident posture. It's important to have a nice long neck to hold our crown up high. Not to mention, you need to strong arms to pick up that elegant ball gown, if you're into that sort of thing. And legs? They need to be toned to dance the night away in those heels at the ball. You can't forget about your core — it helps you make your gut decisions!
If you scroll all the way to the bottom, there's a motivating princess playlist to go with your workout! The playlist matches up to the 46 minutes of the workout. The optional equipment you may use is a yoga mat and resistance bands.
This workout can be done barefoot because it is low impact. It starts off slower as a warm up and then builds upon that and then into a cool down. You'll do 3 rounds of each phase before you move onto the next. Each exercise is done for 45 seconds with a 15 second break.
Warm Up
Cinderella: Plie-Releve-Extension
This is a little barre ballet exercise for you. You can hold onto a chair back for balance. This will give you those elegant legs to withstand your favorite heels. We all know they're not always comfortable, but being able to wear those glass slipper heels shows Cinderella's elegance after Fairy Godmother gives her a transformation.
You're going to position by standing up tall with your heels together and toes pointed out making a "V" shape, a.k.a. first position. You'll start by bending your knees into a plié making your legs look like a butterfly. Make sure to not hinge at your hips. Then you'll lift your heels into a releve. Lastly, you'll extend your legs tall with your heels still off the floor. Place your heels down and repeat.
Elsa: IYts
In the first Frozen movie, Elsa builds an ice castle with her own hands. She looks so majestic waving her arms out as magic flows through her veins and out her hands. Here is an a shoulder and arm exercise to help you have magic hands.
Stand up tall with your feet together and shoulders down. Pull your shoulders back like you're pinching towards your spine. Lift your arms straight above your head making the "I." Lower arms and raise them at angle to make the "Y." Lower and lift arms to the side making the "t." Repeat.
Jasmine: Revolved Chair Pose
A little yoga inspired by the live action Aladdin movie. This move is to signify some of the dance moves in the dancing scene with Aladdin. If dancing is your thing, you should try Zumba.
You'll start standing with your feet together and lower your bottom like you're sitting in a chair. Keep your chest up and bring your hands together in front of chest with elbows out. Twist core to touch left elbow towards right knee. Come back to center then twist to other side. Come back to center and repeat.
Speed Up
Mulan: Squat with Side Kick
She's getting ready for battle so let's add a little fight to this workout.  You can even get in a HIIT workout for more strength and conditioning.
Feet shoulder width apart and fists up in front of chest. Squat down and sit into heels. Come up and side kick. Repeat alternating side kicks.
Merida: Archery Banded Rows
Merida is, well, brave. She's iconic with her bow and arrow. This exercise could be done with resistance bands or self resistance.
Hold hands together or band out from chest. Pull one elbow back towards wall and then return to middle. Alternate sides.
Tiana: Frog Squats
In Princess and the Frog, Tiana, of course, becomes a frog. Therefore, we're doing frog squats!
Get into frog position with feet shoulder width apart. Hold hands together in front of chest and drive elbows into knees. Extend legs as far as you can trying to get back into a tabletop position. Lower back to original position and repeat.
Anna: Mountain Climbers
In Frozen II, Anna is trapped inside a mountain and climbs her way out. She shows tons of strength and determination here which is what you need for the speed of mountain climbers.
Plank on hands and feet. Make sure your core is tight and back is flat. Drive on knee to shoulder and then the other. You can have a different variation by driving knee to opposite shoulder.
Belle: Curtsy Lunge
Though quite a few of princess movies have a curtsy in it, this curtsy leads into one of the most romantic songs in Disney history. Belle curtsies and the Beast spins her in her a beautiful ballroom.
Stand up tall with feet shoulder width apart. Step right foot back and behind left foot while lunging down. Come up and repeat with the other side.
Pocahontas: Rowing Russian Twist
Pocahontas isn't just floating down the river. She's actively rowing her canoe just around the riverbend, which requires a strong core and upper body.
Sit on the ground with knees up and feet flat. Make sure to sit up tall and chest out and lean back to a 45° angle. Twist and row arms to one side then back to center. Repeat to the other side.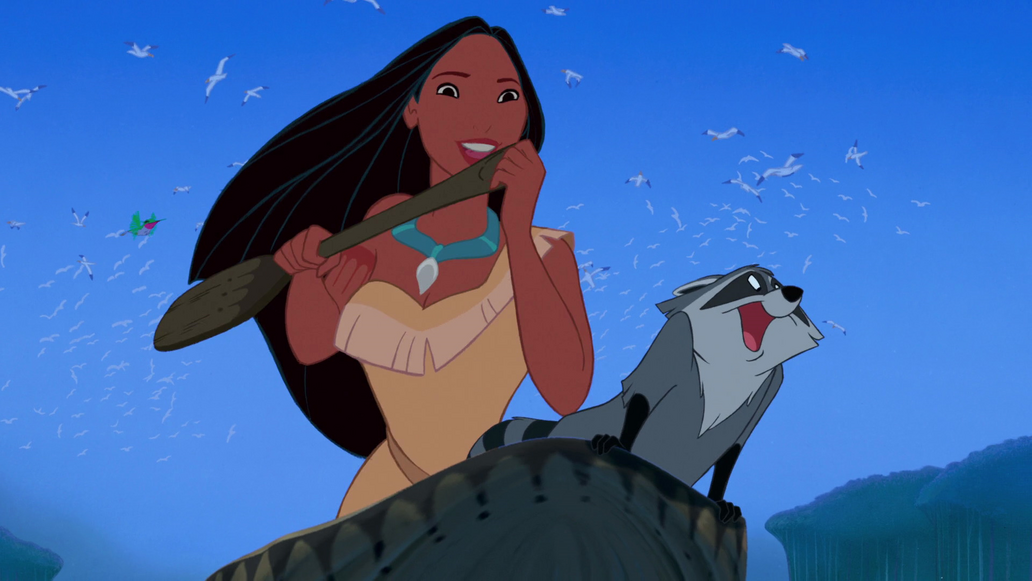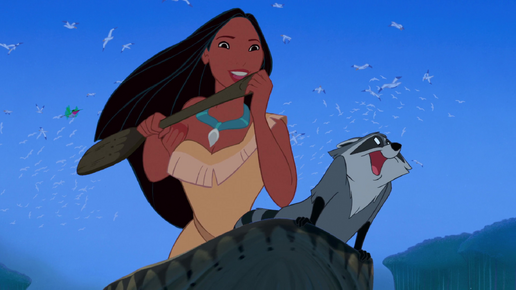 Ariel: Side Plank
Ariel, the little mermaid, dreams of being part of our world whether it be under water or up on the surface. When she has a tail and needs to sit, those obliques are working hard to keep her upright.
Lay down on your side with your legs stacked and knees bent. Knees should be in line with hips and hips should not be tilting. Push up onto elbow with elbow directly under shoulder. The uninvolved arm can be on your hip or up to sky. Hold for 20 seconds and switch to hold 2 seconds on the other side.
Slow Down
Snow White: Row into Extension
When Snow White, first discovers the dwarfs' home, it's a mess. She decides she's going to clean it up with all the animals. She delegates tasks (what a boss babe,) and takes the sweeping upon herself, so we need to work out those sweeping muscles. There's lots of sweeping in princess movies, too.
You're going to be on your hands and knees for this one. Your shoulder should be in line with your hands and your hips in line with your knees. Row one elbow back and then extend fist back. Create a little self resistance here. Bend elbow and recover to original position. Repeat with other arm.
Rapunzel: Opposite Arm/Leg Extensions
Do you remember when Rapunzel was wondering when her life will begin? She's continuing on with her daily routine that is always the same, like adding to her painting on the wall. While she's hanging, she's keeping balanced with an arm and leg extended.
You can stay on all fours for this one, same position as above. Extend opposite arm and leg out then recover. Repeat with other side.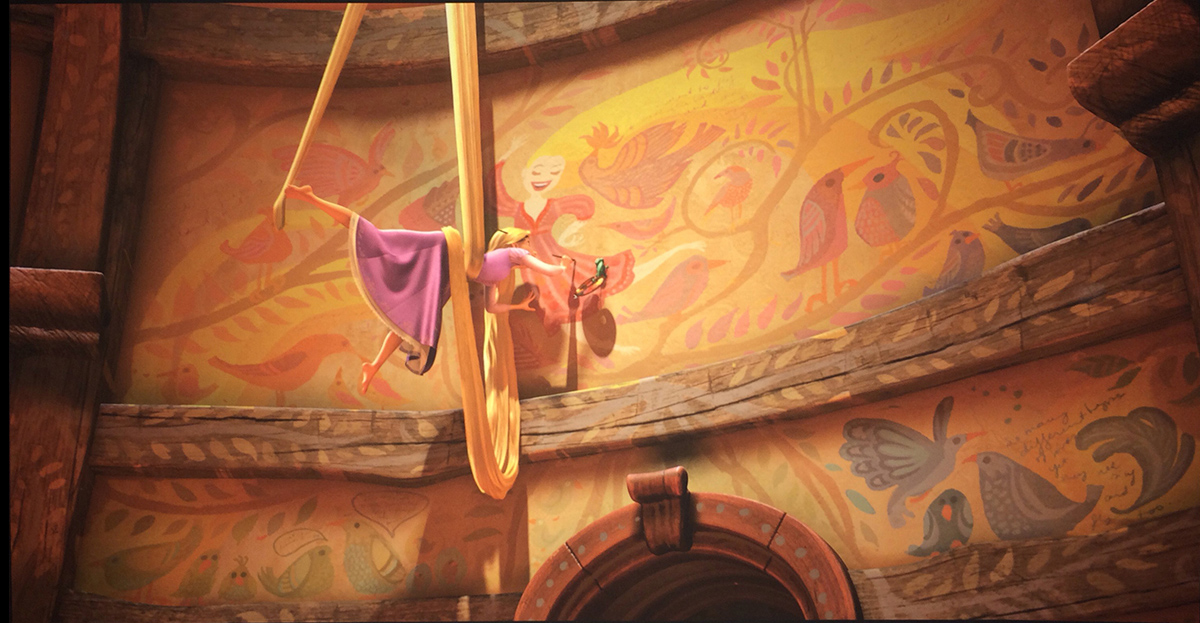 Moana: Swimmers
Moana is an adventurer who loves the ocean. Sometimes she spends more time swimming after her raft then navigating it, but either way, you'll need strong back muscles for both.
Lay onto your stomach and extend your arms straight up above your head. Lift your legs with everything slightly off the ground. Arch the opposite arm and leg up a little higher than the other side. As one side goes up then the other goes down.
Aurora: Reverse Crunch
Aurora is the sleeping beauty but she's at peace when she wakes up. So for this one, you can close your eyes as we wind down.
Lay on your back with arms extended above your head. Your legs will be extended too. With arms still straight, windmill arms down as you bend your knees towards chest. Extend back out and repeat.
Stretching
The last few minutes are used to properly cool down and make sure we don't get injured. After all, it's not cute for the princess to be limping. Since this was a full body workout, stretch and hold all your muscles.
Playlist
This playlist is in order of the best flow for the workout.
"Where Did I Put That Thing / Bibbidi-Bobbodi-Boo" (Verna Felton) 4:48
"Belle" (Richard White, Paige O'Hara) 5:09
"Whistle While You Work" (Adriana Caselotti) 3:24
"When Will My Life Begin?" (Mandy Moore) 2:32
"Honor To Us All" (Lea Salonga, Beth Fowler) 3:03
"Touch the Sky" (Julie Fowlis) 2:31
"Speechless" (Naomi Scott) 3:29
"Almost There" (Anika Noni Rose) 2:24
"How Far I'll Go" (Auli'i Cravalho) 2:43
"Let It Go" (Idina Menzel) 3:44
"The Next Right Thing" (Kristen Bell) 3:37
"Just Around The" Riverbend (Judy Kuhn) 2:28
"Part Of Your World" (Jodi Benson) 3:15
"An Unusual Prince / Once Upon a Dream" (Mary Costa, Bill Shirley) 3:30