Picture this it's a busy day of work, you're sitting at your desk for lunch, working through lunch, naturally.  What is in your lunch pail for the day?  Why chili of course!  At least that's what Walt Disney ate for lunch many days of his life.  He loved basic foods like chili, burgers, sandwiches, and spaghetti.  As Walt Disney's family said, "Walt ate very simply. He liked basic foods. He loved chili."
He often sat at his desk in the Walt Disney Studios and ate his chili, but how did he like his chili?  For an easy lunch, he like to mix to brands of chili together to make the perfect blend of meat to beans ratio. Gebhardt's had more meat and less beans and Dennison's had less meat and more beans.  He often with travel with cans of chili and other food favorites because he was very routine and in case he didn't find anything that he would enjoy eating.
He wouldn't just eat canned chili though, he would also order it as restaurants such as, Chili John's, in Burbank, CA.  Believe it or not, Chili John's is still open and serving up one of Walt's favorite chilis!  If he wasn't ordering it at a lunch out of the office, or eating the canned version inside the office, he or his wife would be cooking it at home.  Lucky for us, he shared that recipe with us.
Walt Disney's Chili Recipe
Recipe source: D23
Ingredients
2 lbs. coarse ground beef
2 onions, sliced
1/2 cup oil
1 cup chopped celery
1 tsp chili powder (depending on taste)
1 tsp paprika
1 tsp dry mustard
1 large can solid pack tomatoes
2lbs dry pink beans
Salt
For Extra Zest
Add a pinch of the following spices:
1 little yellow Mexican chili pepper
Coriander seeds
Turmeric
Chili seeds
Cumin seeds
Fennel seeds
Cloves
Cinnamon
Dry ginger
Instructions
Soak beans overnight in cold water.
Drain, add water to cover (2 inches over beans), and simmer with onions until tender (about 4 hours).
Meanwhile, prepare sauce by browning meat and minced garlic in oil.
Add remaining ingredients, and simmer for 1 hour.
When beans are tender, add sauce to beans and simmer for 1⁄2hour. Serves 6 to 8.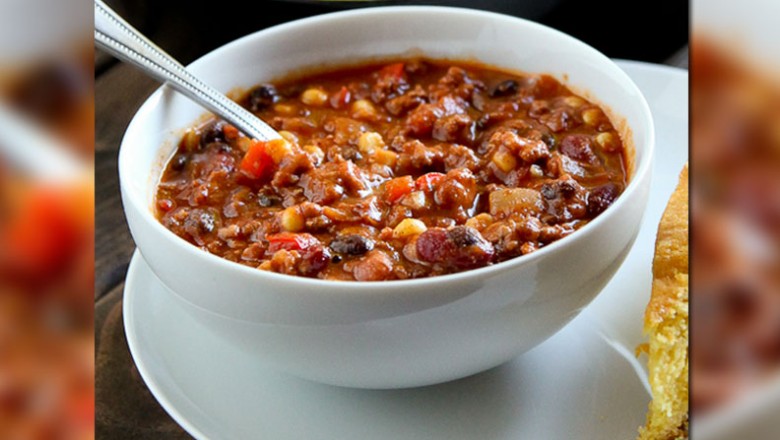 Disney Family Version
Recipe source: Disney Family
This is a very similar recipe to Walt's, as it is an ode to Mr. Disney himself.  The biggest differences are that this one is a little chunkier with beef stew meat, the beans are canned instead of dried, and some of extra zest spices are already added into this recipe. It's also garnished with 1/2 cup sour cream, 1 cup shredded cheddar cheese, 2 diced tomatoes, which is a little more of a modern take on the classic chili.  As we all know Walt Disney is a simple eating man so he would have just ate it straight up.
Walt Loves Coffee With Lunch
Walt Disney loved to have coffee with his lunch each day.  I mean, something had to fuel all that imagination in his brain, right?  Funny enough, that's an added ingredient into my own chili recipe.  My recipe is really a blend between both Walt Disney and Disney Family's recipe.  My two not-so-secret ingredients are 1 cup of brewed coffee and 1 Tbsp of unsweetened cocoa powder.  These ingredients enhance the meaty flavor of the chili.  It's only perks that it's Walt Disney's full lunch all wrapped up in one dish.
You can also switch things up for another fun variation and an even heartier meal. Walt Disney also love spaghetti and if you bake cooked spaghetti with chili and a ton of cheese on top, you can have a delicious chili spaghetti.  And next time you're at Disneyland, take a visit to Carnation Cafe because they serve a fabulous bowl of chili!