Many of you know who Baby Yoda is by now and the fact that his name isn't actually Baby Yoda.  Disney officially named him The Child in The Mandalorian and as far as we know, he has nothing to do with Yoda other than maybe being the same as Yoda's species.  As soon as Star Wars The Mandalorian hit Disney+ with the Child who looks like a mini, childlike, cuter version of Yoda, non-Star Wars and Star Wars fans alike fell in love with this character.
Target
It took some time, but slowly Disney, Disney Parks,  and other partnered companies released Baby Yoda merchandise.  Target has been known to have a major partnership with selling Disney items.  Some of the items you can only find exclusively there.  And to no surprise, there are some fun items already in stores, but new items are to launch as soon as May, or as late as December.
With so many merchandise items that you could choose from, what route do you go?  We're highlighting some of the items here that would be great for you or the Baby Yoda lover in your life.
Plush
On May 10th, 2020, Target will be releasing an 11″ The Child plush for $24.99.  The Disney Store is also launching their 11″ plush by June 1st, 2020.  From photos, you can see the major difference between the two is that the Target one seems to have a plastic head and hands, but the Disney one is full plush.  Both are a good representation of The Child, but the Build-A-Bear The Child plush definitely hits the cuteness factor on a better note.  If you're looking for a talking plush toy version of The Child, it will be available on May 18th, 2020, also for $24.99.
Collectible Action Figure
Target has few different priced options for depending on how much of an investment you're looking for.  The lowest priced at $9.99 for a 1-inch figurine and comes accompanied with the soup cup, frog, and shift gear top.  If you're looking for something a little bigger at $19.99 you can get a 6.5″ figurine.
Collectible Toys
This Target option is definitely one that is worth the purchase!  They come in a 2-pack for $15.99 with multiple options on a release date of May 25th, 2020.  These are the definition of adorable.  The Child is known for his hysterical personality even though he can't speak and it's because of those big googly eyes and funny actions.  The 2-pack of figurines are made to look like some of the most memorable scenes from the first season of The Mandalorian.
Animatronic
This one is the largest investment of them all at $59.99 and you'll unfortunately have to wait a little bit for this one.  The release date for the animatronic edition is set for the end of the year on December 1st, 2020.  The force is with this Hasbro made toy though, because he has sounds and movement inspired by the series.  Bright side, it'll be in time for this holiday season.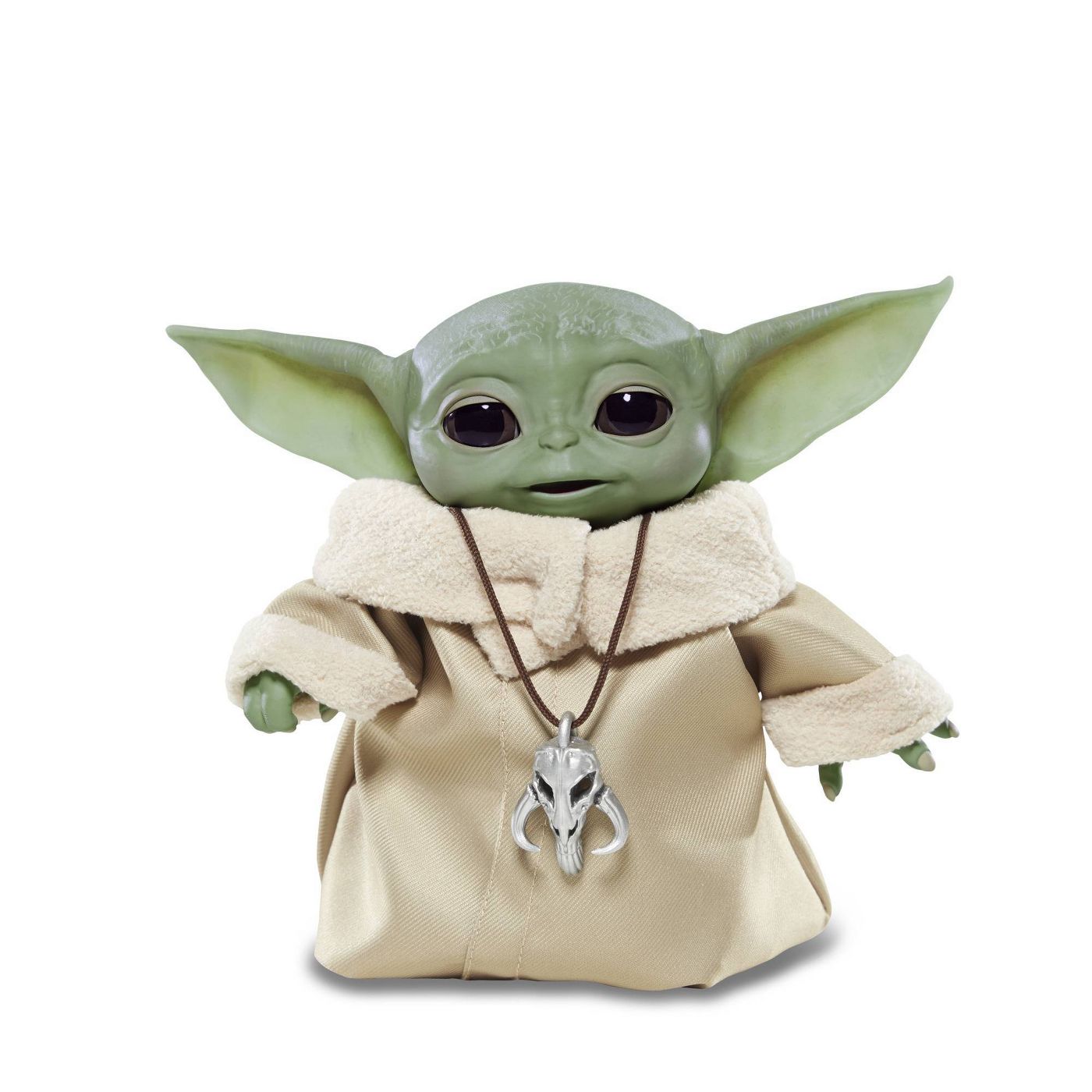 Lego Set
This is another one that is worth it!  Though it's not as cuddly as some of the merchandise, it's will be a blast to put together.  The 295-piece set will release on August 8th, 2020.  Bonus, it comes with both the Mandalorian and Baby Yoda for $19.99.
Pre-orders are available for some of the merchandise listed above.  Happy shopping!