If you have ever visited a ski resort in the United States or Canada, a significant part of your experience is thanks to work done by Walt Disney and his team. And you probably had no idea.
All ski resorts in North America grade their slopes and trails with either a green circle (easy), a blue square (intermediate), a black diamond (advanced), or a double black diamond (experts only). It was Walt Disney's team that came up with that grading system.
Here's the story of how the grading scale came to be, and the subtle psychological genius behind it.
Walt Disney Wanted to Build A Ski Resort
Before he passed away in 1966, Walt Disney set out to build or buy his own ski resort. One of the proposed locations was Mineral King in California's Sequoia National Park, but environmentalists reportedly blocked it. Obviously, Walt's plans for a ski resort would never come to be, and if you take the "Keys to the Kingdom Tour" at the Magic Kingdom, you'll learn about how the architecture of his ski resort lives on in the log cabin style of Frontierland.
But before the plans for a ski resort completely shut down, Disney already established its proposed trail signage.
Related: Through the years of Disney: A timeline of history and facts
Official Rating Scale
That trail signage would survive and become the adopted method of the National Ski Areas Association (NSAA) in 1968 and is still in use today.
According to Signs of the Mountains, the modern trail rating system is as follows:
Green Circle: The easiest; usually wide, open trails with a grade from 0-25%. (A 100% grade would be a 45-degree angle.)

Blue Square: Intermediate; generally the most prevalent rating across a mountain, with a grade between 25–40% and often groomed.

Black Diamond: Most difficult; steeper than 40%, likely ungroomed and therefore covered in moguls and/or the freshest snow.

Double Black Diamond: Experts only! Very steep and narrow, with extra hazards and obstacles like exposed rock and drop-off cliffs.

Orange Rectangle, horizontal with rounded edges: Terrain park; this is where you'll find rails and boxes, professionally shaped jumps and half-pipes.
Now, each mountain and resort have their own subjective grading systems, but they are all based on this scale. For instance, Big Sky Resort in Montana offers triple black diamond routes, and Steamboat Spring in Colorado has Blue-Square-Black-Diamond to signify a run whose difficulty sits between the two standard ratings. And if a relatively flat and smooth traverse leads to nothing but black diamonds, the resort will label that traverse also a black diamond. Remember always to ask the resort staff, ski patrol, and other skiers for clarification.
Oh, and always keep an eye out for snowboarding yeti…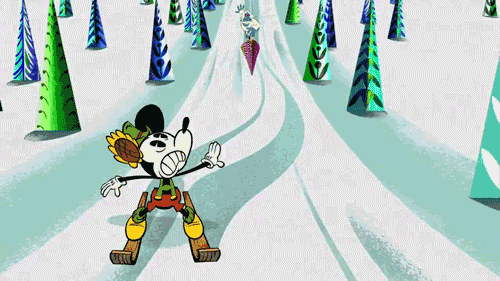 Related: Tourists stranded at real Matterhorn in Switzerland
No Signs before 1964
It's hard to imagine, but before the 1964-65 season, there were no regulations or traditions for North American ski resorts to use when labeling their runs. Sure individual ski resorts–hopefully–had their own unique systems, but there was no unified grading scale. And there was immediate pressure on newly formed NSAA to solve the matter. (This is why they don't cover this in Goofy's short, The Art of Skiing (pronounced "SHEE-ing"). If they had signage, I'm sure they'd be covered.)
So for the 64-65 season, the NSAA released its first attempt at a universal grading system. A green square labeled the easiest runs, a yellow triangle for "more difficult," a blue circle for "most difficult," and a red diamond for "extreme caution." However, skiers were still unsatisfied with how accurately those signals graded the terrain. Enter Walt Disney's method.
John Fry and Bob Cram told the story of how Disney's proposed resort formula became THE formula in a piece for skinghistory.org. Here is an excerpt:
The solution came less than three years later, when NSAA discovered that the Disney Company, which was thinking of buying or building a ski resort (Mineral King in California was one), had gotten as far as determining what kind of trail signs it would adopt. The company had even tested skier's reactions to different geometrical figures, concluding, for example, that a symbol for easy terrain should be a circle, perceived as soft; its color should be green, perceived as mellow. More difficult terrain would be indicated by a blue square, and most difficult by a black diamond. NSAA saw the Disney formula as an improvement, and switched to today's shaped colors in 1968.
It's been over 50 years, and the Disney formula remains the standard for all ski resorts in North America, and there haven't been any concerns that it needs to change. In fact, the formula has been taken and adapted to summer sports, too, such as mountain biking and hiking trails.
So, the next time you're on the mountain trying to decide if you want to tackle some moguls on a black diamond or cruise down a groomed blue square, remember that you wouldn't be making such a simple yet significant decision if it wasn't for Walt Disney.
Did you know Walt Disney was the man behind the NSAA's ski grading system? Are you surprised by this news? What kind of slopes do you like to ski? Let us know in the comments!
Sources: snowslang.com; signsofthemountains.com; nsaa.org.