"Oh, this is the night, it's a beautiful night
And we call it bella notte"
And it can be your dinner plans for one of the days of your next Walt Disney World vacation.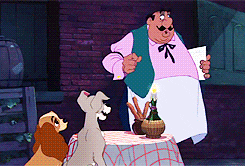 Situated near the entrance of Main Street, U.S.A. at the Magic Kingdom is Tony's Town Square Restaurant. Yes, that Tony. The jolly accordion-playing chef from Lady and the Tramp. Since 1995, his turn-of-the-century styled trattoria has given Walt Disney World guests the chance to share in the romance as Lady and Tramp. But don't worry. This Italian restaurant serves much more than just the classic spaghetti and meatballs.
Packing a robust wine list, Tony's Town Square Restaurant features a menu that can satisfy every kind of hopeless romantic and food lover. From the Caprese and calamari to the gnocchi primavera and chicken fettuccini alfredo. You can also choose from an array of Tony's Pizza Pies.
According to Disney,
"Tony's pizza pies come topped with a blend of cheeses as well as your choice of pepperoni, sausage, or garden vegetables and make for a perfect shareable entrée!"
You won't want to pass on the pasta, though. Tony makes his own spaghetti fresh for your table.
But Tony does not want to leave out any love birds. So, he offers vegetarian options and even vegan spaghetti and meatballs.
Oh, and we can't talk about a Disney restaurant without talking about the desserts. Tony's offers some classic Italian desserts, including cannolis filled with ricotta creme and powdered sugar, and tiramisu with espresso-soaked sponge cake, mascarpone sweet cream, and chocolate sauce. And, of course, some chocolate cakes for the kids.
Related: Op Ed: Best Walt Disney World Table Service Restaurants To Visit In 2020
Here's the famous scene to get you in the mood.
A Great Spot for the Whole Family
While Tony's does carry that romantic flare for Disney lovebirds, the restaurant is also a great spot for families at any time of the day. It sits right next door to Mickey and Tinkerbell meet n' greet areas. Kids can sit and watch Lady and the Tramp while you wait for your table. The customizable Pizza options make it fun for all kinds of eaters, and the Main Street-facing patio seating offers a great spot to watch Festival of Fantasy over a late lunch.
Tony's is a consistently popular restaurant at the Magic Kingdom, and we recommend you book reservations ahead of time. Reach out and book your vacation with the Authorized Disney Vacation Planners at Academy Travel, who can book your trip, including dining reservations, FastPasses, and your hotel.
Have you ever eaten at Tony's Town Square Restaurant? What would you recommend to someone looking to eat there for the first time? Let us know in the comments!