If like us, you went gaga for these Williams Sonoma Star Wars-inspired Instant Pots, then grab your credit cards because these KitchenAid mixer decals will take your favorite kitchen appliance to a galaxy far, far away!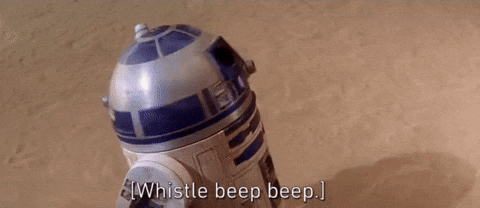 Etsy seller GoodMommyLtd has created a masterpiece with these amazing KitchenAid decals that will make your mixer look like R2-D2. We'd be in the kitchen making some galactic goodies all day if our mixer looked this fun!
Here's GoodMommyLtd's product description.
Included is everything you need to transform your WHITE mixer to look exactly like the display photos.
1 Multi-colored R2-D2 "face" decal for the top of your mixer
1 Half "dome" decal for the front of the top of your mixer.
1 R2 "eye"
2 Sets of side panel decals as shown for the base of your mixer.
***MIXER NOT INCLUDED IN THIS DECAL KIT
Cut from highest quality waterproof vinyl and hand weeded with care for an outstanding finished product. Includes detailed instructions.
Have fun making your own mini R2 Unit.
Related: These NEW Adidas / Star Wars Shoes Will Take You to a Galaxy Far Far Away…
This galactic crafter is channeling the force in more ways than one! She also shows us how we can use her decals to soup up a scooter to look like R2 too! This is the coolest Etsy product we have ever seen!
This decal would make the perfect add-on to any Star Wars fan that might be receiving a Kitchen Aid mixer this holiday season. Or maybe you have one already and want to punch it up into lightspeed. There's no way you won't smile as you mix with this R2-D2 design. It's just too cute!
Also available, a BB-8, Vader/Skywalker, and R2-KT designs. We can't choose which one is our favorite.
Would you customize your mixer with one of these Star Wars Decals? Which one would you choose? Let us know in the comments! 
Source: Etsy seller GoodMommyLtd