How does one define "hero"? What does a person need to do to earn such a coveted title? When Marvel Studios began work on the MCU and released The Avengers years ago, we learned that the term "hero" has sort of a loose definition, and Avengers: Endgame proved that a vast array of men, women, and non-terrestrial beings could earn the title hero. One person Jack Black believes fits that description is the one and only Nacho Libre.
While on a press tour promoting his latest film, Jumanji: The Next Level, with Karen Gillan and Awkwafina. Gillan is already a veteran of the MCU, and Awkwafina will join the MCU in the upcoming film Shang-Chi and the Legend of the Ten Rings. The attention then fell on Black as being the only one in the trio without any plans to join the MCU.
In his light-hearted joking way, Black explained how he was more than qualified to be a Marvel Hero. He stated:
"I mean, I feel like Nacho Libre was kind of a superhero. He wore a costume and fought crime and was a hero of sorts. So, I guess I've already scratched that itch, as it were. Unless they want to, ya know, add Nacho to the MCU, you never know. I think he'd be an awesome addition to the Avengers team."
Black has also played the lovable action hero Po in Dreamworks' hit series Kung Fu Panda. 
Okay, is it outrageous to see Jack Black join the MCU?
Obviously, Jack Black was joking about Nacho bringing his Luchador prowess to the Marvel Cinematic Universe, but is there room for him in some other role? Paul Rudd has already proven that a very non-hero person can comedically rule over a corner of the MCU from his father-daughter antics to his uhh complements on Captain Rogers' behind.
The MCU is filled with the self-abasing "I'm no hero, but I'm gonna kick your butt anyway" humor that Black already crushed in Kung Fu Panda. Plus, who wouldn't want to see him try to keep up with awesome characters like Captain Marvel, Shuri, Okoye, and Scarlett Witch? Or listen to the back and forth he'd have with Star-Lord, Thor, and Ant-Man? It could be pretty entertaining and wholesome.
This writer has no idea what role Jack Black would play in the MCU. But, hey, it's just a thought.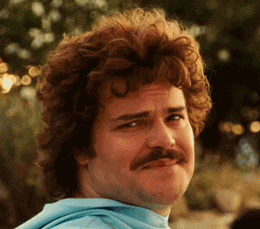 What do you think? Could Jack Black fit in the MCU? If so, which character would you want to see him portray? Let us know in the comments!