Though it was a mere couple of weeks between the time Walt Disney World announced their new Frozen Summer Fun LIVE event, the entertainment quickly assembled did not disappoint any fan of the hit animated film.
While the line to meet popular characters Anna and Elsa at the Magic Kingdom continues to be hours long ever day, Walt Disney World guests can now see them (though not meet them) in multiple daily appearances at Disney's Hollywood Studios through September 1.
The park's entrance down Hollywood Boulevard is lined with Frozen banners and icy decorations, preparing the park for the first Frozen performance of the day, a Royal Welcome parade and sing-along. Borrowing some performers and floats from Disney's annual Christmas parade, the Royal Welcome parade features Anna and Elsa arriving in a horse-drawn carriage and a first-ever appearance by Kristoff, along with his ice-picking pals. The Royal Welcome ends with a virtual appearance by Olaf and a sing-along to "Let It Go" on stage.
---
Video: Frozen Royal Welcome parade and sing-along at Walt Disney World

---
Video: First Kristoff character appearance in Frozen Summer Fun Royal Welcome parade at Walt Disney World

---
Video: Frozen Royal Welcome ceremony with Anna, Elsa, Kristoff + parade highlights at Walt Disney World

---
The best spots to see all of this unfold are definitely up close to the stage. But Kristoff fans will want to line up to the far left of the stage, as his float stops there for the duration of the stage portion and he remains out, waving to fans and posing for pictures. (Though he does not meet with guests.)
Disney is handing out take-along Olaf autograph cards on sticks to pose with throughout the park, posting photos using #OlafSummerVacation for display on a screen at the end of the day during the fireworks show.
The big highlight of the day is the stage show, For the First Time in Forever, performed multiple times in the park's Premiere Theater. Characters appear in the beginning, middle, and end of the 25-30 minute indoor show – Anna, Kristoff, and Elsa once again. In between, the Arendelle Royal Historians retell the story of "Frozen" through humor (there's even a "Star Wars" joke), movie clips, and sing-alongs to almost every song in the film. ("Fixer Upper" is mentioned, but skipped.) But the highlight of the whole show comes in its finale, when Elsa commands the stage by conjuring ice and snow while leading the audience in a reprise of "Let It Go."
---
Video: Full Frozen Summer Fun Live stage show with Anna, Elsa, Kristoff at Walt Disney World (minus movie clips)

---
Video: Elsa, Anna, Kristoff perform Let It Go in Frozen sing-along stage show finale at Walt Disney World

---
Kristoff talks in Frozen Summer Fun Live stage show at Walt Disney World

---
Sadly, the characters do not sing live in this performance. But that downside aside, the "Frozen" fans filling the audience in its first performance loved every minute of it, singing and speaking along to each and every lyric and word of the songs. More of an actual stage performance would make the show stronger, but the finale makes up for the lack of characters throughout the bulk of it.
It's recommended to head to the back of the park first in the morning to grab a timed return ticket for this stage show. It makes it much easier to get a good seat without waiting in a terribly long line.
Throughout the day, guests can visit Wandering Oaken's Trading Post, located inside Soundstage One. Two lines form outside, one for Frozen merchandise and one to visit the attractions inside, which include ice skating ($10 for 30 minutes), playing in snow/ice, photo opportunities in front of snowy backdrops, and sweet treats.
---
Video: Wandering Oaken's Trading Post & Merchandise in Frozen Summer Fun Live at Walt Disney World

---
It's nice and cold inside the Trading Post, a great retreat from the scorching summer sun outside. Though inexperienced guests do frequently fall on the ice skating rink, everyone seems to have a great time amidst the wintery atmosphere – a rarity in Florida, especially in July.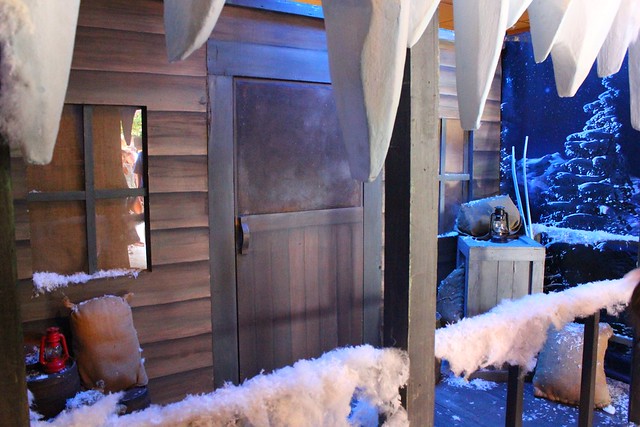 Plenty of "Frozen" merchandise is stocked in the Trading Post store, from dolls to shirts, to iPhone cases to artwork and everything in between. There are additional special edibles in here too.
Olaf also appears on screen at the big stage in front of the Sorcerer Hat throughout the day, walking with the event host.
---
Video: Olaf appears at Frozen Summer Fun Live event in Disney's Hollywood Studios

---
Ending each day of Frozen Summer Fun LIVE is a DJ dance party, live band, and special fireworks show featuring Anna, Kristoff, and Elsa appearing on stage, ending with Queen Elsa conjuring up some icy blasts.
---
Video: Full Frozen fireworks show with Anna, Elsa, Kristoff, Olaf in Summer Fun event at Walt Disney World

---
Video: Queen Elsa conjures Frozen fireworks at Walt Disney World

---
"Frozen" is definitely Disney's biggest attention grabber right now and with big competition down the street from Universal Orlando's new Wizarding World of Harry Potter – Diagon Alley expansion, this summer event was a much-needed draw. Walt Disney World executives were spotted throughout the park today, including president George Kalogridis and Hollywood Studios VP Dan Cockerell along with Walt Disney World SVP Jim McPhee.
During the sing-along, the trio had big smiles on their faces, beaming as the crowd began to chime in to each tune. They instantly knew it was a success.
More photos from Frozen Summer Fun LIVE at Disney's Hollywood Studios: