Disney Interactive has made big promises with its upcoming mega-release Disney Infinity, offering players a chance to take control of characters and worlds from a vast variety of Disney and Pixar films. With its August 18 release date just a few weeks away, excitement grows as fans are ready to get their hands on this biggest-ever Disney adventure game.
Recently at San Diego Comic-Con, Disney held an off-site event providing a chance to spend a tremendous amount of hands-on time with Infinity.
As I casually played for nearly an hour, I discovered that while the game's play set gameplay is quite fun, button mashing past enemies and completing mini-missions loosely based on popular feature films, it's the Toy Box mode that is the mode that is guaranteed to completely take over any Disney fan's imagination for weeks on end.
Toy Box mode offers players a chance to create. It's a deceivingly simple concept in an open world that provides an interface full of choices that allows the most active imagination to run wild. Whether it's creating a complex cart racing course, a crazy oversized pinball game, or just hilariously flying around and shooting things, the possibilities are truly endless.

The demo I played was a nearly-complete version – with everything unlocked. And by "everything" I mean page after page after page of toys, vehicles, buildings, scenic elements, landscaping, characters, and hundreds of other elements that give players the ability to build just about anything.
This was my first chance to see the newly-revealed figures based on "The Lone Ranger" so I couldn't pass up an opportunity to spend some time controlling Tonto (amusingly posed below next to his Infinity-Depp counterpart, Jack Sparrow).
With an entire world at my disposal, I sifted through the many available options and was immediately drawn to two of my favorite Disney buildings ever imagined: Scrooge McDuck's money bin and The Haunted Mansion. Naturally, in my Infinity universe, they co-exist side-by-side.
Sadly The Haunted Mansion is a decoration only, but upon discovering that Scrooge's money bin had a big red button that opens the top, I quickly realized I needed a mode of transportation to get up there – and fast.
Flipping through the many available flight options, I tried out Buzz Lightyear's jet pack and Mr. Incredible's hover board, both of which were tremendously fun to fly around with but neither able to take me vertical to the top of the money bin. I needed height.
Then, looking to my left at the giant Disney Infinity banner, it hit me: Recognizer.
As an avid Tron fan, this flying Grid vehicle was the perfect way to enter Scrooge's money bin – right? Sure, it makes no sense, but it was fun. And once I landed inside the bin, I made Tonto jump around, pretending he was swimming through millions of Duckburg coins.
From there, I drove a Tron Light Runner (pictured above) around for a while, realizing that I could load it up with missiles and use the shrink and enlarging rays to bring it down to go-kart size or size it up to a monster truck version. All the while, I was swapping Power Discs to change the Toy Box world to look like Sugar Rush from "Wreck-It Ralph" or under the sea with "Finding Nemo."
Before I knew it, an hour had lapsed and I was completely immersed into Disney Infinity, immediately wanting to bring it home and spend every free moment just playing around. This game is simply fun. Throw in its high-energy multi-player aspects and Toy Box mode becomes even more action-packed and laugh-inducing as players playfully "battle" each other.
---
Video: Toy Box Combat

---
But Disney Infinity isn't likely for everyone. Price is likely to play a major factor in the decision to buy into it, as each playable character is unlocked with the separate real-world purchase of a physical figure – of which there are many. That adds up fast, especially as the game only comes with three.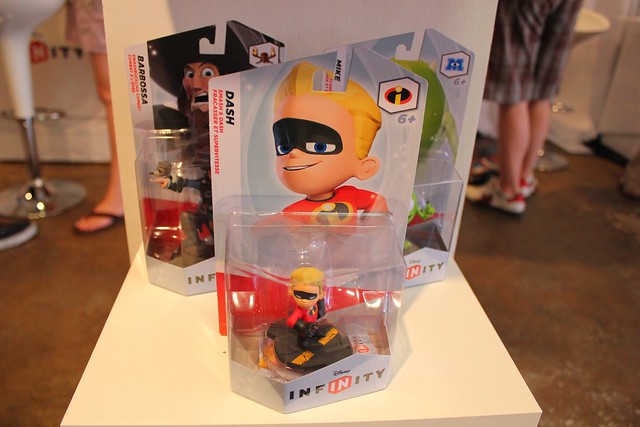 And there are those Power Discs, sold in blind bags – collectible with rare discs making it difficult to get the whole set.
For those who do spend a few hundred dollars to buy it all, living rooms will start to look like this:
It can definitely become a Disney overload. But for big fans, Disney Infinity is the ultimate gaming adventure, offering structured play across its Play Set modes and completely unstructured, free-form excitement through Toy Box – the mode I'm most excited about.
Disney Infinity will storm stores on August 18, available to pre-order now and I'll be among the first to jump on board.
More photos from the Disney Infinity preview at San Diego Comic-Con: