Mulan, in my opinion, is one of the funniest Disney movies out there. Especially because of Mulan's clumsy, but well intentioned, sidekick characters like her horse Khan, her good luck charm Cri-Kee and who could forget Mushu. Each of these characters add to the humor of this beloved Disney classic.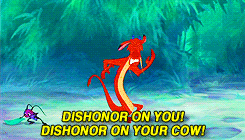 Yet, we also know the movie is about bravery, hard work, achievements, and about knowing to follow your heat. We definitely know that Mulan brought honor to her family after all, and this new fashion accessory brings honor to Mulan's story.
The new Loungefly handbag inspired by Disney's Mulan is breathtaking, and super classy! The handbag is a BoxLunch exclusive faux leather bag –  11″ x 13″ x 4 1/4″ – being sold for $89.90.
The bag features details that allude to this beloved Disney classic. The handbag's handle is a in a gold tone and shaped like Mulan's family hair comb paired with a gold tone Cri-Kee cage badge in its center "just for luck and even you can't blow" your luck while using it.
And to make things more graceful, on the back of the purse, there is a gold foil debased letterings that read the uplifting encouragement Mulan hears from China's Emperor after she saves the day:
"a flower that blooms in adversity is the most rare and beautiful of all"
The purse also has other useful details such as a magnetic button flap, mustard interior lining with an allover icon pattern, interior drop and zip pockets, and an adjustable and a 53″ removable strap, allowing for you to use it as a crossbody bag.
If the bag wasn't enough, there is a matching 4 card slot Mulan Comb cardholder, which right now is 20% off at BoxLunch's website: from $16.90 to $13.52.
If you like the new Mulan Comb bag, you might like other Loungefly  items:
So, did you like the Mulan Comb bag and cardholder? Let us know in the comments down bellow.