The moment we have been patiently waiting for has finally arrived.  A plush Baby Yoda that is totally cute and cuddly!  The Build-A-Bear Workshop announced this morning that The Child, aka Baby Yoda, plush is now live!  It's available for purchase at $59.95 and online only!  It is stuffed and ready to go so head on over to snag your's before it's too late!
Build-A-Bear's The Child
So why is this Build-A-Bear's "The Child" plush  more expensive than some of the others?  Well that is because it comes with 5-in-1 sounds and the Mandalorian theme song.  It is worth it because it is one of the most adorable Baby Yoda merch out there.  Baby Yoda is known of his hilarious personality that makes everyone go, "aww," and this plush definitely showcases that.
Build-a-Bear is most known for the experience of being able to step by step choose through how to build your stuffed toy. From how fluffy it is to placing a heart and sounds inside.  It had more of a sentimental value to it.  Many of the plushes are in teddy bear form dressed up as different Disney characters, but some characters come in there true form, including Star Wars Characters like Porg and Ewok.  Though The Child plush is already, stuffed and ready to go, it definitely hits on the cuteness factor a little more than the Disney or Target versions.
Click here to purchase your Baby Yoda Build-A-Bear or to be notified when it's back in stock!
Details:
Limit 1 per guest
This item cannot be purchased unstuffed.
The Child can only be purchased as a bundle. Modifications cannot be made to this item.
Includes birth certificate.
Allow 2-4 weeks for order processing.
Enjoy FREE SmartPost shipping on the Child! Discount automatically applied at checkout.
This item is excluded from all promotional offers.
 shopDisney's The Child
This version of the plush leans a little more towards the realistic side versus the personality. It is not a cute as some of the plushes that have been released for other very popular Disney characters.  This plush is set to arrive in stores by June 1st, but can be pre-ordered.
Target's The Child
At Target, you can also pre-order their version of the plush, though it is not fully plush.   They will also have in stock other merchandise such as, action figures, collectible items, and Funko Pop!  Many of their items are set to release in May, but some later on spread through the year.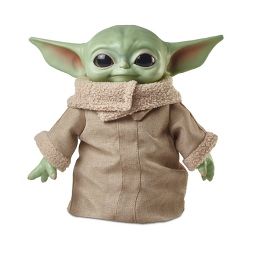 We are so excited to get one of these for ourselves, but also to see all the photos that are about to flood social media.  Impatient customers, like myself, can finally be relieved and have a big win, if you're a Baby Yoda and/or plush fan!  It will definitely be a flood of happy feelings indeed!