The one and only Pumpkin King just went through another holiday transformation. This time, he's been immortalized as Sandy Claws in Nutcracker form and we are here for it!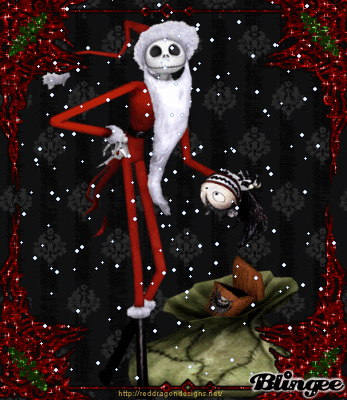 We're Nutty for Nutcrackers
Disney sure is Making Christmas, Making Christmas here with all these adorable holiday home pieces! We shared recently these Chip and Dale nutcrackers that we went nutty for after we spotted them at the Walt Disney World Resort. However, if you're a Nightmare Before Christmas fan, wait until you see this Jack Skellington dressed as Sandy Claws! He will undoubtedly add all the SPOOKtacular Christmas chEAR your home needs this holiday season.
And they call him Sandy Claws
When we spotted this Sandy Claws Nutcracker recently in Disneyland we couldn't contain our excitement! So, we simply had to share him with you all. Isn't he perfect? We think so!
This Sandy Claws Nutcracker stands 14" tall and is dressed in the classic red, velvety soft, Santa suit. His ghostly companion, Zero, sits right by his side, smiling up at what appears to be a black kitty hiding inside a gift box, looking out with beady yellow eyes. The figure is made out of wood, resin, polyester, and plastic and the Santa costume is a velvet-like fabric adorned with white fur trim. Sandy stands tall on top of a red and black base that has the movie title, Tim Burton's The Nightmare Before Christmas, written across the front.
We can totally see this nutcracker completing any Nightmare Before Christmas fan's holiday décor collection. If you happen to be visiting the Disneyland Resort, keep your eyes peeled for him. We spotted him at Pioneer Mercantile in Frontierland. We also found him online at the Your WDW Store
For the Classic Holiday Style Lovers
However, if you're more into a classic holiday style, these Mickey and Minnie nutcrackers are for you! Styled with a more vintage look, the adorable pair is dressed in classic holiday colors, red, white, and green. Minnie is holding a peppermint, and Mickey has a stocking hanging from his hand. You can't go wrong with the ones that started it all!
All these nutcracker figures are as functional as they are adorable. The wooden lever in the back will get those nuts cracking for your enjoyment during this holiday season and for yEARs to come! Currently marked at $54.99 each, you can find these exclusively at the parks.
As they say, a picture is worth a thousand words. But, how much more do we think this perfectly fitting song is worth? "I simply cannot get enough, I want it, oh, I want it, Oh, I want it for my own".
We definitely want them for our own! Do you? Let us know in the comments!