Since "Iron Man" rocketed into theaters in 2008, Marvel has been more popular than ever, prompting an entire cinematic universe with a huge following of fans. Now Feld Entertainment – the company behind Ringling Bros. and Barnum & Bailey Circus and Disney on Ice – is bringing that universe to cities across the United States in a new touring show called Marvel Universe Live.
Its official debut will take place tonight in Tampa, Florida, but a recent preview performance revealed its action-packed scenes for the first time.
---
Video: Marvel Universe Live touring show preview in Tampa

---
Billed as featuring more Marvel characters than any other live show in history, Marvel Universe Live features favorite heroes including Captain America, Thor, Iron Man, Spider-Man, Wolverine, Storm, Cyclops, and Black Widow alongside villains Loki, Green Goblin, Doctor Octopus, Red Skull and more. The list even stretches into lesser-knowns like Captain Marvel, Black Cat, The Lizard, and Madame Hydra.
Twenty-five trucks will transport the show around the country along with 53 performers and 46 crew members.
Characters are portrayed by stunt men and women capable of performing flips, simulated fights, motorcycle aerobatics, and plenty of high-flying wire-rigged moments. They're not exactly actors, so all voices are pre-recorded and lip synched during the show. Fortunately, some of the voices closely match how the more familiar characters sound in the recent Marvel films. Loki vaguely sounds like Tom Hiddleston, Captain America like Chris Evans, etc.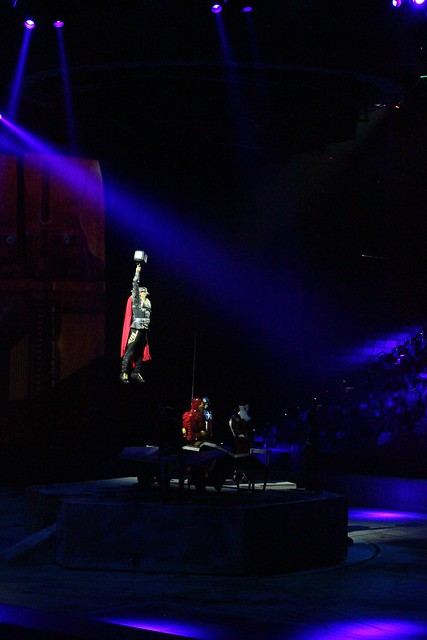 But don't expect the Marvel Cinematic Universe to play a big part in the inspiration of Marvel Universe Live. Costumes and scenes more closely resemble comic books or a cartoon series than live-action films. Plenty of brightly colored spandex clothes these characters. Though The Hulk is a feat unto itself, standing 8'5″ high – the result of more than 1,500 hours of development and building work including 4 prototypes.
The story follows the heroes as they attempt to prevent Loki from reuniting pieces of the Tesseract (glowing cube as seen in "The Avengers"), which have been scattered across the Earth. But it takes quite a long time to get to the action as the first hour of the show feels like a whole lot of setup. Fortunately after a 15-minute intermission, Iron Man's Jarvis recaps the story until that point, making some sense of it all for those who couldn't follow along, and setting the stage for the entertainment that remains.
While audiences get plenty of character introductions in the first half, with just a bit of action, the second half really packs a punch with an almost non-stop onslaught of pyrotechnics, stunts, projections, and endless soundtrack of punch and kick sound effects.
The show has many stand-out moments, like Captain America throwing his shield to take down an airplane and Spider-Man web swinging across the arena to battle a floating Green Goblin.
But fight scenes become repetitive quickly, leaving the 2-hour show to feel even longer. Moreover, after the fourth or fifth motorcycle lap between Wolverine and Bruce Banner the audience is left wondering what exactly is going on and – more importantly – why these superheroes are wearing bulky helmets. (Yes, the performers need to be safe but… they're supposed to be superheroes!)
Likewise, the wire rigging is far too visible, entirely taking away from the superhero aspect of any of the characters in flight. Iron Man looks like he's dangling like a high school "Peter Pan" play instead of a big budget touring arena show.
Children will definitely enjoy this show more than adults. It's perfect for young Marvel fans around age 10-12. Any younger and the long runtime might leave kids squirming.
Despite all that, Marvel Universe Live is entertaining and the character action is fun to watch. It's also great to see all the Marvel characters play nice together, even across movie studio lines. With a bit of trimming, say half an hour shorter, the show could really be something good. But as is, it ends up being just a bit tedious, especially with tickets being way, way too expensive at $45-100 each.
And parents beware: On the way out, there is an abundance of brightly colored, low quality Marvel-themed merchandise being sold at extremely high prices. As one mother said to her son looking at the cheap toys, "How about we go to Walmart and buy something better for less money?" An assortment of plushes and light-up spinning toys fills the many merchandise stands. The only worthwhile unique item seems to be the "Lectro Link" wristband, which ties into Iron Man's story in the show – a decent souvenir (though not worth the hefty $25 price).
More information, a list of cities, and tickets can be found at MarvelUniverseLive.com.
More photos from Marvel Universe Live: