---
UPDATE (4/2017): It's been a few years since Legends of Frontierland came and went to Disneyland, and the importance of this test experience for the future of theme park interactions has become very clear. Legends of Frontierland was a test for Star Wars Land, which, when open in 2019 at Disneyland and Walt Disney World, will include multiple levels of interactions in which Guests' choices will alter the experience around them.
Read more about that here, from the recent panel discussion from Imagineers on the project, delivered at Star Wars Celebration 2017.
Our original article on the Frontierland experience is left intact below, as published July 11, 2014.
---
Folks visiting Frontierland will find things just a bit different this summer. There seems to be a feud brewing between citizens of Frontierland and the folks who settled in the Gold Rush town of Rainbow Ridge.
Actually, it's a new interactive game that park Guests can participate in at Disneyland in Frontierland with various "characters" such as the sheriff, a telegraph operator, a card shark, outlaws, and more.
The first step is for any one of the new locations that have popped up in the area to get a sticker with your own Western-style name; mine was "Marksman Mark." You also need to pick a side, Frontierland or Rainbow Ridge. Next, you need to make some money, known as "bits," or gold (each nugget is worth 50 bits), by doing various things like delivering telegraphs, helping out as a sheriff, playing cards, or capturing people wanted for various nefarious activities – such as being in the land with a Western-style name.
After you earn enough money, you can purchase a plot of land for your side and help them take over the territory. The land sales take place at the Trading Post near the entrance to Frontierland; sale prices start at 85 bits but quickly escalate to 100 bits and higher. You can also take over a plot of land by bidding on it via auction.
Rainbow Ridgers are considered outlaws by the Frontierland folk, and they even have a hideout near the entrance to Big Thunder Mountain Railroad.
Meanwhile, inside the Golden Horseshow, Miss Lilly and others are entertaining everyone, and there's food to eat.
If you capture a wanted person, you take them to jail. But it's not that easy; you face off against them in a "rock, paper, scissors" duel. If you win, you get the reward, and they go to jail for two minutes – but don't worry, there's a game of checkers inside the jail to entertain the inmates. If you're the wanted person and win the duel, you get the reward and escape. Of course, the bounty on you goes up by 25 bits, so you best skedaddle and hide before someone else comes after you. Oh, those in jail get a few bits, too, just for being a good prisoner.
Later in the afternoon, each side has picked someone to run for Mayor of the town; many political skullduggeries occur with citizens walking around with homemade political banners and more.
Of course, it's all in good fun.
A former Imagineer's take on all this:
This is an experiment by the Disneyland Entertainment group to try something different and bring back some "life" to an area regularly and involve park Guests in the activity.
I think they need to refine a few things to make things clearer and spread it back along the Big Thunder Trail.
The set pieces added to the area to help in-game and role-playing don't really blend into the area as well as they could have. The Outlaw Hideout is the weakest of the bunch.
I think it's a good experiment, and hopefully, Disney will learn a lot from this, but then design a new role-playing attraction in a dedicated area that really feels more immersive. The weak link is that the area is the normal land and is also a walk-through area for Guests to get to or from New Orleans Square or the hub.
The game is supposed to last until September.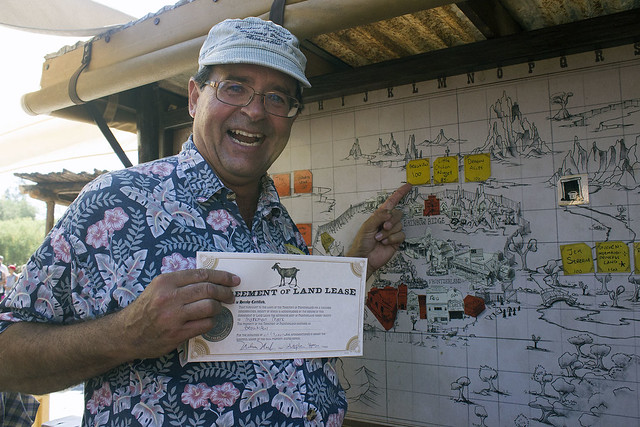 Related : VIDEO: Ghost Town Alive! returns with more impressively immersive wild west adventures at Knott's Berry Farm