With the fourth live-action Transformers movie hitting theaters in just a couple days, Universal Studios Hollywood held a special event on Friday to celebrate all things Cybertron. The 2014 Transformers Fan Experience was held in conjunction with BotCon in Pasadena.
It was the park's first exclusive Transformers Fan Experience, which included after-hours access to Transformers: The Ride 3D, a panel and interactive workshops from Hasbro's brand team, photo opportunities with Optimus Prime, Megatron and Bumblebee, props from the new movie including the full size Optimus Prime truck, and a concert from musician Stan Bush.
---
Video: 2014 Transformers Fan Experience highlights at Universal Studios Hollywood

---
The event began with a walk down the red carpet, with attendees proudly wearing commemorative event lanyards and credentials. Autobot symbols took over the Universal Studios archway and streets.


Parked in front of Transformers: The Ride 3D was the new Optimus Prime truck, as seen in the upcoming film "Transformers: Age of Extinction."
Autobots and Decepticons met with guests throughout the evening.
During a Hasbro panel discussion, new and upcoming Transformers toys were shown off, with a focus on Dinobots. In addition, the new inductions into the Transformers Hall of Fame were made, including G1 Arcee, G1 Rodimus, and Stan Bush himself.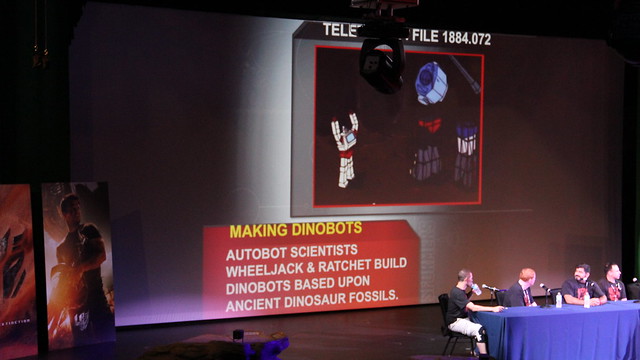 Stan Bush then performed live in concert. Naturally, fans wanted to hear his song "The Touch" from 1986's animated "Transformers: The Movie," a fact he clearly knew and kept teasing (somewhat frustratingly) while he performed his other songs first. Those who were patient were ultimately rewarded with the song they came for.
On the way out, attendees received a limited edition poster to mark the event.
Transformers fans got to live an evening devoted to their favorite franchise with special entertainment while anticipating the new movie, "Transformers: Age of Extinction" which rolls into theaters this Friday, June 27.
More photos from the Transformers Fan Experience at Universal Studios Hollywood: