The Wizarding World of Harry Potter expansion at Universal Orlando is coming together with an opening date seemingly less than a month away. Though construction walls still surround all new areas, there is already a lot of new magic to be seen in both theme parks.
The Hogwarts Express train is already making the rounds, connecting Hogsmeade Village at Islands of Adventure to Diagon Alley at Universal Studios Florida. Though guests aren't riding just yet, it is quite visible from within the park, sounding its whistle and blowing off steam while traveling to and from King's Cross Station.
---
Video: Hogwarts Express train leaving Diagon Alley at Universal Orlando

---
Note the blacked out windows, which will prevent passengers from actually seeing outside its cabins, instead offering virtual visuals and special effects.
King's Cross Stations is just one of several highly detailed facades that comprise the new London waterfront area of Universal Studios Florida, hiding the entirety of the massive expansion behind it. But there are elements of the Wizarding World quite literally peeking out of Diagon Alley.
An animated creature can now be seen appearing in one of the windows of Grimmauld Place. His name is Kreacher and he's Sirius Black's house elf, popping out from behind a curtain once every couple of minutes.
---
Animatronic Kreacher house elf peeks from Diagon Alley window

---


But a far bigger creature has arrived high above the London waterfront: a dragon.
The incredibly detailed sculpture arrived on Saturday, lowered into place atop Gringotts Bank by crane and quickly covered by wrapped scaffolding. But its menacing head (that will soon spit fire) is still sticking out and can be seen from many vantage points throughout the park.

(Photo by Amusement Buzz)
There's no doubt that dragon will draw attention toward Diagon Alley once its wings are added and it begins to breathe fire.
The rest of the London waterfront appears nearly complete, with details including the Knight Bus, Eros Fountain, and plenty of signage.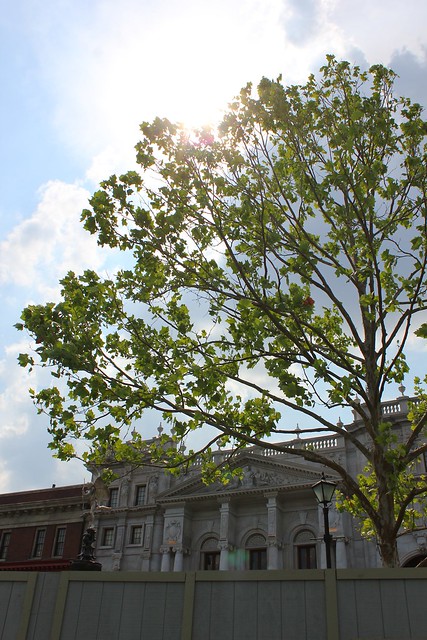 The peaks of Carckitt Market can also be seen peeking from behind the trees, a whole other area hiding behind the London waterfront.
Opposite that, the one remaining leftover building from the Amity area (formerly home to the Jaws ride) has been repainted to match its new surroundings, still housing restrooms.
Changes are happening over at the original Wizarding World of Harry Potter as well as Hogsmeade Village gets ready to accept Hogwarts Express passengers with its own new train station.
The original stationary train photo op will remain while the working Hogwarts Express will be hidden within the new area.
Nearby, Zonko's only exists on the outside now as Honeydukes expanded inside.
The joke merchandise that was once sold at Zonko's will be part of Weasleys' Wizard Wheezes in Diagon Alley, but can currently still be found in a few other gift shops around the parks.
Above a Zonko's window sits a new animated cauldron that will reportedly be part of a new interactive experience Universal is adding to the Wizarding World involving magic wands. For now, it raises and lowers on its own.
Big things are in store for Gringotts Bank in Diagon Alley, but in Hogsmeade Village the only reference continues to be an ATM – certainly a much smaller "attraction" than the ride will be in the expansion.
Construction walls leading up to Hogsmeade Village state "great things are on the way," an understatement as fans eagerly await the unveiling of Diagon Alley and all its magical mysteries.
The Wizarding World of Harry Potter expansion does not yet have an official opening date, but all signs point to it opening shortly after the press preview which is scheduled June 17-20, 2014.
More photos from Wizarding World of Harry Potter expansion progress: