The hallowed history of Walt Disney Studios has most recently been showcased in the film "Saving Mr. Banks," based on the making of "Mary Poppins," one of the last films Walt personally worked on in the Burbank lot.
As part of this week's Disney Store unveiling of "Star Wars" products, attending press were guided on a tour through that famous studio, both taking a look back at Disney history as well as its future with Lucasfilm.
Some of the buildings at Walt Disney Studios date back even further than the studio itself, relocated from the former nearby location and largely preserved. Not only did Walt frequently pass through these areas, but also all of the biggest names in Disney's films, from acting to animation. In fact, the building where stars like Annette Funicello were initially cast as Mousketeers still stands alongside a Mickey Mouse topiary – the only one at the studio – and Disney's corporate flag.
In addition to press, joining the tour was Steve Sansweet, whose Rancho Obi-Wan is the official record-holder of the world's largest "Star Wars" collection. Over the years, Sansweet has worked at Lucasfilm in their Marketing and Fan Relations departments, written or co-authored 16 "Star Wars" books, helped create the "Star Wars" Celebration events, and helped launch StarWars.com.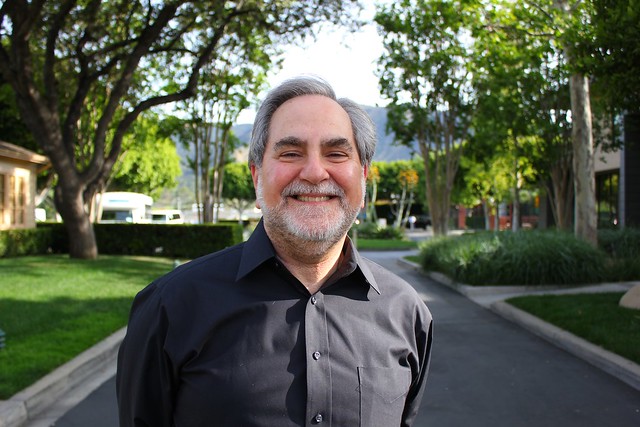 Though his involvement with Lucasfilm has been large over the years, Sansweet was equally eager to see all of the Disney details throughout the lot.
Just up the street from the studio entrance is Stage A, a location immediately familiar to anyone who has seen "Saving Mr. Banks" as it is where P.L. Travers (Emma Thompson) first met writer Don DeGradi (Bradley Whitford) and songwriting brothers Richard and Robert Sherman (Jason Schwartzman and BJ Novak). Though this isn't exactly where that group met in real life, it was a perfect location for filming.


The studio's famous Mickey Ave directional sign does little for helping visitors find their way around. It was a prop created for the movie "The Reluctant Dragon" that simply stuck around.
Sansweet couldn't pass up the photo opportunity.
Down the way the old Animation building still stands, its offices now leased out to a variety of production companies. But its history resonates as the location in which so many of Disney's classic animated films were created by hand.
Walt's own office was on the third floor of this building. Its unusual pattern of windows and shutters was designed to allow the best natural light in to every office to give animators a perfect environment to work in.
Its halls are lined with artwork from decades of famous films, showcasing the many methods used to create them, from hand-painting cels of "Sleeping Beauty" to the CG of "Frozen."
Rising high over the entire lot is the famous Walt Disney Studios water tower, viewable from many angles and always photogenic, an icon of Hollywood.
Soundstages were once the shooting locations for the "Mickey Mouse Club" and "Mary Poppins," each receiving their own special dedication.
Walt Disney Studios is still very much a working studio. Its ADR (automated dialogue replacement) studio brings in big names almost every day. Voices for Pixar films are recorded here. Angelina Jolie was recently in the room to record dialogue for "Maleficent." Johnny Depp was in there for the "Pirates of the Caribbean" series. The list is quite endless.
Passing beyond the older portions of the lot leads guests to the much newer Team Disney building, championed by Michael Eisner during his time as the company's CEO. Its giant statues of the Seven Dwarfs have become a new icon for the studio.
Alongside sits the Legends plaza, honoring the top Disney talent with handprints on plaques throughout. It also has a "Partners" statue, just like in Disney's theme parks, but this is the only location where visitors can stand side-by-side with it.
Naturally, Sansweet didn't pass up this opportunity either.
It's inside the highly-guarded Team Disney building that some of the most interesting recent and ongoing projects are housed. Its halls feature remnants of live action films from the past few years, including "The Muppets," "Oz the Great and Poweful," and "Tron: Legacy."
And it's here that Lucasfilm now calls home at Disney, as the new trilogy of films begins production. Though most definitely not accessible for a tour due to high secrecy, the Lucasfilm office is marked on the outside by a sign, "Star Wars" posters, and a statue of Yoda. Producer Kathleen Kennedy's office lies just beyond the otherwise nondescript door.
This time, it wasn't only Sansweet who wanted a photo as our whole group of touring press jumped in front of the camera.
When it was announced that Disney purchased Lucasfilm in 2012, Disney CEO Bob Iger and "Star Wars" creator George Lucas were pictured in an office somewhere within these walls signing the deal.
Now as Episode VII production moves forward and Disney's own line of "Star Wars" merchandise takes shape, it's clear that Lucasfilm has truly joined a long history of more than 80 years of quality filmmaking and storytelling at the Walt Disney Company. What started with "Snow White and the Seven Dwarfs" has led to a famous intergalactic tale good versus evil that Disney is eager to embrace for many more years to come.
More photos from Walt Disney Studios: