Some may say that Saturday is the busiest day of all at San Diego Comic-Con. But with tens of thousands of fans packing the convention center and surrounding areas, every day is the busiest day. Saturday just happens to be the busiest of the busy.
It's a day that's perfect for people watching, with the most elaborate cosplayers donning their most elaborate costumes to show off while wandering the halls, some even entering the evening's Masquerade competition. It was also the day I wore my own custom costume: Inspector Gadget.
Complete with rotating red police bean and badge-holding hand on my hat as well as a working Go Go Gadget arm that surprised everyone I showed it to, this costume was definitely a success, managing to stand out amidst a sea of impressive creations. But I wasn't just there to show off. There was much to see on this Saturday beginning with the "Bates Motel" panel.
Much like the popular A&E show, the panel began with mystery and intrigue as Norman Bates actor Freddie Highmore was missing from the line-up of stars. Moderator Tim Stack pressed the issue with producer Carlton Cuse until he finally agreed to reveal why Highmore wasn't present, the result of a recent unfortuate incident that took place at Universal Studios Hollywood while visiting the original "Psycho" set. The video below was shown.
---
Video: "Bates Motel" visits Universal Studios Hollywood

---
Alas, Freddie Highmore finally joined fellow cast members Vera Farmiga, Olivia Cooke, Nestor Campbell, and Max Thieriot for a throughly entertaining discussion of the show. It's clear this cast has a great time working together.
Though a little bit of Norman Bates did seem to emerge from Highmore occasionally…
From there, it was finally time for me to spend the bulk of the day exploring the show floor, mostly costume spotting. I was still Inspector Gadget, posing for more photos than I could possibly count. There must be several hundred photos and even some pretty amusing videos out there somewhere of me. (If you've seen any, please comment below or e-mail me with the link!)
Though I have already shared my mega cosplay wrap-up, I will again include video and a few favorite photos below, as most of it was shot on this Saturday.
---
Video: Costumes & Girls of San Diego Comic-Con 2013

---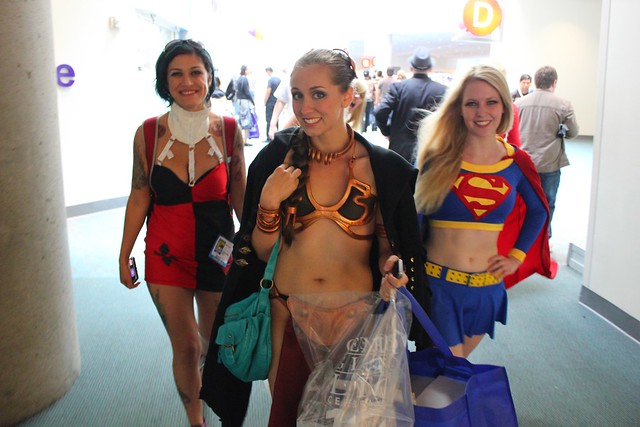 I also stopped by the official photo op for The Walking Dead, housed in an elaborate prison-themed exhibit overrun by walkers.
But Inspector Gadget fended off the undead easily.
The walk-through experience ultimately led me into the Governor's own office, complete with creepy fish tanks filled with zombie heads and his lurking daughter in a cage.
Saturday was a day packed with exciting panels in the huge Hall H, none of which I attended as thousands of fans had camped out the night before to secure their seats.
Instead, I took advantage of an invitation to attend the press conference for Marvel Studios at the nearby Hilton hotel.
On the way, I encountered a street promotion for the latest Saint's Row video game featuring the "President" and his dancing staff – which was quickly broken up by real police as they were blocking the street.
More than 100 reporters gathered into a ballroom at the Hilton, waiting more than an hour for the big Marvel panel to end and the stars to roll in for a little Q&A. We all followed along on Twitter as excited fans shared the announcements and surprises from the panel, the biggest of which was Tom Hiddleston doing a little cosplay of his own, appearing as his "Thor" character Loki.
---
Video: Tom Hiddleston appears as Loki at San Diego Comic-Con 2013 during Marvel panel

---
Sadly, there was no "Thor 2" press conference, so I didn't see Loki in person. But I did get the opportunity to hear from the casts of "Captain America: The Winter Soldier" and the surprise appearance by the just-announced cast of "Guardians of the Galaxy" who flew in from London just for Comic-Con.
---
Video: Captain America 2 press conference

---
Video: Guardians of the Galaxy press conference

---
The "Captain America" group noted their excitement for following the highly successful "The Avengers" with another ensemble cast that brings back Scarlett Johanssen and Samuel L Jackson, adding Anthony Mackey as Falcon. Mackey is particularly excited about the possibility of being included in Joss Whedon's next "Avengers" film.
On the more obscure side of things, Chris Pratt of the "Guardians of the Galaxy" cast sarcastically admitted to me that discussing comics at Comic-Con is quite the formidable task. But Zoe Saldana added that she isn't intimidated by the likes of Iron Man or Thor, instead stating that the "Guardians" crew would easily win a battle against those more famous characters, if it ever came to that.
But all the attention was on Karen Gillan, who revealed that she shaved her head for her "Guardians" role.
It's also worth noting that wrestler-turned-actor Dave Bautista is huge. HUGE.
Finally, I concluded the night with a quick visit to the Adult Swim Fun House, a crazy inflatable installation located next to Petco Park.
(Check back for a video walkthrough of that insanity soon.)
And thus concluded the third day of San Diego Comic-Con 2013. Though not packed with panels (for me, at least), it was easily the most exhausting, as walking around with a heavy coat over multiple layers of clothing all while having zero use of one hand proved to be quite the challenge. But I receive countless compliments about my costume and met many wonderfully nice people in the process. It was a successful day… with one more big one to go.
More photos from Day 3 of San Diego Comic-Con 2013: