The second day of San Diego Comic-Con 2013 was like no other. Only at Comic-Con can you start the morning by meeting comic legend Stan Lee and end it by partying after midnight on a real-life pirate ship.
It all began next door to the convention center at the Hilton where I took part in an early morning press event featuring Stan Lee's World of Heroes, a YouTube channel that was launched at Comic-Con last year bringing together online e-lebrities with Stan Lee himself to create comic-themed content.
One of the most important figures in comic book history, Stan Lee turns heads when he enters any room – especially at Comic-Con. All of his World of Heroes partners, including longtime online personality iJustine, were in awe of his presence and jumped at the chance to collaborate with him.
While there are many exciting sights throughout the convention center, the area surrounding Comic-Con always packs plenty of entertainment. This year, the lawn in front of the Hilton featured giant superhero balloons and life-sized LEGO sculptures from "Batman" and "The Hobbit."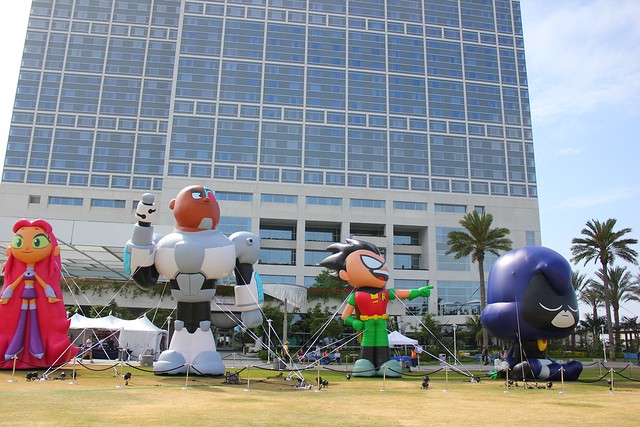 And you never know who you will run into around any corner of Comic-Con, like this particularly spiffy Wicked Queen.
Moving into the convention center for a few panels, I found myself in a presentation given by Battlestar Galactica's Ronald Moore about SyFy's upcoming show "Helix."
But I was only warming my seat up for the back-to-back entertainment of Phineas and Ferb followed by Teenage Mutant Ninja Turtles.
The Phineas and Ferb panel featured the show's main voice actors as well as its creators. A clip from Phineas and Ferb Mission Marvel was shown, drawing plenty of laughs from the crowd. Then the audience also witnessed the surprise announcement of a Phineas and Ferb Star Wars crossover, including a series of concept sketches showing the show's characters inserted into the Lucas-created world. It's sure to be a hit.
---
Video: Full Phineas and Ferb panel at San Diego Comic-Con 2013 including Marvel, Star Wars

---
Video: Phineas and Ferb Star Wars crossover announced

---
The creators and voice cast of Nickelodeon's new hit Teenage Mutant Ninja Turtles series put on another hilarious panel this year, previewing new characters and scenes from the end of the first season and into the second.

The talented actors on the panel were Sean Astin (Raphael), Greg Cipes (Michelangelo), Rob Paulsen (Donatello), Mae Whitman (April), and Kevin Michael Richardson (Shredder).
---
Video: Teenage Mutant Ninja Turtles panel highlights from San Diego Comic-Con 2013

---
Among the most memorable moments was Kevin Michael Richardson reading a hotel pamphlet in the voice of Shredder:
---
---
New characters revealed included Mutagen Man, Squirrelanoids, Sir Malachi, Tiger Claw, Baxter Fly, and fan favorite Casey Jones.
More impressive cosplay could be found throughout the day, all of which are featured i our Comic-Con Best of Cosplay round-up, but here are a few favorites:
Amidst the sea of costumes and crowds it's always possible (and likely) to spot a few celebrities on the show floor, like Brent Spiner and Tara Strong seen having a casuasl conversation.
Mattel revealed even more Ghostbusters fun with the announcement of an Ecto 1 vehicle to fit their action figures.
The day inside the convention center concluded with the entertaining, informative, and hilarious 25th anniversary panel for Who Framed Roger Rabbit featuring the film's creators and voice star Charles Fleischer, who performed both Roger Rabbit, a few weasels, and Benny the Cab. Jessica Rabbit made a surprise appearance out of the audience too.
---
Video: Full Who Framed Roger Rabbit panel at San Diego Comic-Con 2013

---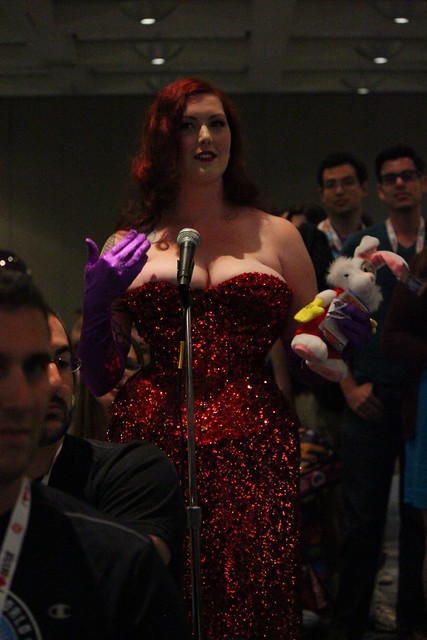 As the convention hours ended on Friday night, San Diego was coming alive with countless parties throughout the surrounding area. I had invitations to two on this evening, so after a quick pitstop at the hotel I found my way to the nearby "Kick Ass 2" party presented by Playboy, Universal Studios, and AXE.
Despite the adult magazine organizing this event, there was nothing particularly shocking about it. Set up outdoors in a parking lot were open bars, finger foods, high-flying acrobatics, custom T-shirt stands, and plenty of photo ops to go with the many pretty faces attending.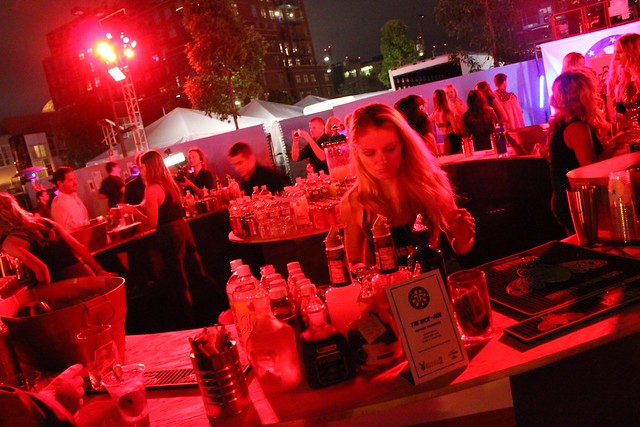 After plenty of unwinding there, it was off to the harbor to board the Jackdaw pirate ship for Ubisoft's Assassin's Creed 4: Black Flag party. This limited access event was quite an adventure, offering plenty of delicious food and drinks, dancing, photo ops, and a chance to play the upcoming highly-anticipated game a few months early. Multi-player mode is fantastically fun and I managed to score first place as the top assassin on board – or at least in my little group.
Ending close to 2am after a roughly 18-hour nonstop adventure, the second day of San Diego Comic-Con 2013 had come to a conclusion. But it was only halfway over, with even more excitement to be found throughout the remaining weekend.
Keep checking back here for more day-by-day recaps of San Diego Comic-Con 2013.
More photos from Day 2 of San Diego Comic-Con 2013: