Today Disneyland debuted Fantasy Faire, the park's new home for Princesses alongside the iconic Sleeping Beauty Castle. Tucked away in an enchanting courtyard featuring details spanning decades of Disney's most beloved animated films, Fantasy Faire features a Royal Hall where Guests can meet some of their favorite characters, a Royal Theatre with storytellers recounting classic Disney tales, and some unique treats to dine on.
Disneyland first unveiled Fantasy Faire during a media preview today, followed by a soft opening for all park Guests. Following up on his report from the construction tour a few weeks ago, Paul Barrie from Window to the Magic and his wife Terry return to share new details, sights and sounds from the brand new area.
Fantasy Faire takes the place of Carnation Plaza Gardens, transforming the former dancing space into an extension of Fantasyland. Guests won't find swing dancing here any longer, and Guests will discover new Disney entertainment throughout the area, beginning with a stroll through its elaborate courtyard.
Intricate artwork displays the entertainment options within Fantasy Faire.
A large stone "Tangled" tower, complete with tiny Rapunzel on top, acts as a centerpiece to the sprawling new brightly-colored village.
In addition to ornate architecture to gawk at, Guests will be drawn to the animated features within Fantasy Faire: Clopin's Music Box (from "The Hunchback of Notre Dame") plays music with dancing characters the turn of a crank. At the same time, Figaro the cat (from "Pinocchio") occasionally wakes up from a nap, startled by a nearby caged bird.
Video: Figaro animatronic figure in Fantasy Faire

Video: Clopin's Music Box interactive feature in Fantasy Faire

Imagineers have made sure that Fantasy Faire not only feels like a part of Disneyland's existing Fantasyland but also has a design sense of its own, adding more eye-engaging space to the park for Guests to walk around in.
Beyond the area's many exterior details, the Royal Theatre offers sit-down entertainment in the form of two similarly styled shows retelling the stories of Rapunzel and "Beauty and the Beast" through two Renaissance Storytellers, Mr. Smythe, and Mr. Jones. This spot is the exact former home of Carnation Plaza Gardens but is hardly recognizable with its new vibrant curtains, draperies, and coverings in primary colors.
Before each performance, children gather up front, entertained by Fantasy Faire maidens before the storytelling begins.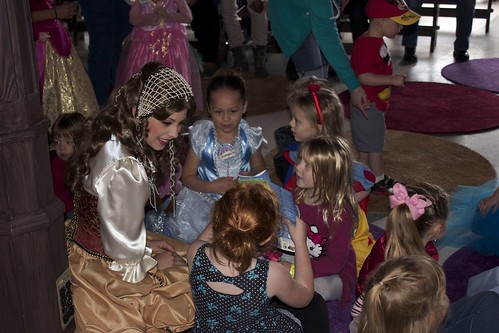 Though the decor is different, the same old Carnation Gardens Plaza dance floor remains underneath, leaving the door open to swinging dancing, making a possible return in the future. But Disneyland wants to wait to see how well Fantasy Faire draws crowds after dark before making that decision.
Each of the Royal Theatre shows is accompanied by live piano music.
The stories of "Tangled" and "Beauty and the Beast" are told in unique ways, not outright performing these tales on stage but instead in a way more resembling an acting troupe sharing the scenes by performing multiple roles with simplistic costumes. The stars, naturally, are the princes and princesses.
"Tangled" in Fantasy Faire
Video: Full "Tangled" performance in the Royal Theatre with Rapunzel and Flynn Rider

"Beauty and the Beast" in Fantasy Faire
Video: Full "Beauty and the Beast" performance in the Royal Theatre with Rapunzel and Flynn Rider

After each performance, characters meet with Guests, princesses Belle and Rapunzel and her companion Flynn Rider and the Fantasy Faire maidens.
Within the Royal Hall, Guests can get more time with the characters, a rotating group of Disney Princesses that includes Cinderella, Ariel, Aurora, Rapunzel, Belle, and more. The wait time sign in front notes which three princesses are greeting at any given time.
---
Video: Conversations with Aurora, Ariel, and Cinderella in Royal Hall at Fantasy Faire

---
Each encounter is quite personal, with each princess approached one at a time in their own small but royally decked-out areas, allowing for plenty of conversation time in addition to the usual photo and autograph opportunities. Fastpass is not available for the Royal Hall, so Guests wanting to meet these famous Disney faces will have to wait in a long, winding outdoor queue.
Fortunately, there are some new munchies to feast on courtesy of Maurice's Treats, a cart serving a Boysen Apple Freeze (boysenberry/apple slush with fruit foam on top), and bagel twists in savory and sweet flavors, all unique to this location. This apple freeze is similar, but not identical, to the others served in Cars Land and New Fantasyland in Florida.
The Fairy Tale Treasures gift shop offers plenty of princess paraphernalia for those looking to take home some souvenirs, including dresses, shoes, tiaras, plush characters, and much more.
Fantasy Faire doesn't officially open until March 12, one week from today. Annual Pass holders visiting on March 7, 8, and 9 can also sign up for special sneak peeks. Additional soft openings are likely between now and then. But come next week, all Guests visiting Disneyland can marvel at a worthy expansion of Fantasyland with more opportunities to interact with Disney characters in the all-new location.
Click Here to shop for Disney Merchandise.