Walt Disney World and Disneyland are offering guests a bit of Easter entertainment in advance of next week's holiday.  Oversized Easter eggs have been hidden throughout the World Showcase at Epcot (and around the Disney California Adventure theme park) for guests to find as part of the latest Limited Time Magic offering.
This time around it costs a bit extra to participate, $4.95 to purchase a map and set of stickers used for marking off each egg discovery.  In the end, guests can present their accomplishments to receive a prize: a Vinylmation keychain 2-pack valued at $12.95.
Despite the added cost, the hunt is surprisingly fun as Disney has done a nice job hiding the large colorful character-themed eggs in plain sight.  Guests circling the World Showcase will have to look high and low to find them all, though they're obvious enough for even the smallest kids to spot. And it's even more fun at night, adding darkness for an extra challenge.
The hunt is available for a limited time only, ending after Sunday, March 24.
For those who make it to Epcot to participate, the wide photos below offer a "Where's Waldo?" style version to play at home, circling the World Showcase from Mexico to Canada.  Each photo contains an egg, some far more obvious than others.  Bonus points if you can spot the egg without clicking on the photo to expand it.  (Spoilers ahead, obviously.)
The slideshow at the bottom of this post includes close-ups of each as well.  Happy hunting!

Epcot Easter Egg Hunt – Home Edition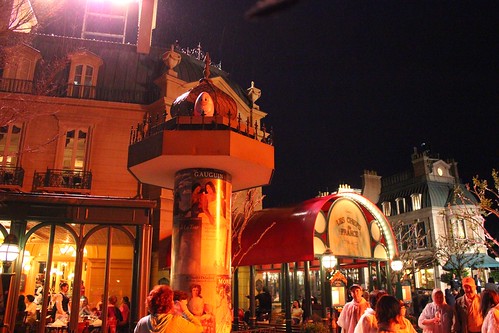 Find them all? Here's your virtual prize:
Under each of these egg halves is a different surprise Vinylmation keychain set. We choose… pink!
Those who present the completed map in person get to keep it after having it stamped with an Easter Bunny:
More photos from the Epcot Easter Egg Hunt for Limited Time Magic, including character egg close-ups: