Think you can make it all the way through this video and NOT sing? If you start crooning these golden-era Disney music songs, you lose the game!
If You Sing You LOSE — Disney Music Challenge
This YouTube video, created by Mie Hald, channels Disney character Ursula's magic spell. If you can take out your voice and stick to "no more talking, singing, ZIP!", then you might have a chance at passing the Disney music test. Can you make it through this Disney movie adventure? The rules are pretty simple:
No singing!
No humming!
No nodding!
No dancing!
You'll be listening to Cinderella's (1950)"A Dream is a Wish Your Heart Makes," Oliver and Company's (1988) "Why Should I Worry?" The Little Mermaid's (1989) "Kiss the Girl," "Hellfire" from Hunchback of Notre Dame (1996), a portion of "I've Got A Dream" from Tangled (2010), "I've Got Friends on the Other Side," from The Princess and the Frog (2009), "Be Prepared" from The Lion King (1994), "Heroes" from Big Hero 6 (2014), "A Whole New World" from Aladdin (1992), the chorus of "Hakuna Matata" from The Lion King, "The Bare Necessities" from The Jungle Book (1967), selections from "Zero to Hero" from Hercules (1997), Idina Menzel's "Let It Go" from Frozen (2013), "I'll Make A Man Out of You" from Mulan (1998), "You're Welcome" from Moana (2006), and "Colors of the Wind" from Pocahontas (1995).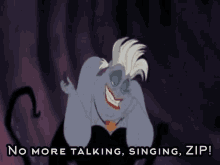 This reporter held out until Mulan's "I'll Make a Man Out of You" came on, and the silence was broken by singing and celebrating Mulan's strength! What makes this Disney music challenge so hard is the fact that so many key movie lines or chorus bits are used. When you aren't sure of the bridges in a Disney song, you can always rely on the chorus to bring you back into the fun singalong.
Another key point? The lyrics are plastered on the screen, bringing those long-lost phrases right back to the front of your brain… it almost tricks you into singing along!
So tell us, how did you do? Leave us a comment below on what song clenched your defeat!