How do you take your coffee? With creamer, bulletproof butter, or straight black? Coffee is an American tradition, and the Most Magical Coffee on Earth is ground at Joffrey's.
This summer, we're fine-tuning our attention (with the help of an afternoon cuppa) to the D23 Magical Summer Sweepstakes held weekly for a chance to win an exclusive prize pack that's "specially curated for the Disney fan in all of us!"
Win Disney Coffee from Joffrey's!
This week's prize pack (week 2 of the summer series) happens to be a part of the collection of the specialty blends of Disney coffee from Joffrey's, inspired by the adventures at Disney Resorts and Disney Parks. There will be FIFTY winners, so log in using your D23 membership and enter a few simple facts about yourself. You'll be on your way each week to winning a delicious, warm, brain-enhancing cup of joe!
Each week in the Summer Sweepstakes will be different, so log on each week to see what's new in the Disney coffee realm. Pictured below, Week 2's prize, an 11 oz. bag of Peru Alto Mayo—a USDA Organic and Fair Trade Certified, 100% Specialty Grade Arabica coffee, featuring notes of deep chocolate with a fresh vanilla almond aroma. Joffrey's tells us this blend is a "full roast was created in collaboration with Conservation International and Disney to support the Alto Mayo Protected Forest project in Peru. The Alto Mayo Protected Forest project gives coffee farmers the tools, education, funding, and wages they need to use environmentally friendly practices and save hundreds of thousands of acres of endangered species' habitats."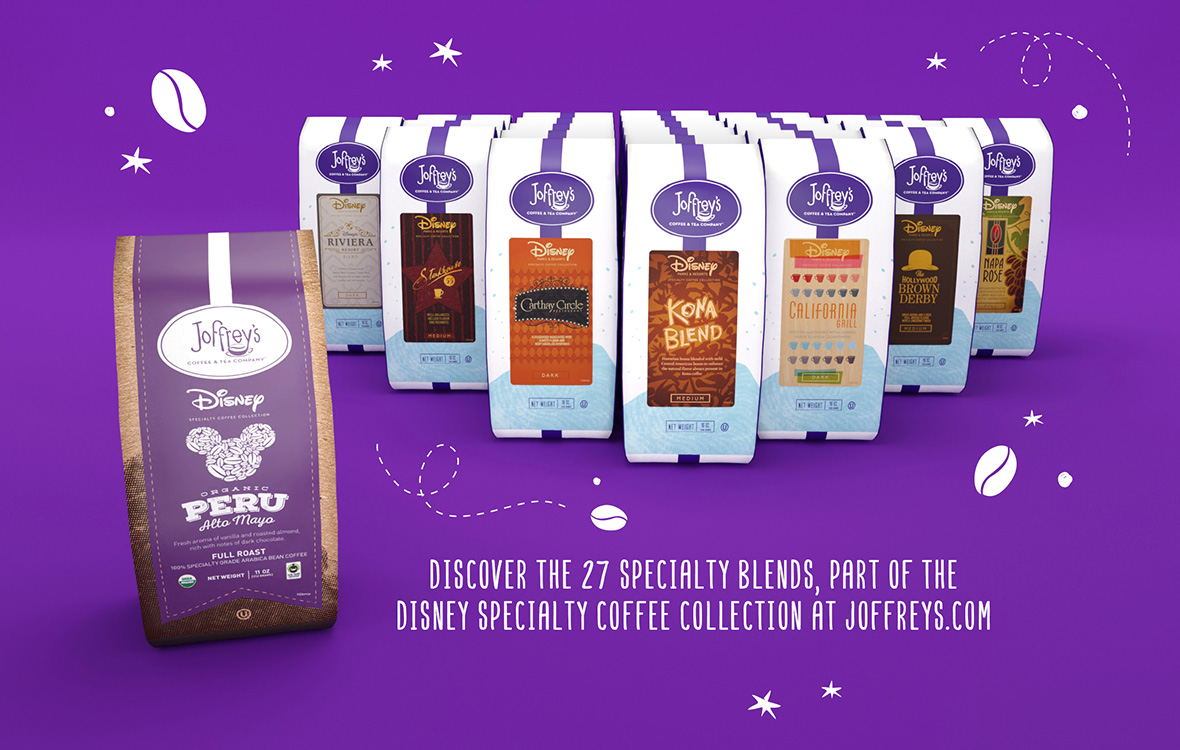 Disney chefs have worked along Joffrey's Roastmaster, Chris de Mezzo, to create 27 signature coffee blends that are served at Disney Parks & Resorts, and are now available as part of the Disney Specialty Coffee Collection. To bring Disney coffee home to your house, or to browse the flavors of  Specialty Collection of Disney Coffee, please visit Joffrey's!
If you're a D23 member, you'll know all about the perks of membership like the D23 Annual Gift, Expo access, and of course, sweepstakes like this one. Visit the Magical Summer Sweepstakes held by D23 and Joffrey's every week this season to try your hand at what we at Inside the Magic like to call, "Vacation Coffee!" It tastes like a trip to the Parks!
Which Joffrey's blend is your favorite? Leave us a comment below about which one you'd like to win!