All who are choosing to vacation at the Disney Parks must abide by the guidelines for wearing a face mask.  There are official guidelines for both Walt Disney World Resort and Disneyland Resort. 
Alright, now that we've gone through all the guidelines for what kind of face masks are acceptable and how they should be worn, let's have some real talk.  In an honest review from an Inside the Magic Reporter having worn one all day at Magic Kingdom, wearing a face mask during your visit isn't that bad, but for some Guests, their Mickey and Minnie ears could get a little sore.
We've shared some tips for how to wear the face masks properly, but here are some face mask hacks to save your ears from actually getting as big as Mickey or Minnie's!
Find the Right Size
Many Disney Parks Guests have jumped onboard to either purchase Disney official face masks at the Parks or online through small shops to match their Disney Day outfits.  More important than them looking cute, although it is a bonus of course, is that they're comfortable so make sure they fit so you're not constantly adjusting.  Disney has expanded the size range of their masks to accommodate more options for Guests.  
Adjustable Face Masks
If you're ordering online, there's different small shops who are offering Disney-inspired designs on face masks with adjustable bands like the one seen below by Pixie Lee & Co.  These are honestly great because you don't have to worry about fitting into a one size fits all or a size range.  You can have it to perfectly fit you and your long day at the park.  If you start to feel pressure on the ears, you can pull back just a tiny bit enough to still have it snug over the nose.
Bring Extra Masks
When you're running around the parks having a magical day, your sparkle could turn into a full on sweat.  Bringing extra masks to switch out while you're over in the relaxation zones (the areas of the park where Guests are allowed to remove their masks) is a going to make you feel a lot cooler.  Not only that, the weight of the face mask won't continue to feel heavier and weigh down your ears.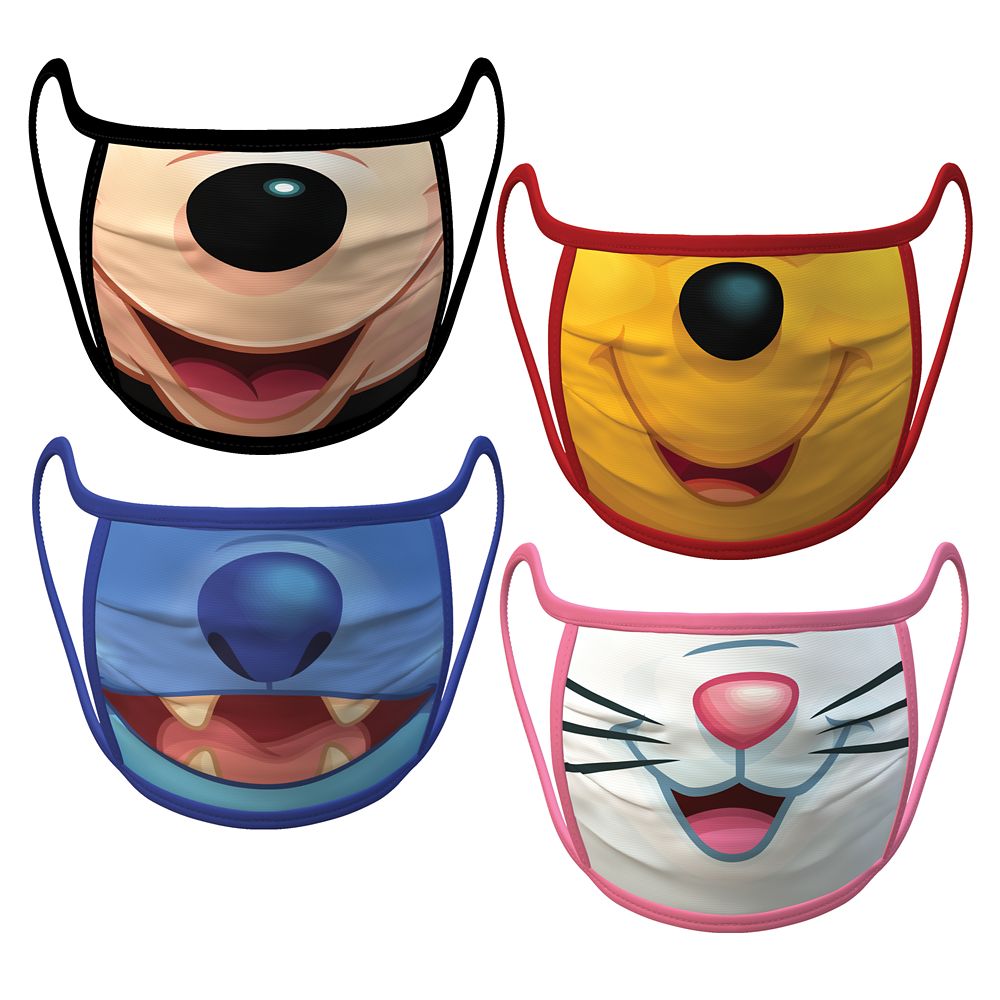 Wrap it Around Your Head/Hair
To avoid the straps from latching onto your ears, there are two ways wrap it around your head.  You can take an extra piece of elastic or ribbon and measure to your size to create an extra strap to connect the two sides and simply slip it over to sit on the back of your head.  Another way is to take a ribbon and tie the two straps to a ponytail, or you can have two pigtails/braids closer to the side of your head and place the face mask straps around the pigtails/braids.
Attach it to Your Accessories
To Your Minnie Ears/Headband
If you have an adjustable face mask, you can loop the extra strap at the back to the ends of your Minnie Ears or headband.  If you have a traditional face mask, you'll need two smaller hair ties.  You'll loop them together like shown below so then slip them to the ends of your Minnie Ears or headband.  I find using one hair tie doesn't angle the face mask correctly so it rides up towards my eyes.
To Your Hat
This only works with hats that have the snapback, Velcro, or adjustable strap you can open up.  You again can loop the back of adjustable face mask straps to the straps at the back of the hat, or you can use larger hair ties or any elastic loops you have for traditional face masks.  You'll loop together the face mask straps and elastics like shown below and loop them to the strap at the back of your hat.  If using hair ties, you may need to loop multiple together depending how much give your need to fit your head.
To Your Sunglasses/Glasses
This method is very similar to the Minnie Ears and headband one.  You'll only need one of the small hair ties for this one since the angle is the same as your ears. You'll loop the hair tie to the face mask straps then onto the earpiece of the glasses.  Also works with adjustable face mask straps.
Clips
Lobster hair clip, snap clips, and barrette clips are a really great way to clip your face mask to your hair.  If it's not long enough, you can loop extra elastics to the straps before clipping it to your hair.
Try out these methods on your next visit to the Disney Parks, but always remember to abide by the guidelines!  Check on this face mask FAQ for more information.