Update:
Adventures by Disney just issued an updated travel advisory which states that new departures will be suspended in an abundance of caution for the coronavirus.
The update was issue on the Adventures by Disney website here. Below is the full statement:
IMPORTANT INFORMATION

Information on Coronavirus Disease 2019 (COVID-19) continues to evolve quickly and Adventures by Disney is closely monitoring global developments and following the advice of public health authorities, medical experts and officials in the destinations we visit.

In an abundance of caution and in the best interest of our Guests and Guides, Adventures by Disney has decided to suspend new departures through the end of March, excluding the Australia adventure, departing March 15 that will continue as scheduled.

Additionally, based on updated travel guidance from the U.S. Centers for Disease Control and Prevention, it is also necessary to cancel the following adventures:

Disneyland Resort & Southern California through March
Disneyland Resort & Southern California Escape through March
England and France departures through April
Egypt departures through April
Greece departures through April
Vietnam, Cambodia, and Laos through May
Italy departures through May
Italy and Amalfi Coast departures through May
Japan departures through May
China departures through June

We'll be contacting all impacted guests and travel agents. For specific questions, you may also reach out to our Contact Center 1-855-223-0025 or 407-566-8345.

ADDITIONAL SCREENING MEASURES

Currently, we plan to move forward with any trip not listed above.

However, we will continue to make adjustments as necessary and will notify Guests immediately should there be changes to their itinerary. At this time, the following guidelines are in effect for all trips and will continue to evolve as more information becomes available:

Any Guest or guide who has traveled from, to or through the following countries within 14 days of their trip's departure will not be able to travel with Adventures by Disney: Austria, Belgium, China, including Hong Kong and Macau, Czech Republic, Denmark, Estonia, Finland, France, Germany, Greece, Hungary, Iceland, Iran, Italy, Japan, Latvia, Liechtenstein, Lithuania, Luxembourg, Malta, Netherlands, Norway, Poland, Portugal, Slovakia, Slovenia, South Korea, Spain, Sweden, Switzerland, Monaco, San Marino and Vatican City.
Any Guest who has been in contact with someone from these areas, including Guests with connecting flights in these locations, also will not be able to travel, nor will anyone who has helped care for someone suspected of having or has been diagnosed with coronavirus (COVID-19), or who is currently subject to health monitoring for possible exposure.

Guests who have air travel booked through Adventures by Disney will automatically have their flights rebooked on an alternate route. Guests who booked their own air travel arrangements should contact their airlines directly to make the appropriate changes.

TEMPORARY CANCELLATION POLICY UPDATE

We are offering a temporary adjustment to our Adventure Vacation Date Change Policy to provide more flexibility for our Guests.
Guests currently booked on adventures through May 31, 2020 can change their reservation and receive 100% credit to be used toward a future adventure. Guests traveling March 12 through April 15, 2020, are asked to contact Adventures by Disney at least 24 hours prior to their adventure start date to request a change.

Guests may select a new travel date and/or an alternate adventure by December 31, 2020, by calling (855) 223-0025 or (407) 566-8345. The credit is non-refundable and standard prevailing rates will apply. Any new bookings made on future trips through the end of June, 2020 will be subject to fully refundable deposits up until the final payment date.
Original Article:
As the Disney Parks around the world close and Disney Cruise Line suspends sailings due to coronavirus concerns, Adventures by Disney has announced that they are also monitoring the situation.
According to a recent announcement, Adventures by Disney is limiting who will be allowed to travel on their vacations based on where the person has previously traveled. If a guest or guide has traveled to, from, or through China, Hong Kong, Macau, South Korea, Italy, Iran, or Japan, within 14 days of the trip's departure, they will not be allowed on the Adventures by Disney trip. Guests who have been in contact with anyone in these areas will also not be allowed to travel, and neither will any guests who have helped care for anyone who had or possibly had coronavirus.
Guests who booked air travel through Adventures by Disney will automatically have their flights rebooked. Guests who booked their own travel will need to contact their airlines directly. And if any of the above situations apply, guests are advised to contact Adventures by Disney over the phone to discuss options. You can reach them at 1-855-223-0025 or 407-566-8345.
Because of these changes and growing coronavirus concerns among travelers, Adventures by Disney is making cancellations a lot more flexible. Guests who are currently booked on an Adventures by Disney trip from now through May 31 are allowed to change their reservation up until the day before their arrival and will receive a 100% credit that can be used toward a future Adventures by Disney vacation. Guests have until December 31, 2020 to select a new trip and can do so by calling 1-855-223-0025 or 407-566-8345. Keep in mind, however, that this credit is non-refundable. Disney also asks everyone traveling from April 16 through May 31 to call at least two weeks in advance to request a change.
Below is the announcement regarding vacation adjustments and the protocol that Adventures by Disney is taking at this time: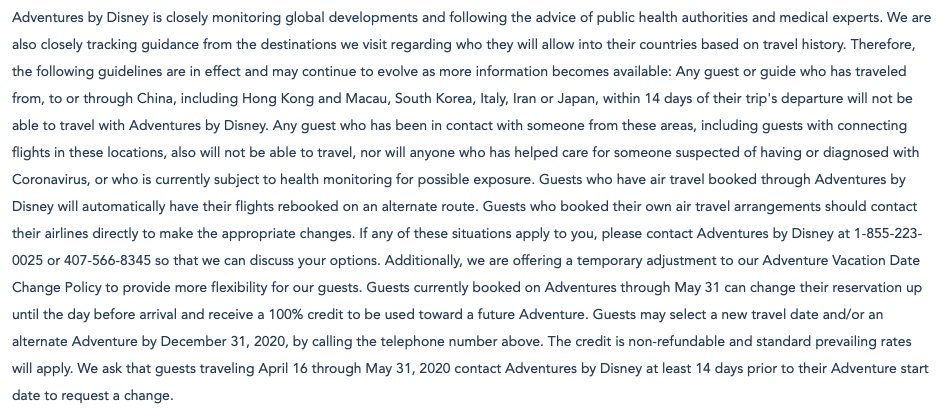 For more information about Adventures by Disney, you can visit the official website here.
During this time of postponing an canceling Disney vacations due to coronavirus concerns, we have had a great experience working with Authorized Disney Vacation Planners at Academy Travel. When you book a vacation with an Authorized Disney Vacation Planner and need to modify it in any way, the travel agent can work directly with Disney to make sure your vacation plans are taken care of, alleviating your personal stress.
We hope everyone continues to stay safe and healthy during this time. Inside the Magic will continue to update our website as we find out more information regarding coronavirus and its affect on Disney travel plans.