Last month, several locations at Disney Springs announced they would be offering special cocktails to celebrate the Fall season. Paddlefish has added a new one to that list with the carbon-infused, color-changing 'Dark & Smoky.'
This specialty cocktail includes not only the flavors of fall, pumpkin syrup and black lemon bitters, but also showcases the spirit of Halloween, with a dash of carbon on an orange peel that turns the drink darker than night.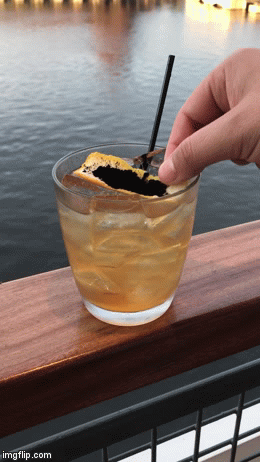 The full recipe for this beverage is as follows:
1.5 oz. Stolen Smoked Rum
½ oz. pumpkin syrup
1 dash black lemon bitters
1 dash chocolate bitters
½ oz. Nuestra Soledad Mezcal
1 dash of carbon on orange peel
'The Dark & Smoky' will only be available at Paddlefish at Disney Springs from October 27 through October 31 for .