At Howl-O-Scream 2014, Busch Gardens Tampa has been experimenting with new ideas to keep the Halloween event fresh and fun. From interactive zombie shooting to huge new haunted house creatures, there are a lot of surprises to be found throughout this year's event.
Across a couple of dark and extremely stormy nights, Howl-O-Scream 2014 made its debut this weekend. Due to the rain, not all of the street entertainment was out and about, leaving guests to flock to rather long lines for the two newest experiences: Zombie Containment Unit 15 and Deadfall.
Fortunately, Zombie Containment Unit 15 is worth the wait – even in the pouring rain. It's unlike any haunted house experience Central Florida has ever seen. And it's flat out fun.
---
Video: Laser zombie shooting haunted house experience in Howl-O-Scream 2014 at Busch Gardens Tampa

---
Guests enter in small groups, quickly armed with laser tag style guns secured around a shoulder via a small strap. This is to prevent the guns from going flying amidst the chaos that ensues shortly thereafter. The premise is that three years has passed since the zombie apocalypse and all zombies have been quarantined into containment units – but this one is failing and the zombies are loose inside.
The goal is not to kill the "undead Americans" but rather stun them by hitting a target on the zombies' chests, which stops them from attacking for five seconds – after which they lunge, swipe and snarl once again. The winding maze of chain link fences passes many crates and other props, including some from Howl-O-Scream past. It's not an elaborately themed haunted house but it doesn't need to be, as it's essentially intended as a warehouse to hold zombies. Lights are strobing wildly as guests find their way through, even splitting paths at some points.
The pace is fast and the environment frenetic while everyone has a fantastic time blasting away at the attacking zombies coming from all sides, even behind. In the end, everyone leaves smiling.


Howl-O-Scream's other new haunted house this year is called Deadfall, intended to send guests through a Victorian greenhouse to encounter some ghosts.
This haunted house adds another new feature to Howl-O-Scream in the form of large, oversized creatures. They seem to be pneumatic-driven puppets of some sort – and they're huge. An alligator-like creature comes lunging from a dark corner with its jaws wide open, its head spanning at least 5 feet across. There are plants attacking in a similar manner too.
But beyond those moments and a few other inventive scares, particularly one fun use of a mirror, Deadfall makes little sense. It's not clear that the characters are meant to be ghosts and the settings seem to roam randomly from a greenhouse to a boathouse to a playground to a graveyard. And the whole experience is strongly lit in blue shades, making it rather repetitive.
Fortunately, last year's new haunted house Death Water Bayou is even better this year, reigning as Howl-O-Scream's best once again. It retains all of its thrills from 2013, adding new ones this year that are so perfectly executed that the whole experience last night left at least one girl in complete shambles, frantically flailing and screaming expletives all the way through, also exclaiming she wet herself in fear somewhere near the end. That is a job well done for a Halloween experience.
The Basement also returns this year, berating guests with an onslaught of screaming actors once again. New to the maze for 2014 is another example of Busch Gardens' apparent fascination with oversized creatures as a giant sewer rat-looking thing pops out of a dark hole.
Circus of Superstition, Blood Asylum, and Zombie Mortuary also return, though their days are likely numbered in future event years. Zombie Mortuary is likely next on the chopping block.
Likewise, The Experiment is dubbed "The Final Test" this year, likely indicating it won't return for 2015. That add-on experience gives guests close encounters with real life creepy crawlies forcing them to face their phobias.
There are no set scare zones for Howl-O-Scream 2014, though an assortment of decorations and props line a few areas of the park. Hoards of various characters are meant to roam freely, but due to the rain on opening weekend many were not around to be seen. Sliders, witches, and skeleton bird-like creatures near Falcon's Fury were spotted along with a particularly amusing use of an ice cream vendor's cart, seen in the video below.
---
Video: Streets & scare zones of Howl-O-Scream 2014 at Busch Gardens Tampa

---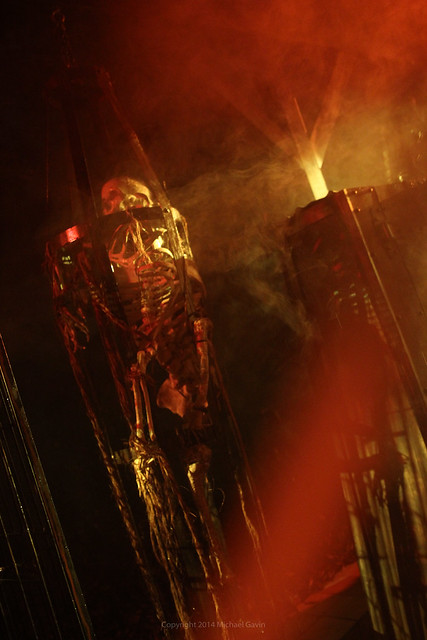 The front gate is also meant to have a "Cursed" themed scare zone, tying in the marketing push for this year's event with the park. Unfortunately, the rain canceled those plans while we were there too.
Speaking of Cursed, this year's in-park night club adds nothing new, acting as a place for guests to dance and drink alongside a few of the park's lovely shot girls – and guys this time.
And speaking of girls, the park's one show this year is the return of Fiends. It's more or less the same version show that first debuted last year, bringing guests to Dr. Freakenstein's University. But we all know the stars of the show are those nurses.
---
Video: FULL Fiends 2014 show in Howl-O-Scream 2014 at Busch Gardens Tampa

---
Video: Fiends Nurses of Howl-O-Scream 2014 at Busch Gardens Tampa

---
For a closer look at the pretty ghouls of Howl-O-Scream 2014, click here to head over to Outside the Magic, including this year's pinup photo op and plenty more pictures.
Even with non-stop rain, Howl-O-Scream 2014 is still a fun time, largely due to the great success that is Zombie Containment Unit 15. It's definitely more than a glorified shooting gallery, perfectly combining a haunted house walkthrough with an interactive game. Other parks and Halloween events should take note of this unique experience to see how Busch Gardens is using new ideas to improve classic concepts.
Howl-O-Scream 2014 continues at Busch Gardens Tampa through November 1 on select nights. More information can be found at HowlOScream.com.
More photos from Howl-O-Scream 2014:
(Photos by Michael Gavin)