Continuing our photo series of Halloween Horror Nights 2014 lights-on tours, we step inside "The Twister" to get up close with snakes in From Dusk Till Dawn.
This haunted house tour revealed many interesting behind the scenes details of the process of creating Horror Nights mazes. But before we get to those, take a walk through the house via the photos below. Then be sure to book the Unmasking the Horror tour so you can take a photo with a blood-soaked naked mannequin. Because who can resist that?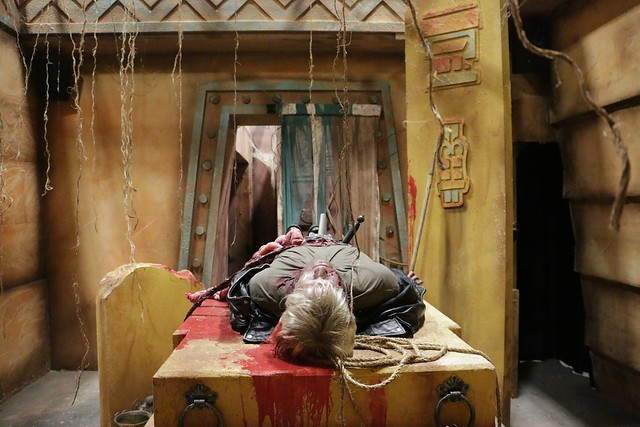 To make this haunted house fit into the theme park event, the famous strip club in "From Dusk Till Dawn" had to be renamed to "The Twister," missing that one all-important word in the middle.
Using vast amounts of neon indoors is frowned upon these days, so EL wire was used creatively to emulate the look of neon signs.
It's been a long-standing tradition at Halloween Horror Nights to include a raven in almost every haunted house. You'll find it perched outside The Twister facade in this maze.
Universal realizes that over time people are catching on to their tricks, keep an eye out for "boo holes" where actors pop out from. In this haunted house, they got inventive, placing some obvious fake boo holes in plain sight, hiding the real ones in unexpected places to keep guests on their toes.
Believe it or not, Universal did consider using a live actor to portray the first bloody and completely naked appearance of Santanico Pandemonium. They quickly realized that was impossible, substituting a lifelike mannequin instead.
It's usually a challenge for Horror Nights designers to find places to hide speakers in each scene. But sometimes it's easy, such as with the night club finale of this haunted house, which allowed them to simply place them in plain sight, keeping with the theme.
This year Universal has also begun adding exit facades so when guests leave a maze and turn around to see their friends on the way out, they're not staring at a blank wall but instead see them emerging from the themed experience.
Keep checking back to Outside the Magic throughout the week for more lights-on tour photos from Halloween Horror Nights 24 at Universal Orlando.
More photos in From Dusk Till Dawn: