Following the grand openings of two major restaurant additions to Universal Orlando CityWalk – Antojitos and Vivo Italian Kitchen – a new counter service offering has debuted, giving guests a good option for a meal on the go.
Hot Dog Hall of Fame opened yesterday, located opposite the entrance of Antojitos. Replacing a formerly dull bar, Hot Dog Hall of Fame features a vibrant baseball theme, completely with outdoor stadium seats and a giant screen playing the latest games.


To create this new venue, Universal partnered with Steven Schussler, the concept creator behind the popular Rain Forest Cafe and Disney's T-Rex restaurant.
There is no interior to this eatery, serving a variety of hot dog flavors over a counter.
The $6.99 price would be steep for most hot dogs, but these come piled high with plenty of toppings, using quality ingredients that definitely make a good, quick meal.
They offer many different mustards, but won't put ketchup on any of their hot dogs, keeping with regional traditions. (They do, however, have ketchup available for patrons to add themselves.)
Novelty merchandise is also sold there, including plush hot dogs, snow globes, and more.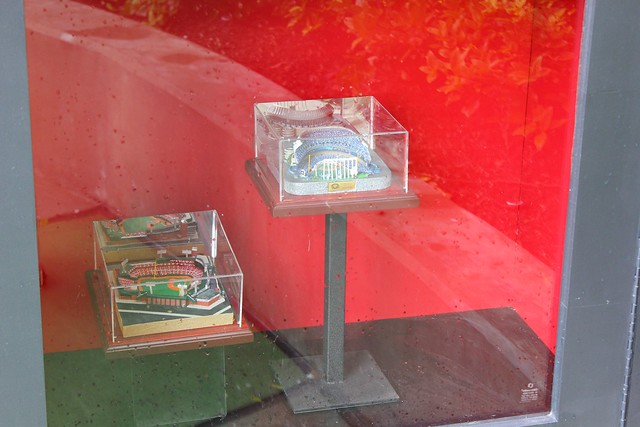 Hot Dog Hall of Fame is the latest in a line of CityWalk updates that will continue with the opening of Bread Box (sandwiches) within a few days and CowFish Sushi and Burger Bar later this year.
More photos from Hot Dog Hall of Fame at Universal Orlando CityWalk:
(Photos by Ricky Brigante and Michael Gavin)