More than anything else, the Diagon Alley expansion of the Wizarding World of Harry Potter at Universal Orlando offers shopping opportunities, comprising most of the new area. Eight major stores make up the bulk of the new area, featuring plenty of fun details for Potter fans to find.
Highly-themed stores include Ollivanders, Wiseacre's Wizarding Equipment, Madam Malkin's, Magical Menagerie, Quality Quidditch, Scribbulus, Borgin and Burkes, and Weasleys' Wizard Wheezes, each entertaining to explore unto themselves.
---
Video: Diagon Alley stores overview at Universal Orlando

---
Many of the stores in Diagon Alley feature merchandise that's similar if not exactly the same as that sold in Hogsmeade Village – at least for now. But it's much more well organized. Instead of shoving a wide variety of merchandise into just a couple of stores, Diagon Alley allows it all to be spaced out across multiple locations, letting guests browse more easily. Some of the stores are just as cramped as the ones in the original Wizarding World, but most are a bit wider and easier to get around. An in time, Diagon Alley will surely receive even more unique merchandise throughout.
Gringotts Money Exchange
Diagon Alley presents an opportunity to make spending Muggle money even more fun. Gringotts Money Exchange allows guests to convert cash into Gringotts Bank Notes for use throughout Universal Orlando – or simply to collect. This shop also sells candy coins and highly collectible metal versions as well.
Most impressively, there is an interactive animatronic goblin banker inside Gringotts Money Exchange, ready to freely converse with guests. His knowledge of the Muggle world is limited, and he seems a bit grumpy, but he is fun to talk to.
---
Video: Gringotts Money Exchange interactive animatronic goblin in Diagon Alley at Universal Orlando

---
Weasleys' Wizard Wheezes
The most iconic shop of Diagon Alley is the one run by Fred and George Weasley, not so subtly called Weasleys' Wizard Wheezes. On the outside, it perfectly matches its appearance in the "Harry Potter" films, complete with a giant animated sculpture featuring their identical twin likeness. James Phelps notes that it is "a bit of an ego trip" to see such a large version of himself prominently and permanently displayed inside Diagon Alley.
Inside, Weasleys' Wizard Wheezes is just as colorful and whimsical as it should be, with animated features throughout, including fireworks bursting overhead. Unfortunately, it's also smaller than expected. The second level is not accessible, achieved with forced perspective to make it look taller than it is. Only the ground floor can be explored, which essentially just leads guests in a single loop of merchandise. Much of the merchandise in this store is from the old Zonko's location in Hogsmeade Village, though there are a few new Wizard Wheezes branded products.
Quality Quidditch
Immediately inside the entrance of Diagon Alley, Quality Quidditch is a one stop shop for all Quidditch supplies. Apparel dominates most of the space, also adding brooms and other equipment. An animated Quidditch poster and full Quidditch uniform display add to the fun ambiance of this shop.
Madam Malkin's
Those looking for Hogwarts house attire, robes, and formal wear will find it all in Madam Malkin's, an elegant store that feels like a fashion fan's dream. The raised area with dresses and outfits on display gives this shop the proper feel for finding the perfect attire to fit in with the Wizarding World.
Ollivanders Wand Shop
The most interactive of all stores, the original Ollivanders location is found in Diagon Alley. The Hogsmeade Village annex version will remain open, as this experience is far too popular to limit to just one side of the Wizarding World. But the Diagon Alley location is far superior, with a plan for guests to queue up before loading into one of many show rooms.
---
Video: Ollivanders Wand Shop show in Diagon Alley at Universal Orlando

---
The Ollivanders show in which the wand chooses a wizard is essentially the same as in Hogsmeade, though its layout more closely matches that seen in the "Harry Potter" films.
There is a tremendous selection of wands available as well as thousands upon thousands of wands on display throughout the store and hallways leading up to the show area. There is also a nice vignette showing an office in which a broom is cleaning up all by itself – on the ceiling.
Here the new interactive wands are also available at $45 each in a few different styles, in addition to the classic non-interactive varieties, both character and birthday wands.
Borgin and Burkes
Deep within the darkened Knockturn Alley lies the spookiest store of all, Borgin and Burkes, selling the more menacing side of magic. Familiar elements in this store include a decrepit hand that grabs at guests as they pass by as well as the vanishing cabinet with the sound of a bird chirping inside.
---
Video: Knockturn Alley tour with Borgin and Burkes in Diagon Alley at Universal Orlando

---
Merchandise largely surrounds Death Eaters, from T-shirts to full outfits including masks. Voldemort Horcrux necklaces are also for sale here along with an assortment of creepy collectibles.
Magical Menagerie
The cutest store in Diagon Alley, Magical Menagerie sells plushes and all things cuddly related to the animal characters of the "Harry Potter" books and films. Displays are filled with animatronic creatures – snakes, frogs, birds, and plenty of bizarre creatures. Fawkes, Hedwig, Crookshanks, and all the other fan favorite Potter pets are available to purchase in plush form.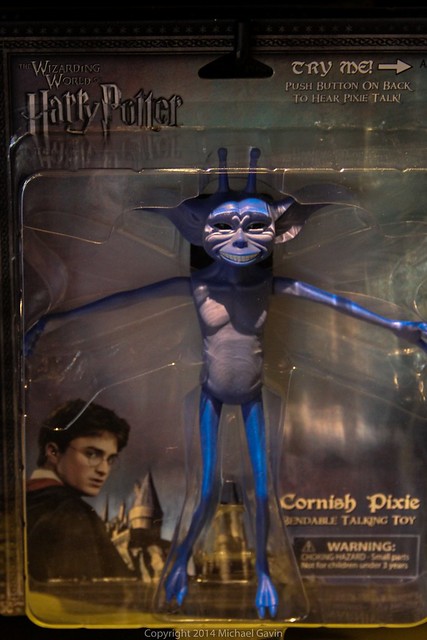 Scribbulus
Muggles looking to follow in JK Rowling's footsteps will want to shop at Scribbulus, featuring a large assortment of writing instruments, journals, and the like. There is a wide assortment of working quills along with many styles of notebooks and more to purchase.
Wiseacre's Wizarding Equipment
Wiseacre's seems to be the "everything else" store, featuring apparel and other random collectibles representing the rest of the Wizarding World that doesn't fit in with the other stores. There are Hogwarts Express items, Butterbeer shirts and hats, and other unique items found nowhere else.
---
There are also some smaller merchandise locations in Diagon Alley, selling magic wands, photos, and miscellaneous products. Wands by Gregorovich and Shutterbutton's are just two of the smaller places to keep buying.
And then there are the many storefront facades that don't actually lead into a real shop, but are still recognizable from the "Harry Potter" universe, like the Daily Prophet, House Elf Placement Agency, Fourish & Blotts, a barber shop, potions store, and more, each with its own entertaining window display.
But the above are the primary spots for Potter fans to spend their Gringotts Bank Notes, leaving with souvenirs to help remember their magical vacations.
More photos from throughout Diagon Alley:
(Photos by Michael Gavin)