When Universal Orlando ushered in a "new era of darkness" in conjunction with the 20th anniversary of Halloween Horror Nights two years ago, no one could have expected the unusual mix of entertainment rolled out for this year's event. Halloween Horror Nights 2012 kicked off three nights ago with seven new haunted houses, two live shows, special versions of the park's lagoon show, and a completely reinvented street experience. But while including all those offerings makes the event sound like a solid full evening's enjoyment, it's clear this year that much of Universal's money and attention has been firmly focused on the recent and ongoing massive construction and expansion projects around the parks, causing Horror Nights to pay the price.
Much to the surprise of its many fans, Halloween Horror Nights 22 is without an overall theme or an icon, for the first time since 2004. The event's creators have explained that because they are featuring several big name franchises and intellectual properties this year from movies, television, music, and video games, there was no way to tie them together that would make any sense, better to let each share the spotlight. Many fans have compared this strategy to that of Hollywood's version of the event, an appropriate comparison considering both coasts share several of the properties and have worked together more than ever to develop this year's experiences.
But while some of the mazes featured in Halloween Horror Nights 22 do follow in the footsteps of original favorites from recent years, succeeding far more than the franchise-based ones, the event's new street experience is entirely different than the past, doing away with always-popular individual scare zones completely, in favor of featuring a variety of roaming bands of ghouls, united under the banner of "Dark Legions." This, so far, has not been nearly as successful.
Halloween Horror Nights 2012 is a mixed bag of jaw dropping visuals that rival anything ever seen at the event, jumbled together with some of the most disappointing elements in years. Read on for specifics about the good, the bad, and the sure-to-improve throughout.

The Rules
As with the past two years of Halloween Horror Nights event reviews, below you will find each haunted house, "scare zone" / street experience, and show summarized with my thoughts and ranked into one or more categories: Screamer (scare-filled), Gut Buster (comedy-packed), Eye Popper (visually-stunning), and/or Mind Blower (overall best in show). And in the case of a complete dud, I refer to it as a Grave Digger. Use my thoughts as a guide to help you plan your attack when you visit Universal Orlando's event and see if you agree with me. Then return here often throughout the coming weeks for updated thoughts as the event evolves.
Read on for my review of Halloween Horror Nights 2012.
Halloween Horror Nights 2012 Haunted Houses
This year's haunted houses arrive in a variety of styles, with two completely original ideas (Gothic and Dead End) standing out ahead of the rest, based on existing properties. The four widely promoted houses are interesting and certainly different, but not all are entirely successful as Halloween Horror Nights experiences.
Highlights and scares from inside all the mazes of Halloween Horror Nights 22:

Now my thoughts and rankings…
1. Gothic
RANKING: Mind Blower, Eye Popper
REVIEW: The most immersive, detailed, and impressive maze at Halloween Horror Nights 22, Gothic surrounds its visitors with room after room of rich environments with an incredible level of realism. The setting is an old cathedral, now under renovation, much to the dismay of the spirits that haunt the location. Those spirits all arrive in the form of gargoyles, guarding the cathedral by day and haunting it by night. Of course, this is Halloween Horror Nights and all who walk through encounter and endless onslaught of stone-faced and winged creatures from all directions.

In terms of scares, this year's haunted houses are some of the tamest yet. While there are many opportunities for quick startles, the overall impression I left with on opening night was that none of the mazes stood out as over-the-top scream-inducing. That aside, Gothic is easily the closest match to a classic Halloween Horror Nights experience, drawn straight from the minds of the event's talented creators and not based on any outside characters or franchises, instead only emerging from their own imaginations. It's exactly the type of house that always appeals to me the most year after year.
The sheer size of the sound stage-based maze is staggering. With two- to three-story individual rooms, guests find themselves looking up and around as the architecture serves as an excellent misdirection away from the lurking gargoyles. This house is also packed with unique moments, including several overhead flying creatures, a wonderfully surprising stilt walker, and two of the most beautiful and inventive scenes ever created at Halloween Horror Nights. One tricks the eye into feeling like guests are standing high above a huge church, looking down on its altar and pews, while the other utilizes hundreds of candles that extinguish in sequence leading up to a surprise moment.
Though the repetition of similar gargoyle characters throughout Gothic does get a bit old, the creativity in their use prevents them from becoming dull. Those familiar with last year's maze called "The Forsaken" will recognize some of the most fun scares. Overall, Gothic is being widely regarded as not only the best house of the year but one of the best in several years at the event.
(Look for a photo-filled, lights-on, behind-the-scenes tour of this house coming soon.)
UPDATE (10/6/12): Even after many more visits, this house continues to astound me. And the actors are getting better at hiding and eliciting scares, as is generally the case as the event nights continue. I don't see any way this house will ever move down this ranked list as the visuals simply blow me away, no matter how many times I see them. The fact that it's getting scarier is an added bonus.
2. Dead End
RANKING: Eye Popper, Screamer
REVIEW: Those visiting Halloween Horror Nights looking for the most classic, traditional Halloween experience will find Dead End to deliver on every level. This maze is inspired by "home haunts," utilizing many of the same simple tricks that average folks do at their own houses on October 31st. The Flying Crank Ghost, Pepper's Ghost, and the Axworthy Ghost are just a few of the effects used in this maze that will instantly be familiar to those who have ever taken home Halloween decorating one step beyond store-bought items.
But Universal has put exciting twists on these simple elements, adding scareactor-driven surprises around each. The tried-and-true effects are coupled with modern projections and plenty of misdirection to keep visitors on their toes. And all of it is set within that eerie house down the street that kids are always afraid to visit when trick-or-treating. It's the ideal theme for a Horror Nights maze that mixes simple fun with exciting and startling moments. Don't miss the smiling photographer creepily snapping pictures of dead women… or are they?
UPDATE (10/6/12): After multiple times through this maze, I finally experienced the "B" cast, which offered a wonderful variation on the performances delivered by the "A" cast. They all play the same roles, but subtly portray them differently, keeping it fresh for regulars like me. I also continue to notice new details and surprising elements each time I walk through Dead End. Every scene is simply packed with interesting things to look at.
3. The Walking Dead: Dead Inside
RANKING: Eye Popper
REVIEW: As a big fan of AMC's "The Walking Dead," I was greatly looking forward to following in the footsteps of Rick Grimes through his dangerous adventures through the zombie-filled streets of Atlanta and beyond. In this respect, the maze based on this franchise did not disappoint, offering a montage of memorable moments from throughout the first two seasons of the show, focusing mostly on the first. Walking through, it all feels right, from the famous "DON'T OPEN, DEAD INSIDE" hospital door from the show's pilot to the burning barn that concluded the second season. And the entire house is filled with walkers, many lurking in each room and around each corner, moaning and slowly lumbering, sometimes lunging, toward guests. It can get pretty claustrophobic in there.
But the maze as a whole doesn't entirely make sense. Moving from a hospital to a department store in five steps with no transition between the two left me somewhat confused. But fans of the show will appreciate the efforts in packing many instantly recognizable locations into the experience, even if they don't necessarily flow together. And just like in the show, there is no such thing as being safe from walkers. At any moment, a dead hand may fall down from above or reach through a crack in a fence, even after the maze has ended…
UPDATE (10/6/12): I was pleasantly surprised last night to find a MAJOR addition to this maze, just outside its entrance: Teddy Bear Girl! Sporting her pink robe, bunny slippers, and clutching a plush bear, she snarls at those entering the haunted house, perfectly setting the stage for all the fun of "The Walking Dead" inside. Below are a couple particularly dark and noisy photos of her. Since I wasn't expecting her to be there, I didn't have my camera ready, so I just quickly turned it on and snapped away with whatever settings it had at the moment. I'll try to get a few better shots next time through.
4. Silent HIll
RANKING: Eye Popper
REVIEW: Fans have been asking Universal for a haunted house based on the much-beloved "Silent Hill" video game series for years and finally got their wish this year, as Universal combines exciting game moments with visuals from the 2006 film as well as the sequel due out in October. Despite the fact that I have played little of the games personally, I am extremely familiar with the franchise thanks to watching my wife Michelle play every single "Silent Hill" game ever released. So while I thoroughly enjoyed this maze, I turn the reigns over to her below for a more complete review.
It was great to see recognizable characters and locations from the "Silent Hill" games. The maze perfectly started like any of the games, broken down on a highway with falling ash in the sky and the iconic town sign. And the familiarity continued immediately with an exciting game-turned-real moment in which an iconic creature is attacked by a familiar female character. I found myself clapping and smiling the whole time through, particularly upon spotting Pyramid Head, prompting me to excitedly yell out his name. It was also great to see Robbie the Rabbit showing up throughout.
But the house missed many opportunities, needing a stronger occult feel that is so important to the games. There is a religious symbol on one wall, but little else. Like in the games, a mirror does mark the transition in the maze from Fog World to Otherworld but an actual transition would have been nice. I didn't hear a siren, another important game element, though I've been told it was present at the beginning. Recognizable game music was good to hear.
The house features many of the series' familiar nurses, but they weren't twitching or moving in the way they should. And worst of all, Pyramid Head was missing his giant sword, such an important part of that most famous character. The entire maze was also without metal floors and the sound of a static radio is never heard.
Any "Silent Hill" fan will enjoy coming face to face with game characters and scenes but will also agree there are so many missing moments.
(Don't miss our lights-on, behind-the-scenes tour of the full Silent Hill maze.)
UPDATE (10/6/12): This maze proves to be hit or miss, heavily reliant on timing for scares. You either see them or you don't and it's possible to walk through the entire house with barely seeing a single character. It's great when Pyramid Head rushes at you but terrible when you simply don't see him at all, which is more often than not. I have yet to see the scare in the bathroom scene.
5. Universal's House of Horrors
RANKING: Screamer
REVIEW: Borrowing from Horror Nights past, this house prominently features classic Universal monsters in a manner reminiscent of 2008's Dead Exposure maze. That house was one of my favorites of all time, but House of Horrors fails to duplicate its excitement and thrill. Universal describes the look of this new house as "blinding black and white," illuminating dark, monotone scenes with lightning flashes. But the darkness isn't dark enough and the flashes aren't bright enough, leaving all scares out the open and predictable. It's great to see the classic monsters make appearances in their classic forms, but flat set pieces are dull and character masks are either hard to make out or not formed correctly. Scenes featuring The Mummy and the Creature from the Black Lagoon are particularly enjoyable and inventive while others with the Wolfman and Frankenstein are rather dull. But with some tweaks in lighting and timing, this house could prove to be one of the scariest in the coming weeks.
UPDATE (10/6/12): My most recent time through this maze nearly bumped it up a spot on this ranking. It seemed darker than previous visits, which is good. The actors were doing a great job playing off the darkness and lightning flashes, appearing out of nowhere and putting in plenty of energy and effort. I heard a lot of screams, many people cowered, and I had a lot of fun. This house may just keep getting better and better.
6. Penn & Teller New(kd) Las Vegas
RANKING: Gut Buster
REVIEW: Lending a familiar sense of humor, magicians Penn and Teller offer their take on Las Vegas gone wrong as a nuclear blast from a botched trick mutates the city's residents in a palette of fluorescent colors. Naturally, these colors are in place to add 3-D to the house, but the effect is never impressive, sometimes hardly noticeable. Penn Gillette's recognizable voice fills each room, offering an amusing narration alongside bizarre visuals including a three-breasted showgirl and a particularly funny tiger attack. All the Vegas staples are included in a twisted form, from the buffets to the casinos, but none are ever taken too seriously. Most enjoyable are several interactive elements that allow guests to push and pull items to trigger a variety of effects and startles. While the house is entertaining, it's never scary and also never quite comes together as a solid experience.
UPDATE (10/6/12): Though I am a big fan of Penn & Teller, I'm getting rather bored of this maze the more times I walk through it. The scares simply aren't there, short of a couple quick startles. The 3-D just doesn't work. And I can only get amusement out of pulling the "Do Not Pull" rope so many times. I may start skipping this house completely soon.
7. Alice Cooper: Welcome to My Nightmare
RANKING: Eye Popper
REVIEW: Fortunately, even this lowest rank on the list is not a "Grave Digger," as even the worst house this year is still entertaining. I am not a fan of Alice Cooper's music and I have never listened to his "Welcome to My Nightmare" album on which this maze is based. As such, I simply don't get it. The visuals are interesting, with plenty of eye candy to enjoy, and the variety of scenes is fun to walk through. But it doesn't make a whole lot of sense, feeling like a bunch of unrelated bizarre scenes. There's some insanity, some sexiness, and some gore, but nothing so over the top that stands out as particularly memorable. And when Alice himself finally makes a few appearances, they are less than exciting. Most of all, despite the maze being based on Cooper's music, I don't actually remember hearing much of it after entering. I did enjoy walking through this house, but simply for sheer entertainment and not necessarily as a "Halloween" experience.
UPDATE (10/6/12): I recently saw one of the girls in this maze's strobing room replaced by an Alice Cooper character, which I thought was a good move. But then it went back to the ghoulish girl that was previously there in a later visit. This maze needs more Cooper, less inexplicable characters.
---
Halloween Horror Nights 2012 Scare Zones / Street Experience
There are no specific scare zones at this year's Halloween Horror Nights, instead featuring roaming hoards of characters that can appear anywhere, at any time. As a concept, allowing actors to scare anyone in the park, whether they're eating in a restaurant, walking on a sidewalk, heading toward a ride, or sitting on a bench, is a great idea. I particularly enjoyed seeing a pair of prisoners harassing patrons of Mel's Drive-In. But in overall execution, so far, such scares are few and far between.
Though I did not rank any of this year's haunted houses as a "Grave Digger," that's exactly what I would call the new street experience. While the highly-themed scare zones of the last two years were thoroughly entertaining each and every night of the event, this year's streets are the total opposite, leaving little to enjoy while walking between houses and shows.
I've seen each of the groups several times and some are definitely more unique than others. Short of a few choice moments, this is an experiment that has failed. The streets are no longer interesting or entertaining, instead rather dull and uninspired. None of the characters scream Halloween Horror Nights, instead looking like any haunted attraction around. While I've spent hours watching the streets in recent years, I anticipate spending most of my time in the coming weeks at the event walking through the houses and watching the shows, as the lack of specific scare zones leaves most of the street areas feeling rather boring.
When the characters do roam through and stop for a while, sound effects and music accompany them, which is a nice touch. I do believe there is potential for these mobile groups to scare, but Universal needs to assist the actors with better lighting and more street props for them to play off of. As is, the crowds in the otherwise empty streets leave characters blending in instead of standing out and very few screams are heard.
Though I am not currently a fan of this year's street experience, I do have some preferences in the characters that have been developed. And I also have faith that improvements will be made in the coming weeks. At least, I hope they will.
UPDATE (10/6/12): The streets are improving, but are still nowhere near as good as in previous years. The actors are finding their groove and I'm enjoying the scares that pop up randomly in and around maze queues, particularly when prisoners with chainsaws are waiting for guests as they exit a maze. Volume levels have increased for the music and sound effects when the different groups pass through, heightening tension overall. But aside from the The Iniquitus variations, which are quite interesting looking, the rest are still not spectacular. They're also all too eager to pose for pictures, taking away from any sense of foreboding they might otherwise bring with their presence.
Here are a few highlights of the new street experience:
And here's the event's street director Laura Wallace explaining each of the groups:
1. The Iniquitous
REVIEW: The most interesting part of the new street experience is the idea of the Iniquitous, a group of reaper-like characters who have summoned all the other undead to the park for Halloween Horror Nights. They are the constant among all the roaming hoards and offer the only real connection across the event. Plus, the skeleton-faced stilt walkers definitely say "Halloween."
2. Vampires
REVIEW: The scariest of this year's street characters are a wide variety of vampires of all shapes and sizes. Bearing their fangs, they're often fast-moving and enjoyable to watch. (Also seen here is one of the Prisoners. More on them below.)
3. Walkers
REVIEW: Located just outside the maze based on AMC's "The Walking Dead," this undead group has the greatest potential of all of the street experiences this year. It's the closest area to a firm scare zone at the event, but horrible red lighting ruins any chance of actually seeing what's going on. With more walkers present and better lighting, this area could become a highlight of the event.
4. Traditionals
REVIEW: The notion of classic Halloween-inspired characters has been done several times before at Halloween Horror Nights and, once again, witches, trick-or-treaters, and pumpkin heads roam the streets this year. There are a few twists, but overall I feel like there's nothing new here. And they're not particularly scary, sometimes annoying.
5. Beasts
REVIEW: These creepy creatures have the potential of scaring the most as they can loudly growl and bark at guests without needing an excuse. But so far all I've seen them do is rapidly walk around, cloaks flowing in the wind.
6. Prisoners
REVIEW: This year's chainsaw gang is all-female for the first time in Halloween Horror Nights history, featuring a group of inmates identically dressed in orange jumpsuits. Though their numbers are impressive, their attitudes are not. I have no problem with females wielding chainsaws. In fact, it's a nice twist on the usual big, burly guys that seem to do it year after year. But I don't like the "Bad Girls Club" direction they've been given. They ought to be scary and menacing, not just loud and obnoxious.
7. Warriors
REVIEW: Easily the worst of the street groups by design, this bunch of skinny identical-looking guys have no solid method of scaring anyone. They are all dressed the same, walk the same, act the same, and hold the same weapons. And they're all equally dull. BUT, despite all of these negatives, I did see a handful of the actors go beyond their uninteresting outfits and draw some screams in unexpected places, like so:
I look forward to seeing how the new street experience changes over the course of Halloween Horror Nights 22. I suspect the streets will feel like a very different place two weeks from now than they appeared on opening weekend.
---
Halloween Horror Nights 2012 Live Shows
Bill & Ted's Excellent Halloween Adventure
RANKING: Gut Buster
REVIEW: For the first time in years, I have positive things to say about Bill & Ted's inclusion in Halloween Horror Nights. This year's version of the show has a noticeably different structure and tone, even replacing the usual convenience store set with that of San Dimas High School. Gone is the convoluted plot that vaguely tied together the pop culture-based show. Instead, this year the jokes come fast and furious, with plenty of laugh-out-loud one-liners that have absolutely nothing to do with each other. Impressions are often good and the gratuitous dancing is kept to a minimum, though still featured enough to feel like the same show. Those who enjoyed the last few years will be in for a rude awakening when seeing this new brand of Bill & Ted, likely not to enjoy it. But for me this year's show was a vast improvement. It's still not fantastic, but definitely a giant leap in the right direction, simply poking fun at celebrities who deserve it, without shoehorning them into a confusing story. My biggest complaint is that Bill and Ted themselves are underused, offering the spotlight to everyone else.
20 Penny Circus
REVIEW: This local Tampa-area magic act has been ramped up for appearances at Halloween Horror Nights. While the adult content of their show is quite welcome at the event, with many strong sexual innuendos and plenty of quips, the whole show never quite comes together. It's entertaining, but feels like a short show that's been drawn out unnecessarily. The tricks they perform are nothing that hasn't been seen before, though heavy audience interaction does make the familiar somewhat new. I imagine their routine will be tightened up as the event continues.
Lagoon Shows
REVIEW: The water screen and fountain infrastructure created for Universal's Cinematic Spectacular lagoon show has been worked into Halloween Horror Nights in the form of four 2-to-4-minute shows featuring "Psycho," Chucky, classic monsters, and Alice Cooper.
UPDATE (10/4/12): Having seen all four versions of the lagoon show, I can easily say the one devoted to classic Universal monsters is the best, by far. The use of lighting, colors, and lasers to compliment the cleverly edited film montage simply works on every level. It feels right for Halloween. My second favorite is the Hitchcock sequence, which focuses on "Psycho" and its shower scene, but also features a number of the famed director's other fan favorites. The shower scene utilizes the lagoon's mist screens quite well. The "Child's Play" sequence is a bit odd, blasting White Zombie's "More Human Than Human" while wildly cycling through flashing colors, offering up random clips from Chucky films. It's certainly entertaining but somewhat unfulfilling. But the Alice Cooper sequence is the least interesting of the bunch, a glorified music video of sorts. Fans of Cooper's music will likely enjoy it more than I did. Overall, the longer sequences offer a more complete experience than the shorter quick hits, which come and go too fast to be appreciated. And most of all, it's a bit odd that Universal isn't publishing the times for when the short shows will happen, leaving guests lingering around the lagoon hoping for the best.
Here are full performances of all four versions, in my order of preference:
Video: Universal Classic Monsters lagoon show during Halloween Horror Nights 22

Video: Hitchcock / "Psycho" lagoon show during Halloween Horror Nights 22

Video: "Child's Play" / Chucky lagoon show during Halloween Horror Nights 22

Video: Alice Cooper lagoon show during Halloween Horror Nights 22

Halloween Horror Nights 2012 Merchandise
This year Universal Orlando has finally stepped up their Halloween Horror Nights merchandise, giving fans what they've been desiring for so many years. Beyond the standard event T-shirt, other shirts are available specific to some of this year's mazes including Silent Hill, The Walking Dead, and Alice Cooper. Other apparel and clever collectibles feature a zombie theme. I ended up purchasing more Horror Nights goodies this year than any year prior. Here are a few product highlights: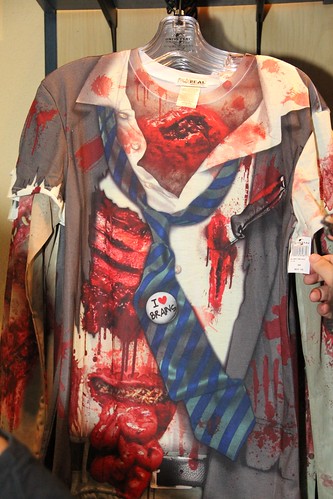 ---
Halloween Horror Nights 2012 Tips and Tricks
If you're looking for street entertainment, find a foggy area with tombstones and sit there. The roaming hoards will pass through every once in a while and eventually you should see most of them. Walking around the park looking for scares is currently a frustrating experience, as it's entirely possible to walk long lengths without seeing a single actor.
If you hear the loud crack of thunder, it's signaling the start of a lagoon show. Head to any corner of the park's center lake to enjoy.
In Penn & Teller New(kd) Las Vegas, don't hesitate to push every button you see. And if something says not to pull it, then pull it. Then wait for a few surprises. (Disclaimer: Do NOT pull any fire alarms… unless there is a real fire.)
For the most enjoyment of the Silent Hill maze, play the first 30 minutes of Silent Hill 2. You'll encounter Pyramid Head, nurses, and a variety of other characters that appear in the haunted house. Watching the "Silent Hill" movie is not recommended.
For the most enjoyment of The Walking Dead maze, watch the full first season and the very last episode of season 2. Of course, it's a good show and you really should watch all the episodes.
For the most enjoyment of the Alice Cooper maze, listen to his album called "Welcome to My Nightmare."
When walking through Gothic, look up, down, and all around. Rooms are immense and filled with items you might miss otherwise.
If you stay through the end of the event, be prepared for a fast reality check on the way out. All ambient elements like fog and special lighting are turned off just as it ends for the evening and fork lifts are immediately wheeled out to remove props from the streets to prepare for the next day's parades.
---
Once again, the above opinions are my own and can and will likely change as Halloween Horror Nights 22 is tweaked and improved over its many nights that remain. I will be frequenting the event throughout the rest of September and all of October, returning to this review with updates and observations, both good and bad. So keep checking back!
---
Halloween Horror Nights 2012 continues on select nights in September and October at Universal Orlando. You can buy tickets now and find more information at HalloweenHorrorNights.com/Orlando.
---
More photos from Halloween Horror Nights 2012:
(Photos by Ricky Brigante)

Opening Night
(Photos by Michael Gavin, Ricky Brigante, and Universal Orlando)