When you're making your packing list for the Walt Disney World Resort (and checking it twice), make sure you are thinking about your feet! A Disney Parks Guest can walk up to 20,000 steps a day (or sometimes more) so prepping your wardrobe and stuffing your suitcase with the best shoes for Disney is a must.
Here are our favorite must-have shoes to help you stay on your toes during your next Disney World vacation, whether you are walking, dancing, running, or dressing to impress!
The Absolute Best Shoes for Disney World
When packing a suitcase, oftentimes the advice is to pack only a few sets of shoes and wear your heaviest shoes on the plane to save space and lighten the load. We don't disagree! When visiting Walt Disney World (or another Disney Park), we advise you to think MOST about your feet.
This reporter walks in between 16,000 and 26,000 steps a day at Disney (there are about 20,000 steps in a half-marathon), not including a runDisney race or other active sessions. Feet are one of the first things I think about when I arrange outfits for my Disney trip!
There are a few types of shoes you will want to pack. Park walking shoes, pool/resort shoes, and special activity shoes. If there is excessive rain in your forecast (and let's face it, it often rains in Florida), you will also want water shoes/waterproof shoes or an extra pair of sneakers if one set gets soaked.  Squishy wet shoes equal blisters, smelly feet, and more problems.
Why is it important to wear the best shoes for Disney?
Think about running a race. Would you wear your high heels? Would you wear your sandals that rub after a while? No way. Then don't think about wearing those to the theme parks, either! Prep your feet as if you were walking a half-marathon and your feet, toes, and ankles will thank you. 18,000 steps is a real workout.
Podiatrists often recommend that your walking shoe should be athletic sneakers, or long-distance shoes, with either an ankle strap or laces, proper arch support, and gripping soles. This advice is to help you avoid strain, injury, or blisters, all of which are possible when walking so much at Walt Disney World Resort.
What to Look For in the Best Shoes for Disney
Broken-in shoes will always be best for excessive walking. Sneakers with arch support and plenty of padding are the optimal choice for everyone, children and toddlers included. Comfort is optimal and broken-in shoes are best for the high mileage you will rack up during your theme park vacation.
An ankle or heel strap (think Chacos, Tevas, etc) or laces (as in an athletic shoe) are going to be the best choice. Consider the shape of your foot, any medical issues that you may have, and the amount of activity you have at home compared to what your activity and walking level may be at the Parks. Also at stake? Weight. A New Balance original sneaker can be very heavy, compared to new athletic or tennis shoes. For the sake of your ankles as well as the sake of your suitcase, remember to compare your lightweight shoe options as you pack. Lastly, breathable fabric is a factor. In the high heat, feet can swell and need to breathe a bit.
When at your Walt Disney Resort Hotel, flip-flops, slides or casual sandals may be a great choice. You will most likely be going back and forth between the pool and your room or over to one of the Quick-Service or Table-Service restaurants to grab some grub and a running shoe may be "too much" for that moment. Trips are fairly short and at a casual pace, so a slip-on sandal is handy.
Amazing Disney shoes like The Little Mermaid Irregular Choice collection are complete works of art, but should not be worn in the parks for more than a few hours. They aren't built for support or heavy use. If you want to pack them in a backpack and then take photos with them, that would be a great idea!
When planning to go on a date night, or to a special event, you may want to pack your special shoes. Most Disney restaurants accept "Park Wear" as a dress code, while only a few require a jacket or may deny tank tops (think Victoria & Albert's). Save your fancy shoes for these few occasions when you will be sticking close to your room or just be on a few hour's errands.
Best Shoes for Women to Wear at Disney
When packing, look mainly at sneakers. Guests far and wide recommend the Skechers Go Walk series for both men and women alike, for their memory soles, whole-foot hold, and variety of styles, including an easy slip-on option. The Skechers series is consistently one of the most recommended shoes for Park Going (for all family members) and retail for an affordable price at many stores.
For a dash of classic style that never expires, pick up a pair of Converse with Mickey-specific detailing sold by Mickey Madness Designs on Etsy.  You'll have to break them in, like any other Converse sneakers, but the addition of the Mickey Mouse heads makes your Disneybounds easier to achieve and quite whimsical!
For those Resort shoes, Disney authentic Flip Flop Havianas with Princesses, Villains, and more are a fun choice. Wear them poolside or in the cafe, with easy on-off and waterproof features that are much needed at the Resort.
If you are looking for Ladies' walking sandals, we love the Teva walking sandal for support, breathability, water resistance, rubber sole, and easy wearing. Most pairs are sold for under $50, but you can easily splurge for the high-end Teva sandals at $80. Likewise, a Keen Sandal is equally as handy and can offer toe protection in many styles while being able to handle Florida popup showers.
Best Shoes for Dapper Day
When dressing for Dapper Day, one wants to look vintage, have fun, and find an element of comfort. Blending these three components together can be quite a challenge if you don't know where to shop.
The Eastland Walking Company offers two vintage silhouettes that are fun to incorporate into the 1950s and 1960s themes. Saddle Oxfords with memory foam offer plenty of support for walking all day with a classic style that can't be beaten. Likewise, awaken your inner original Mouseketeer with penny loafers with similar support. Pair these with cigarette pants and a gauzy neck scarf for classic style.
B.A.I.T. Footwear also has adorable Mary Janes, T-strap flats, low wedges, and kitten heels (with straps!) that are suitable for stepping out in style at the Disney Parks. Of course, many Dapper Dolls and Dudes opt for an extra pair of flats rolled up in their park bag, only using their heels or brogues for photo opportunities throughout the day.
Tieks that come with a bag for carrying heels are a great backup for your handbag. Black Tieks are pictured below tip-toeing along the sparkling EPCOT sidewalk during the EPCOT International Food & Wine Festival.
View this post on Instagram
Don't discount Keds, either! A solid-colored pair of Keds with ribbon laces and gel insoles can create a flat yet supportive pair of shoes that can be worn all day during Dapper occasions. The simple tennis shoe silhouette won't compete with dresses or pants, add an element of classic style yet keep your feet from breaking! Add no-show socks for an added barrier of comfort.
Whatever Dapper Day shoes you pick, make sure to break them in well. Pro Tip for breaking them in — heat up your shoes of choice with a hairdryer. Walk around in your warmed shoes at your home for a few days and then test them out at length before wearing them with your stylish togs to the Parks!
Best Shoes for After Running at Disney
Congratulations on your race — Way to go! Now, you're ready to enjoy some tasty treats in the theme parks but give your feet a breather at the same time! Hang up your running shoes after the race, and opt for a different or more airy silhouette after your post-run shower and nap.
Many runners find that Oofos or Olukai shoes give them the supportive squish they need but also the air that their sweaty toes crave. Oofos are so absorbent of foot impact, they can take more than 37% more than a traditional shoe. These "recovery" shoes are perfect for after a race while still enjoying a Disney theme park.
Olukai shoes are great for a close, supportive fit, too. Olukai's (for all genders) are known for the flip-down backs of their heels, allowing for a transitional pair of shoes ready for Park-going, but also your Disney Resort hotel, too.
Runners know that running shoes and post-run options need to be a bigger shoe size than streetwear shoes, as feet often swell in warmer weather. To avoid foot pain or toe bruises, following this advice can be prudent for any Disney vacation goer. Another runner's tip? Switch out your socks twice a day for power wicking and comfort.
Best Shoes for Men to Wear at Disney
Much like the women's selections, men have plentiful options when choosing a Disney shoe. Men's walking shoes, tennis shoes, sandals, and sneakers will always be good choices, but making sure the options are supportive and breathable is important.
Despite the social craze that was Crocs, the airy plastic clogs are often seen as hideous by some Disney fans. But a Croc shoe continues to be the footwear choice of many men at Disney. The heel strap is an attractive feature, as are the wide color variety and personalization options. Disney sells crocs at many retail locations, making them a plentiful option for Disney shoes.
Olukai shoes are supportive and breathable, making them stylish yet functional choices. We highly recommend either Olukai transitional shoes or Sketchers Go Walk for men. The simple silhouette and classic color options make them great theme park shoes for extended walking while staying comfortable.
If you are someone that suffers from plantar fasciitis, finding good arch support and a non-textured footbed is important. Once again, the Skechers Go Walk series scores for those with this medical condition. Another tip for these folks is to stretch well a few times a day. Ankle braces during sleep or evening hours can offer more support during extended walking vacations.
Best Shoes for Kids to Wear at Disney
Kids are an interesting cross-section of the population to choose shoes for. Most kids own sneakers of some sort, and those should be the first options you reach for, along with a good medium-thickness sock.
Many young Royals will share their love of Princess shoes or Jedi boots, but these should be saved for quick trips to the Bibbidi Bobbidi Boutique, or other such character experiences. A fun character meal would be a great time to break out these shoes and photograph your younglings with their favorite Disney characters. Just be sure to pack those fancy dress-up shoes away when it's time to return to the parks.
Much like any other adult, a pair of water shoes or sandals are a smart pack for kids. Just make sure you're not expecting a young kid to walk around in flip-flops all day. They will inevitably need a break in a stroller or a more well-formed pair of shoes as they need foot support. Sketchers are a durable and comfortable shoe option for most children, and available at local big box stores like Target.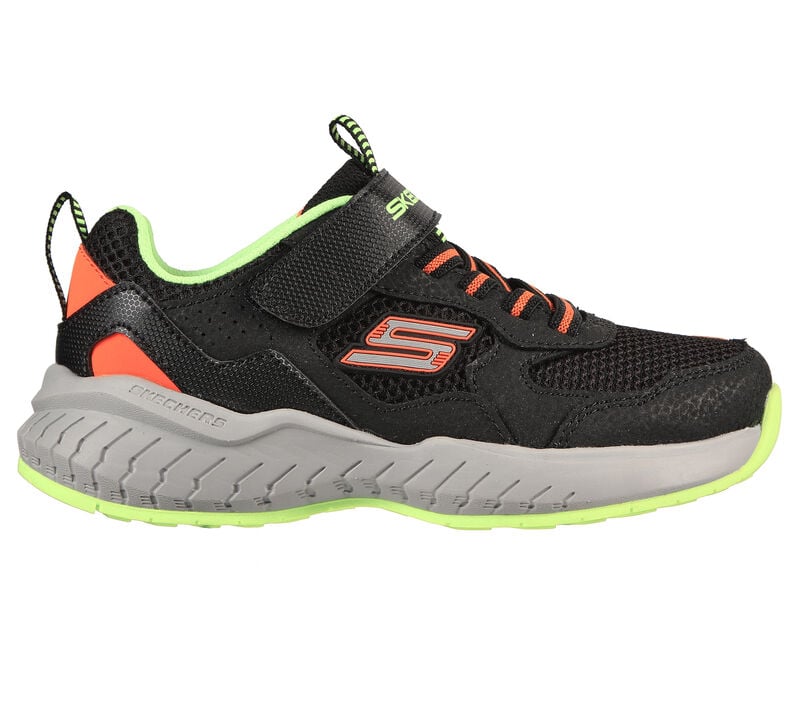 Since the closing of Stride Rite, Osh Kosh and Carters offer extremely good shoes for toddlers and smaller elementary school-age children for a great price. These durable and supportive shoes can handle heavy school day use, but also become a comfortable walking shoe at Disney after being broken in.
Get to the Disney Parks
When you're ready to traipse around the parks in your best shoes, contact the travel professionals at Academy Travel. The award-winning Earmarked Diamond staff will guide you along the footpaths to fun and guarantee a Disney vacation that will enchant your entire family. You can contact their concierge by calling Academy Travel at 609-978-0740 or by choosing your preferred destination on this page. No matter where you stay, Academy Travel can make sure your feet stay fit as a fiddle!
What are your favorite shoes to wear to Disney World? Leave us a comment below about your favorite footwear!